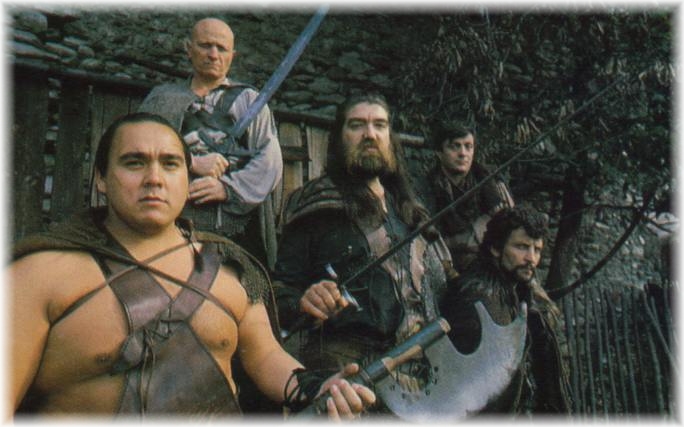 Gessler put a price on Tell's head and this men, all mercenaries,
are trying to hunt down Tell. In the middle Dantes.
Clyde as Gessler is deliciously maniacal. The energy he throws into his performances creates a complexity for what could have been a very one dimensional character. While being the charismatically evil villian you see his inward insecurity and cowardice. The way he relishes his ability to cause pain and fear and the complete patheticness he reveals, when the tables are turned on him, is always hilarious and fascinating to watch.
The music, composed by Stanislas Syrewicz is beautiful and quite unique and innovative. The locations are well-chosen in lovely areas of France. Quaint old villages, castles, ruines and beautiful nature scenes. There are some terrific stunts and including Mario Luraschi's horse stunts, see below. This show is ideal for children as it provides heaps of action and adventure with minimal violence and it's also very historically educational. That aside adults can find a lot to enjoy in the show. It has heaps of intelligent and entertaining dialogue. Heck, we just love the whole thing.