Hans Meyer
This site is dedicated to a man who is not among the "A" list of Hollywood and European acting elite ... yet has over the years managed to earn the respect of his fellow actors, directors, and the loyal following of his many fans around the world. Since the early 1950s, Hans Meyer has acted in over 50 films, countless television programmes, several theatre productions, and several major advertising campaigns - in four different languages! (He speaks all these languages fluently ... including Zulu, which he had the opportunity to use when filming the short film "John" in 1992). Whether it be a major starring role or a guest appearance, a comedy or a drama, his quiet assured talent and amazing presence shine through. A distinguished and modest man, Hans is not one to shout loudly about his many accomplishments over the years
1925-2020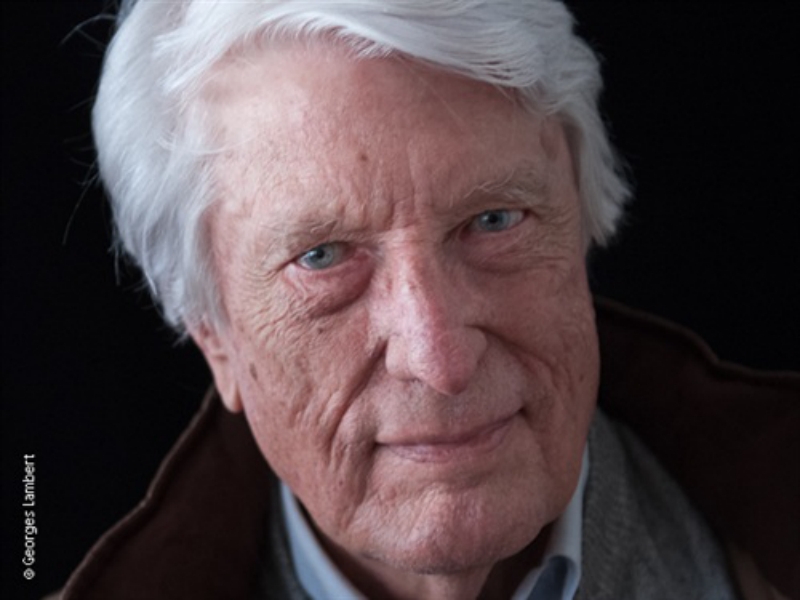 Hans Meyer was born into a German farming family on 21 July 1925 in Paulpietersburg, South Africa, and spent his childhood in Natal/Zululand Province. Upon completing schooling he became a farmer, but after a few years he decided to leave that life and travel to England.
Hans also modeled for "photo novels" (a popular form of romance novels) in Europe, and became a well known advertising model for several products including Terry Cognac in Spain, where he is still known as "Senor Cognac". A friend in Germany who was working in an advertising agency saw potential in his handsome friend and arranged for Hans to have his first acting job, in a television advertising campaign for Pushkin Vodka. His acting debut was such a success that this vodka quickly became the best sellling vodka in Germany and Hans became one of the best known faces in Germany!
Because of this success with his first appearance before a camera, Hans was offered the leading role in a Spanish film, "Culpable Para un Delito". This new career as an actor appealed to Hans, but he realized he needed to study acting to develop his talents if he was to achieve further success. He decided to study with the great French film director, Claude Chabrol, in Paris. Within a few years Hans was part of the popular "Nouvelle Vague - New Wave" film genre developed in France between 1958 - 1973, appearing in a succession of films directed by some of the greatest directors of that era, and acting alongside most of the popular actors of the day: Godard/Belmondo & Karina (1965), Oury & Korber/ de Funes (1966 & 1971), Enrico/Delon (1967), deBroca/Belmondo (1973).
When BBC Television was searching for European actors for the German roles in its groundbreaking television series "Colditz" in 1972, Hans joined the cast of this series and became one of its most popular cast members. In 1973 Hans starred in a BBC television series production of "Heidi", as "Grandfather". Although young at 48 for the part, his creative talent brought the role to life and this version of the classic children's story remains the most charming of the many created over the years.
In 1978 Martin Chomsky directed the renowned television series "Holocaust" and cast Hans in the role of Ernst Kaltenbrunner. Hans impressed Chomsky with his portrayal of Kaltenbrunner, and Chomsky again cast Hans as Kaltenbrunner in his 1982 "Inside the Third Reich".
In 1960 Hans connected with the gifted young director Leos Carax, for his short film "Strangulation Blues". This led to two further associations with Carax, "Boy Meets Girl" (1984) and "Mauvais Sang" (1986).
In 1987 Hans co-starred in the popular television series "Crossbow", based on the Swiss tales of William Tell. Hans portrayed "Tyroll" with a touching combination of menace and pathos. In 1989 Hans began what would become an ongoing collaboration with talented, young, upcoming directors in the field of Short Films, starring in "Celeri Remoulade". He went on to star in a long list of films in this genre that continues to this day, including "John" (1992), "un Cuilleree pour Papa" (1992), "Entre les Vagues" (1997), "Morteterre" (2002), "Baptiste" (2003), "Sentence Finale" (2006), "Piscine du Maman" (2007), and "Fin du Bal" (2007).
Hans admits his very first love of acting focused on the theatre, and while his life's work took another direction he has "tread the boards" in several theatre productions including "Juin '40" (19??), Theatre le Lucernaire, Paris...."Fragments Nocturnes, Tapages Faciles" (1999), Theatre Essaion, Paris.....and "Phedre et Hippolyte" (2001), National Festival at Bellac, France.
(NOTE: this career synopsis covers only a small portion of Hans' long list of film, television, and theatre credits! Please refer to the IMDB for complete list)
Do you like to read Hans Lifestory, you can click here. This beautiful site is made by Jeen Ruette. For her photogallery click here
Many thanks to Jane Ruette for sharing all the information about hans life and making a wonderful site about him!
Hans in 2014