Stunt double for Tell and Gessler's when the going gets really tough (29 episodes, 1987-1989) Mr. Lyman does also stunts and also Jeremy Clyde is an
experienced horserider, for fast galop shots like in 'The Bet' he rode himself. Falling and wild swordfights parts, they have Yannick Derrien!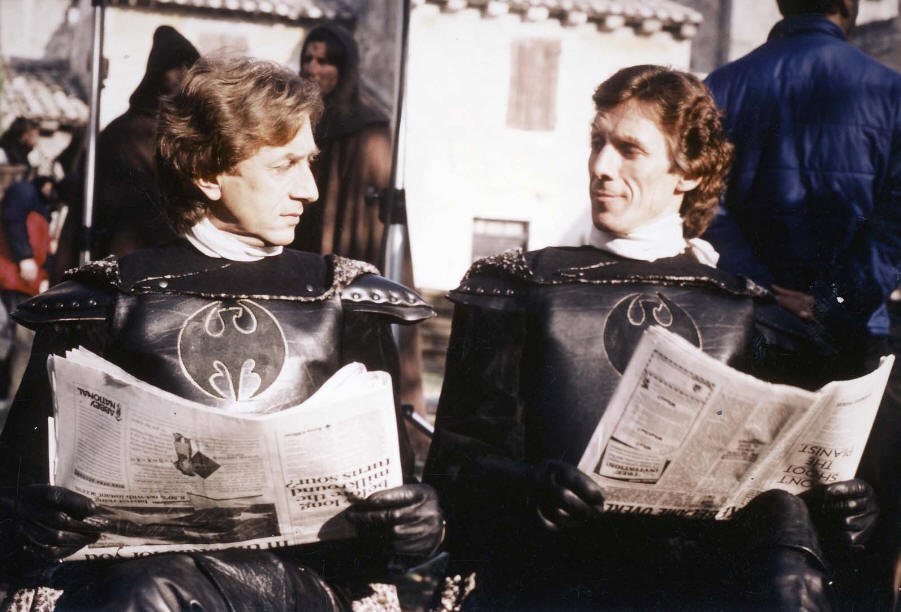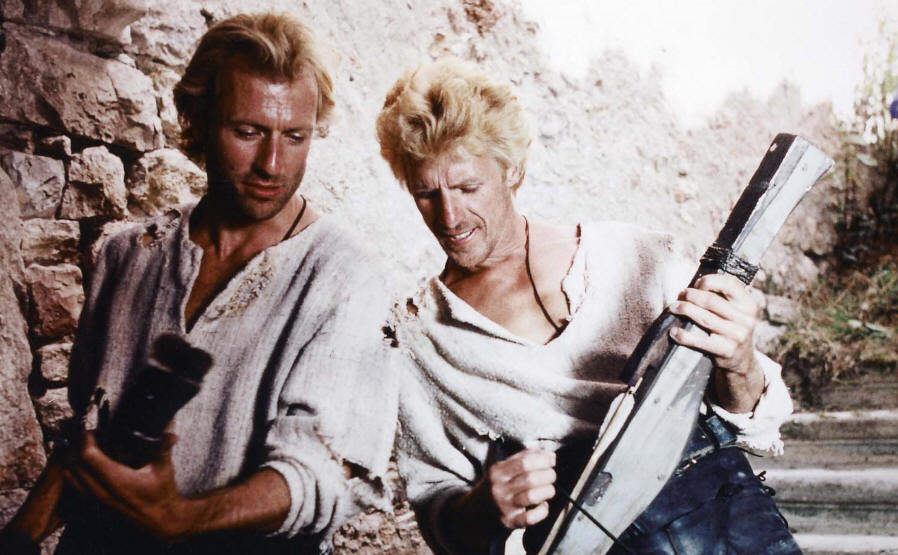 Yannick Derrien is known for his work on The Transporter (2002), The Man in the Iron Mask (1998) and House on Haunted Hill (1999). North and South (TV Series)
(stunts - 6 episodes) Before Crossbow he did work for Dynasty (TV Series 1985) (stunts - 1 episode) and Married with Children (TV Series 1985) (stunt performer - 1 episode)
and in 1993 Star Trek: Deep Space Nine (TV Series) (stunts - 4 episodes) 1994 Highlander (TV Series) (stunts - 3 episodes)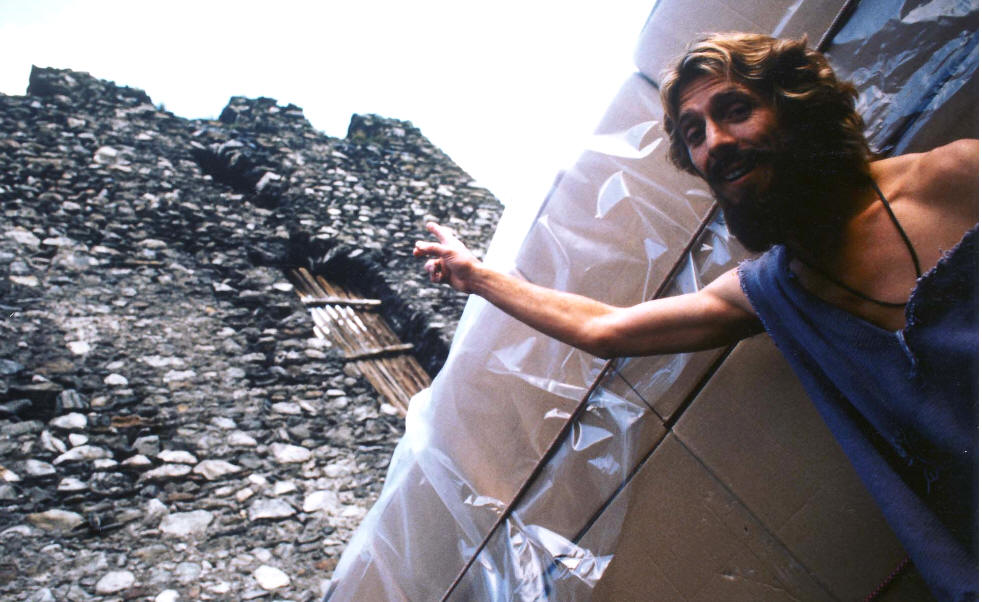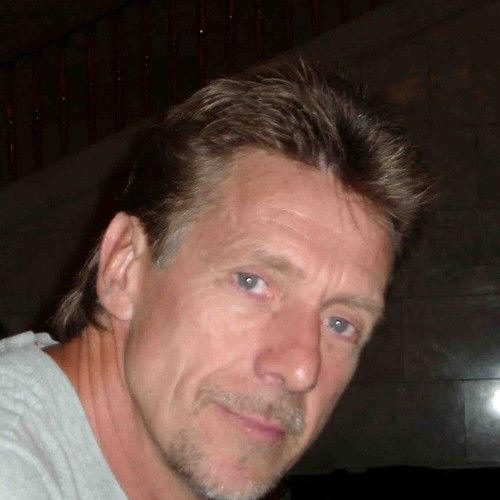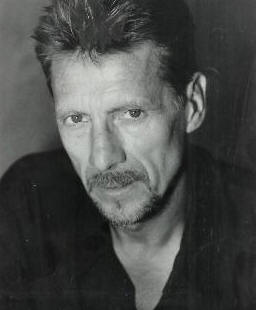 A career of more than 3 decades in the United States, as Stuntman, Comedian and Waterfall Regulator, in many productions of all sizes, such as Hook Attila Helene
Trojan Woman Fatale Iron Mask and many others who brought him to travel all over the world: from France to Russia, via Malta, Lithuania, the Czech Republic, Morocco,
Algeria and India. After all these years in front of the camera, he starts writing screenwriting, producing and directing films.
Death Wish 4: The Crackdown stunts 1987
Blind Date Stunts 1987
The Adventures of William Tell Stunt Double 1989
The Man in the Iron Mask Stunt Co-ordinator 1998
House on Haunted Hill Stunt performer 1999
The Return of the Thief of Bagdad Stunt Co-ordinator 1999
TAXI 2 Stunts 2000
KISS OF THE DRAGON bodysearch boss 2001
ASTÉRIX & OBÉLIX MISSION CLÉOPÂTRE Stunts 2002
Femme Fatale Stunt Co-ordinator 2002
Alain Grellier
1 episode, 1988, The Imposter and Masterplan, stunts
Stunts (1 episode, 1987) actor in Masterplan (1988) Stunts in the Imposter (1987) Highlander tv series, Joan of Arc etc. Alain Grellier is known for his work on
The Bourne Identity (2002), Unleashed (2005) and Double Team (1997). Please visit the imdb for the complete stunt list https://www.imdb.com/name/nm0340149/
I think he is also in episode The Reunion.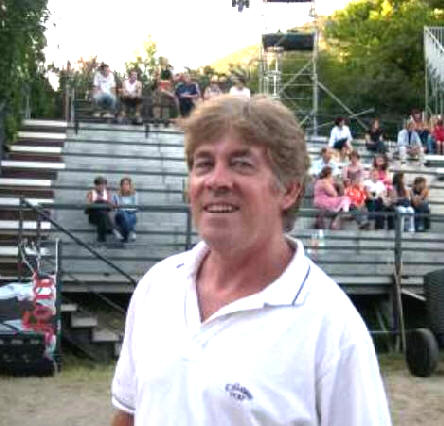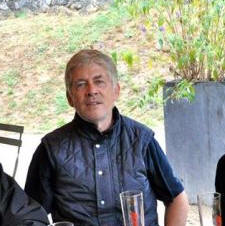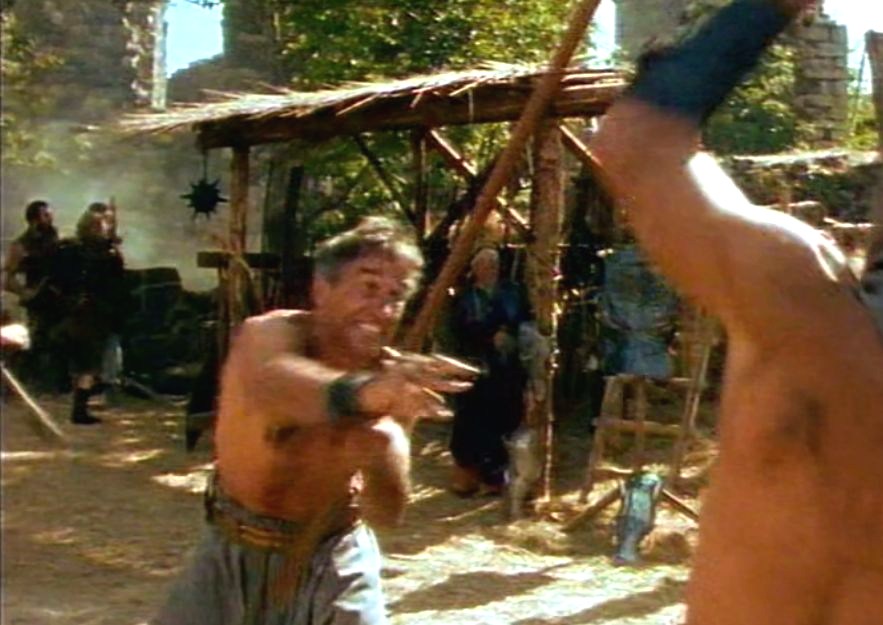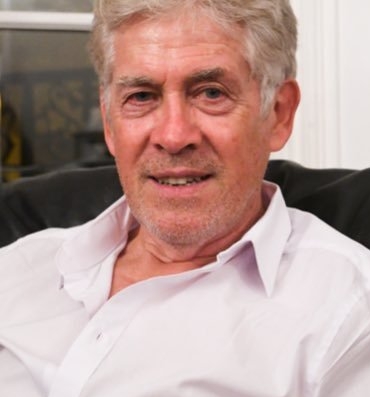 Alain Grellier is known for his work on The Bourne Identity (2002), Unleashed (2005) and Banlieue 13 (2004).
Below he seems one of Gessler's special force 'The Elite' in episode 'Masterplan.'
Philippe Guégan
Coordinateur de cascades sur

plus de

300 films


spécialiste

câbles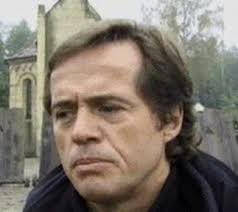 Philippe Guégan is known for his work on The Hunger Games: Mockingjay - Part 2 (2015), The Hunger Games: Mockingjay - Part 1 (2014) and Taken (2008).
Stuntcoordinator and actor. Stunts is several episodes of Crossbow. Named in The Dukes of Zharingen as actor
Philippe Guégan is known for his work on The Hunger Games: Mockingjay - Part 2 (2015), The Hunger Games: Mockingjay - Part 1 (2014) and Kiss of the Dragon (2001).
Click on imdb for the the mega stuntlist. Stunt coordinator (29 episodes, 1987-1989) Here is a Link Filmography horse stunts (16 episodes, 1987).
Episode Headhunters? Episode The Rock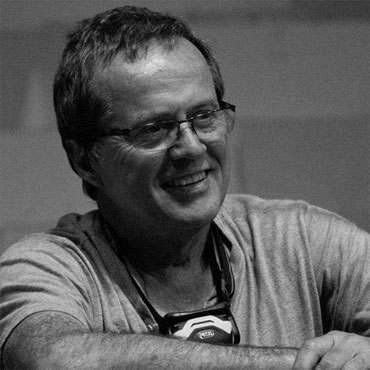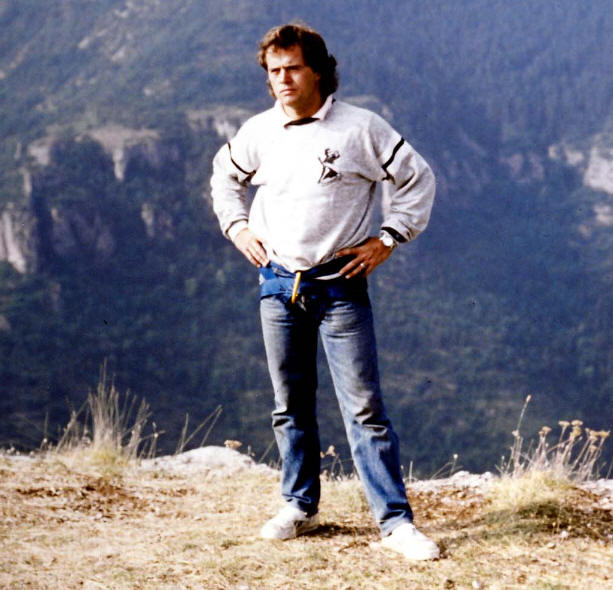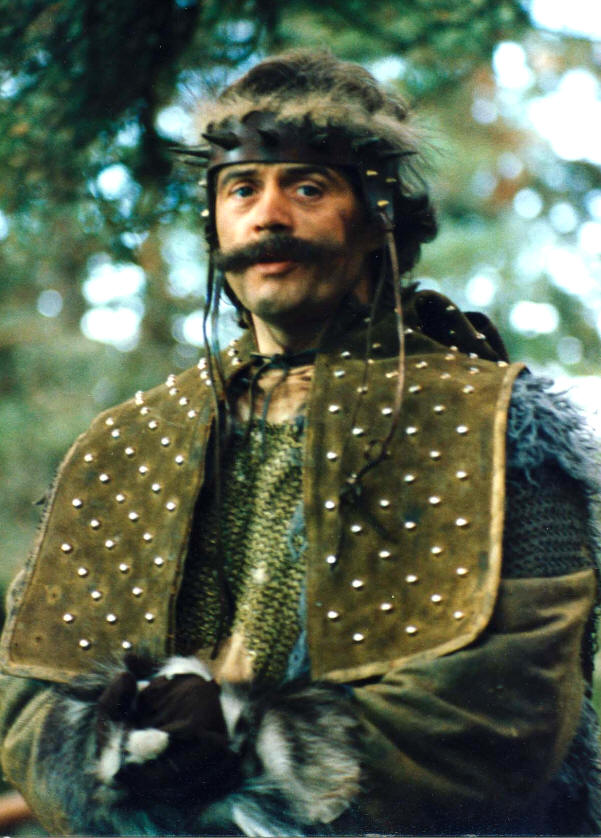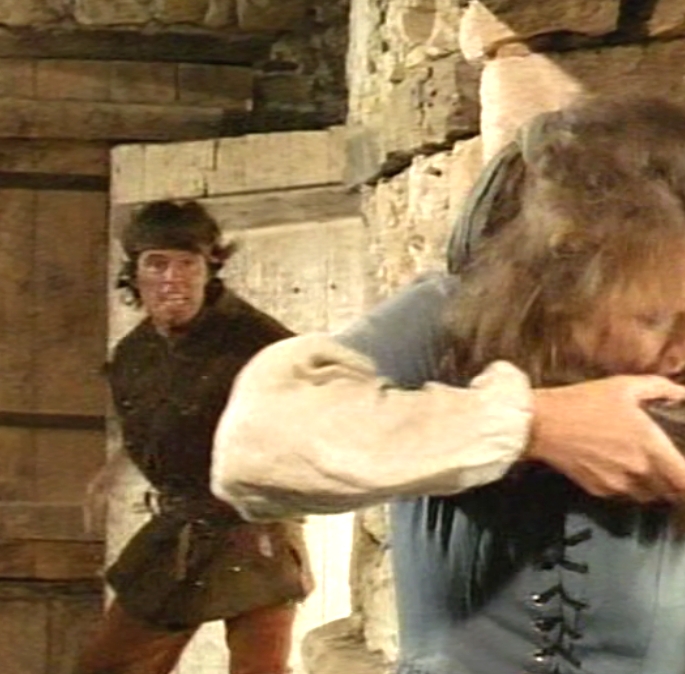 Pascal Chino Madura 'Chino'
Below in episode The Rock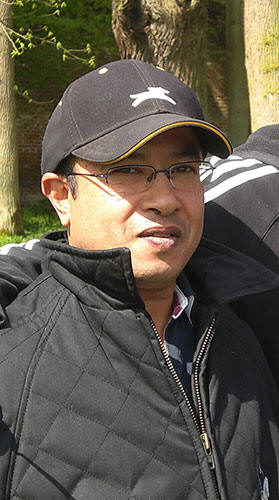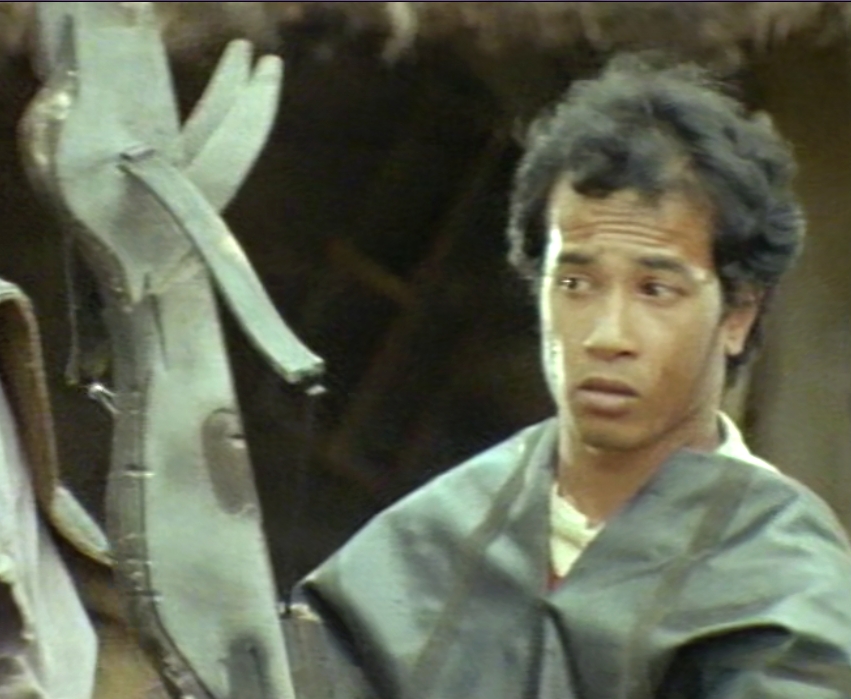 Pascal Chino Madura arrived at Mario Luraschi in 1979 to double an Indian! He learned dressage, aerobatics, waterfall and especially how to make a film or a show with horses to
become one of his most precious assistants of Mario during filming. To his credit among others: The riders of the storm, The French Revolution, The black stallion, The whims of a river,
A Knight Tale Brian Helgeland, The Tudors, Versailles ... He even won an award for his waterfall in Knight, American film of Brian Helgeland (2001).
He brings his experience to the next generation of cascadeurs / stuntmen.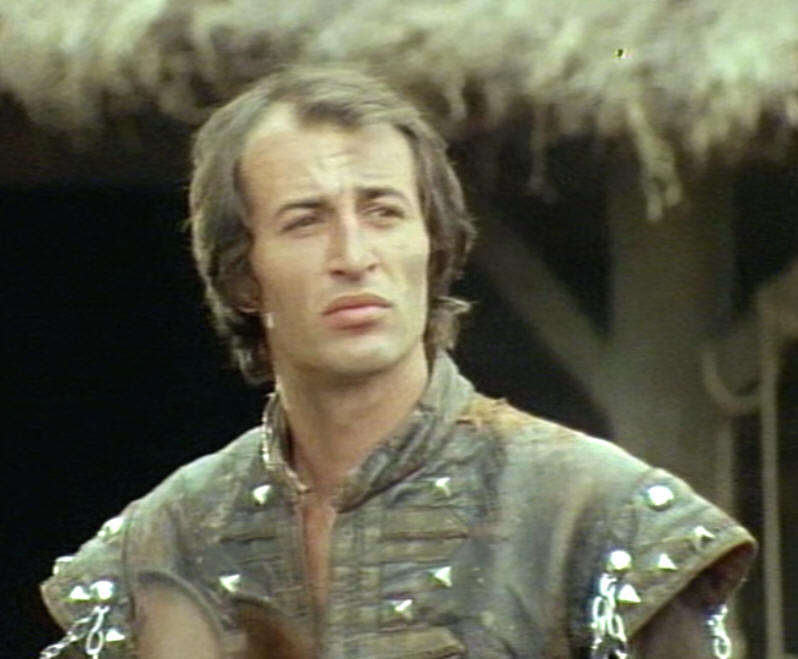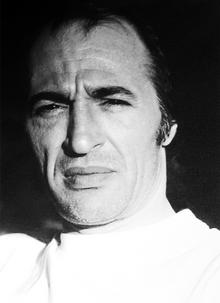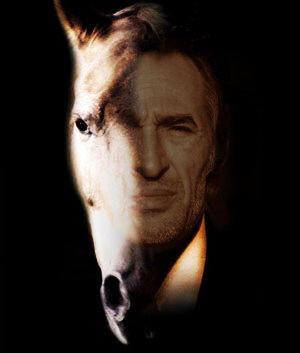 Killed by a spear, but a second later he is again in the saddle. It goes so fast you can't realize (episode Misalliance).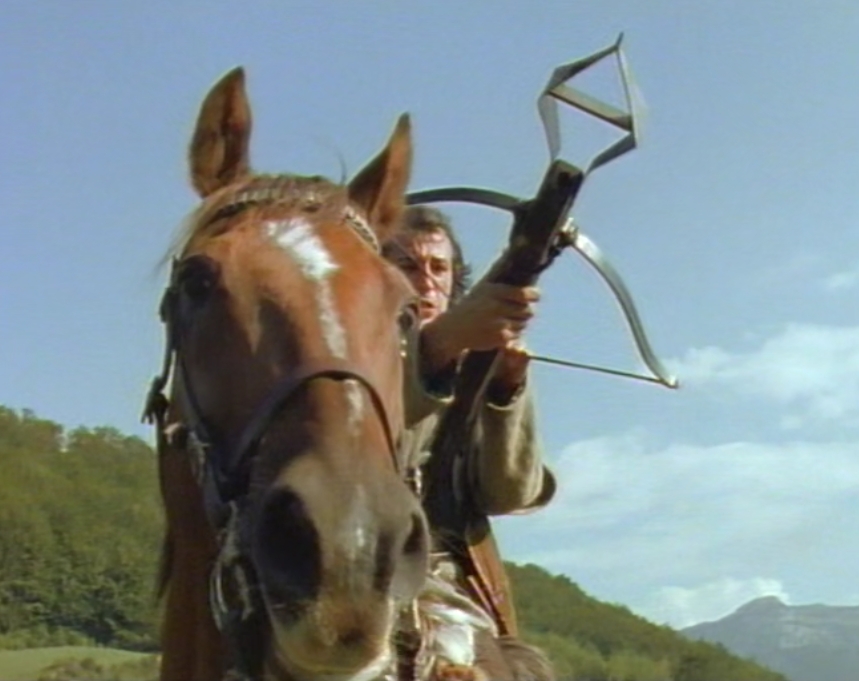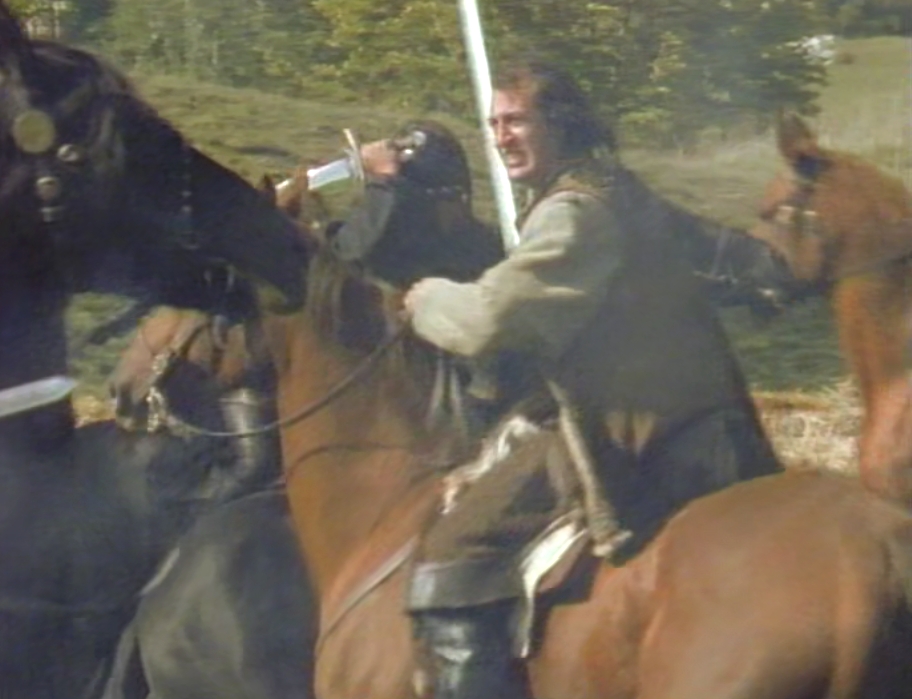 Below: Riding into 'The Rock' village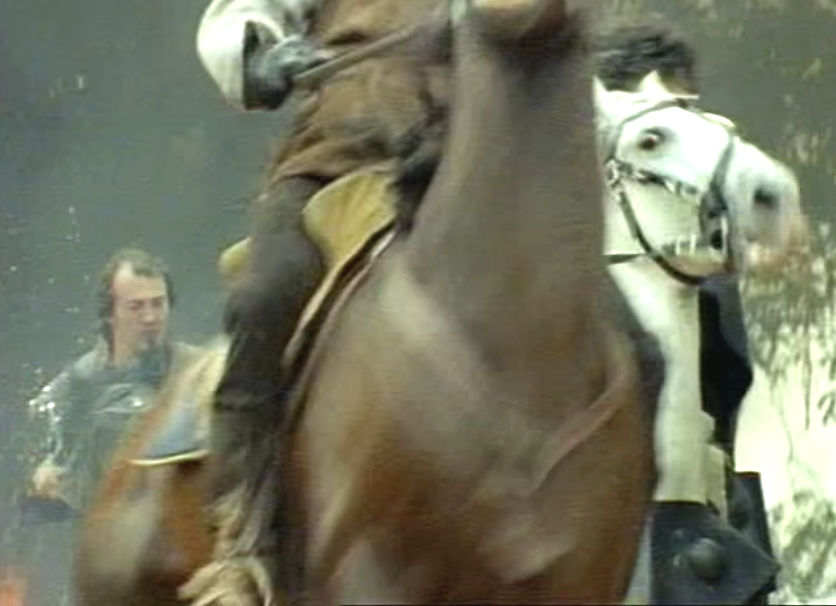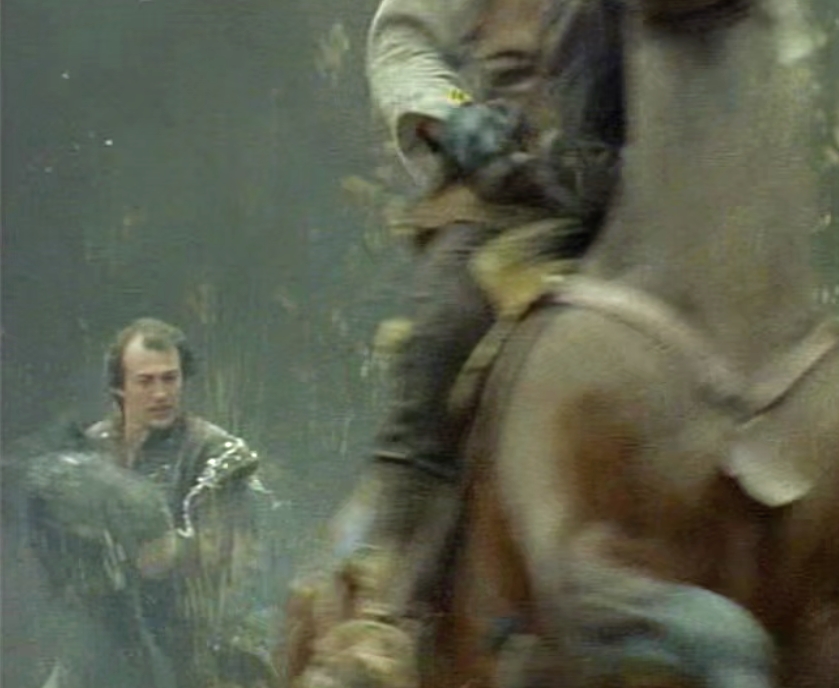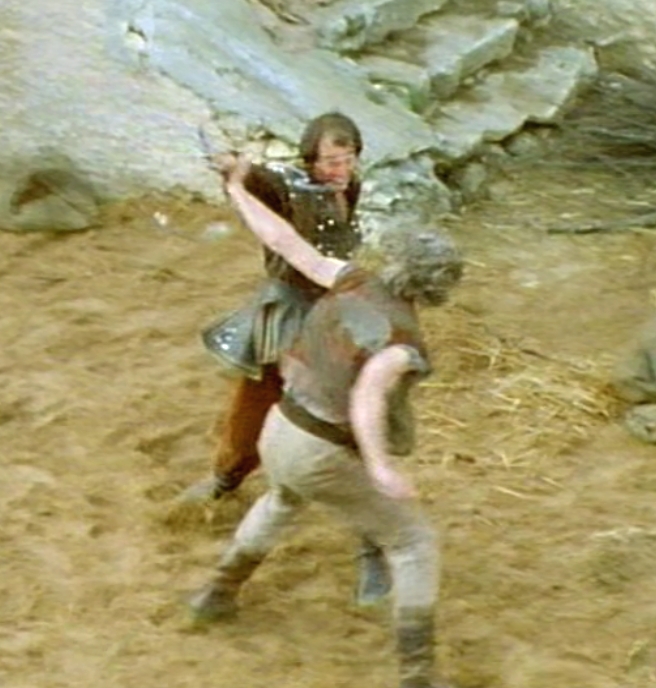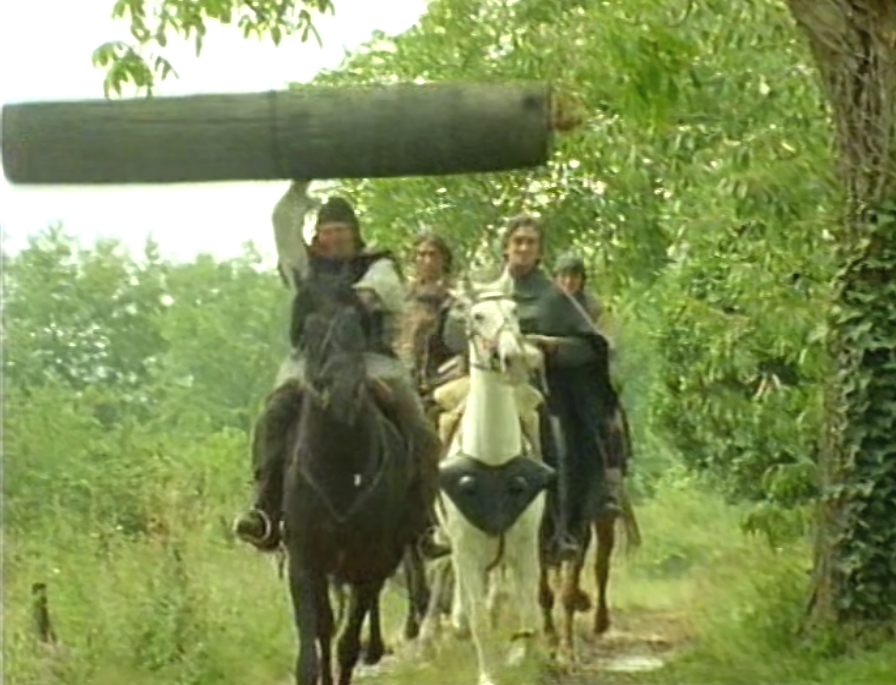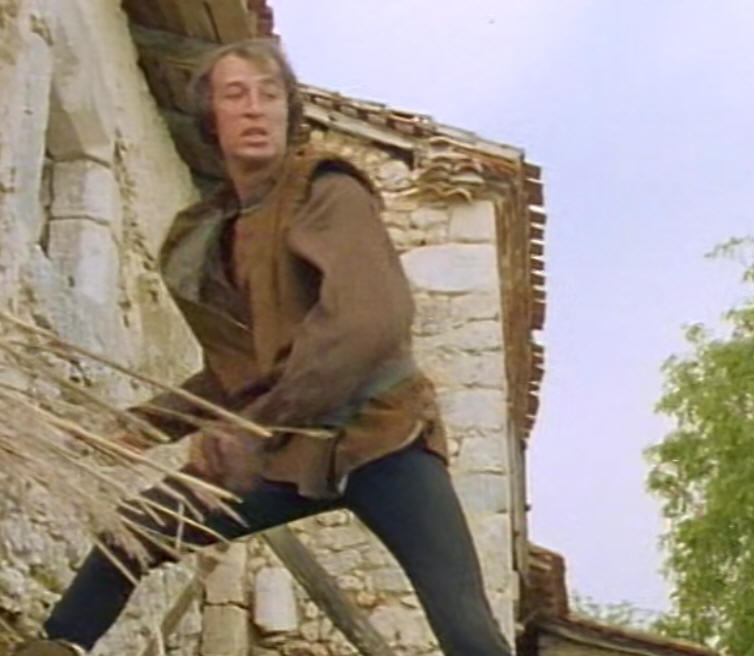 Pascal says: "Very good horses!" He is on 'Pablo,' (also Gessler's horse).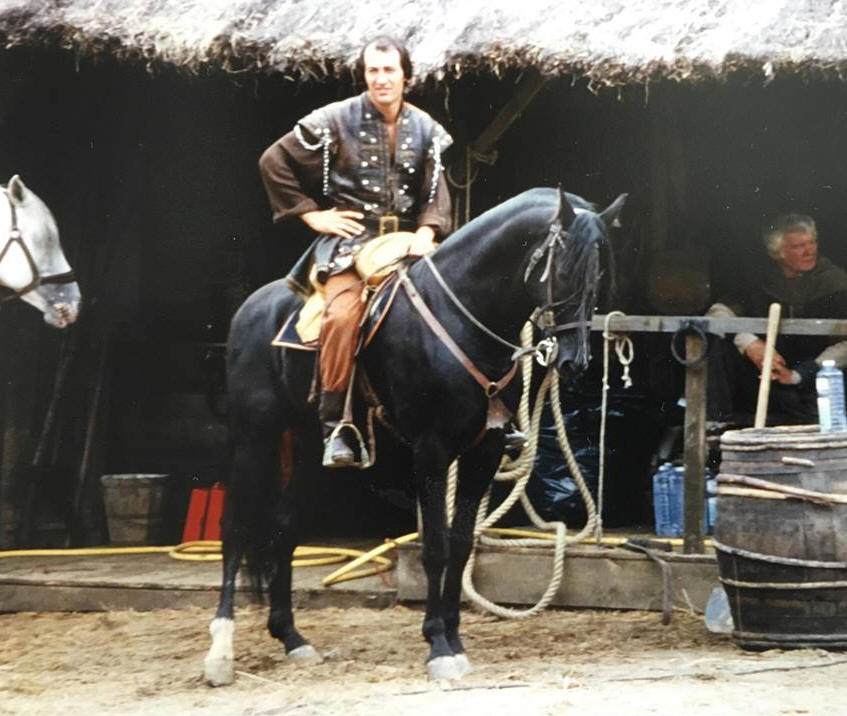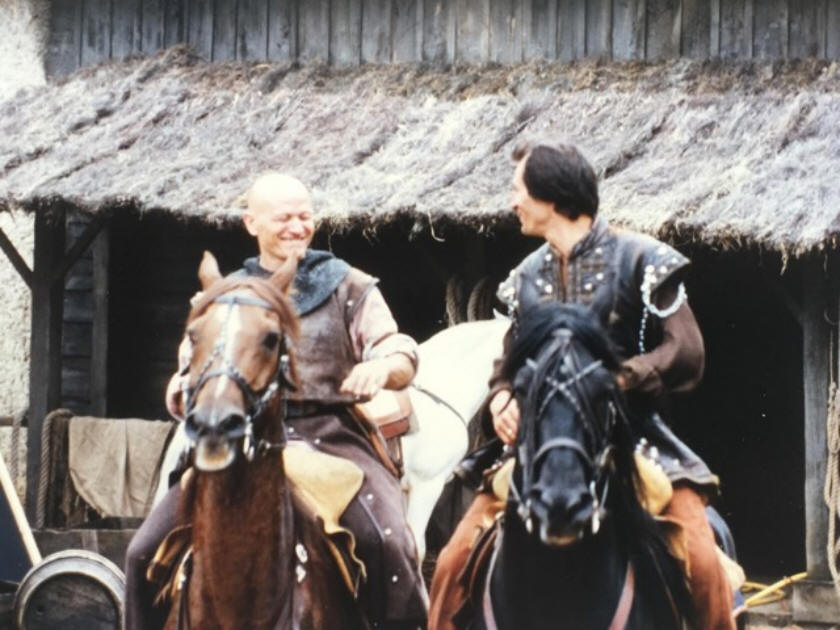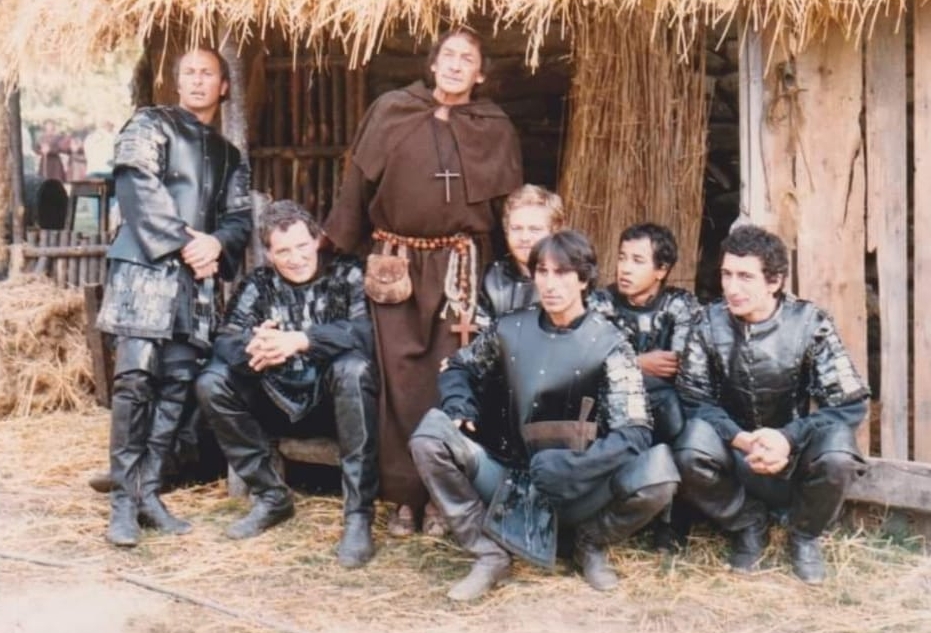 Stunt performer / Stunts (2 episodes, 1987-1989)
indb says 2 episodes but there are many more like The Pit and The Rock,-
Insurrection
(1989) ... (stunt performer)
Pascal Lopez is known for his work on Unleashed (2005), The Brothers Grimm (2005) and Taken (2008).
Patrick Cauderlier was born on October 4, 1946 in Paris, France. He is known for his work on The Bourne Identity (2002), GoldenEye (1995) and Lockout (2012).
He started the stuntteam Cauderlier and is still stuntman as well. Here is his website with beautiful stuntshots.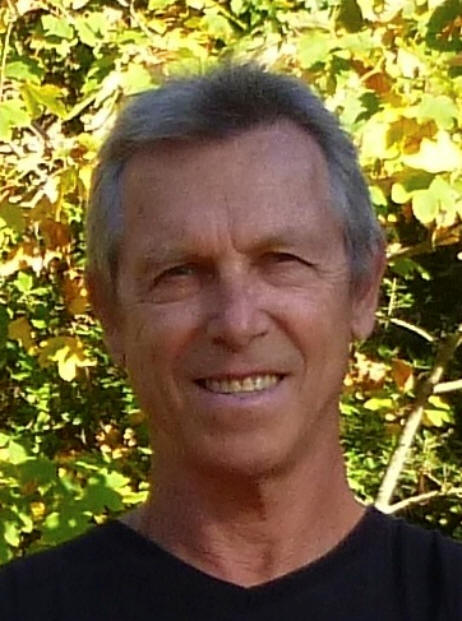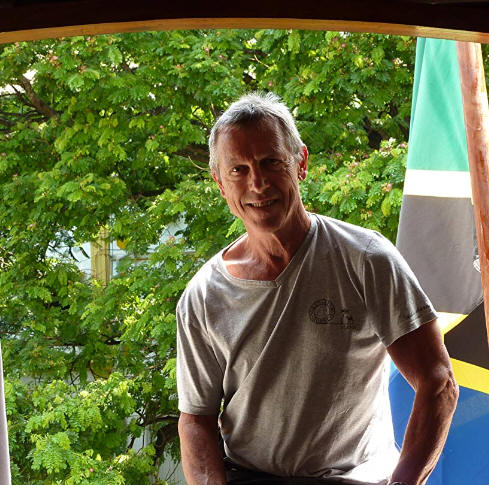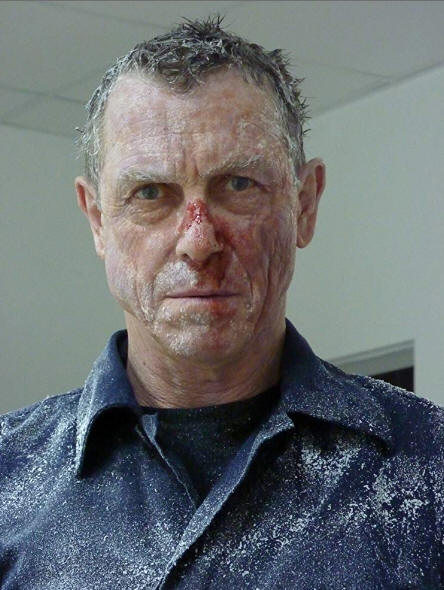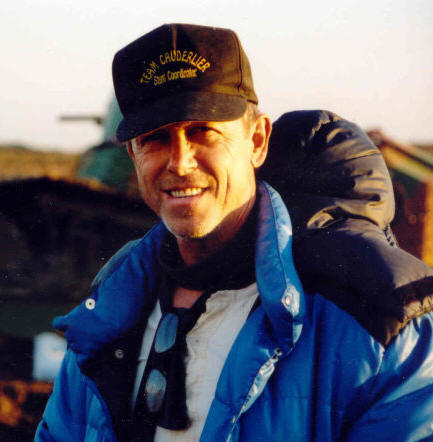 André and William Cagnard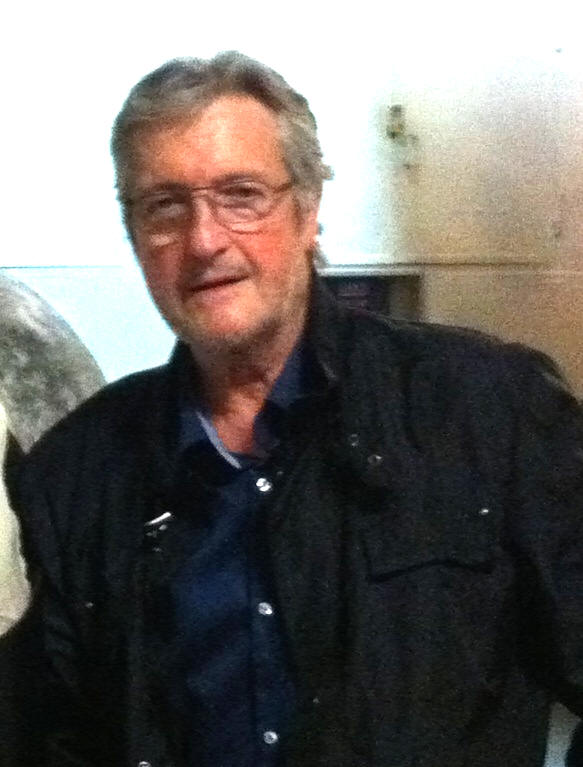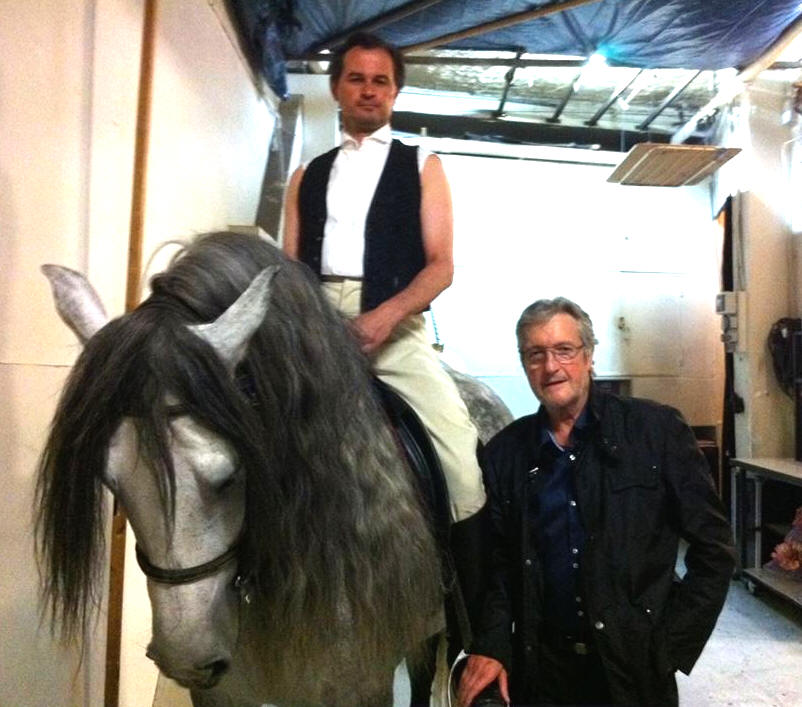 This is what P. Lazoore wrote about him: The "Boss" André Cagnard in Douchy. He taught me to fall off my horse and fight with the sword !! Thanks to him, I did the Gala of the Union of
Artists in 1976 it was the beginning then I worked with Hallyday and I'm one of the 4 who can claim to have carried Johnny in his arms! worked in Cyrano de Bergerac in Mogador with Jacques
Weber and I left 4 years in the Bahamas to do the stunt in a music hall review with my brother Christian. I had the best moments of my life despite my 2500 horse falls and countless bumps,
sprains, and a few dozen stitches !!! In short, Mr. Cagnard has changed the direction of my life. For all this and the rest thank you Mr Coin corner!
André Cagnard is a French actor and stuntman of cinema, theater and cabaret. He is also a writer, novelist, screenwriter. In his job as a stuntman, he rubbed shoulders with great personalities
such as Jean-Paul Belmondo, Johnny Hallyday and Alain Delon. On many films and shows, he has doubled the actors, but has also set staged cascades, prepared special effects, was master
of arms. He is also specialized in horse riding and fencing. Below Andre Cagnard and Philippe Lazoore.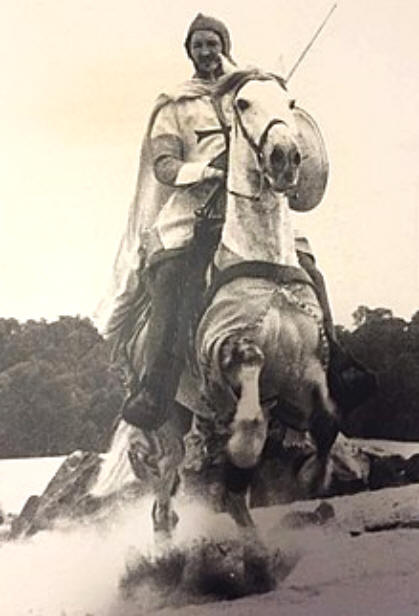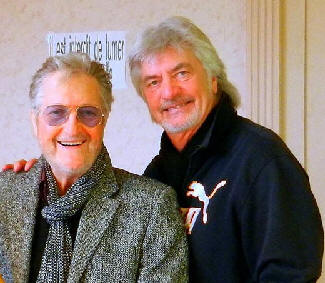 André Cagnard dans "Le dernier des templiers
Lido 1977

Télévision

1962-1966 : Thierry La Fronde de Jean-Claude Deret en 52 épisodes de 25 minutes sur RTF Télévision

puis sur la première chaîne de l'ORTF, chaque dimanche soir, à partir de 19 h 30

1966 : Le Chevalier d'Harmental de Jean-Pierre Decourt (série télévisée)

Spectacle

Le LIDO (de 1964 à 2015)

Spectacle de Johnny Hallyday (1979) : Conception et mise en scène d'André Cagnard pour

l'ouverture du show "L'ANGE AUX YEUX DE LASER" au pavillon de Paris.

Spectacle de Johnny Hallyday (1982) : conception et mise en scène d'André Cagnard pour

l'ouverture de show "FANTASMHALLYDAY" au Palais des sports de Paris.

Le Moulin Rouge (de 1987 à 2016)

André Cagnard a été maître d'arme pour les spectacles suivants (liste non exhaustive)

Filmographie Cinéma

1961 : Le Miracle des loups d'André Hunebelle

1962 : Le Chevalier de Pardaillan de Bernard Borderie

André Cagnard dans "Le dernier des templiers"

1962 : Deux Têtes folles de Richard Quine

1962 : Le Masque de fer d'Henri Decoin

1963 : La Tulipe noire de Christian-Jaque

1964 : Coplan, agent secret FX 18 de Maurice Cloche

1964 : Les Deux Orphelines - (Le due Orfanelle) de Riccardo Freda

1964 : Lucky Jo de Michel Deville

1964 : Le Majordome de Jean Delannoy

1964 : Nick Carter va tout casser d'Henri Decoin

1965 : Coplan FX 18 casse tout de Riccardo Freda

1965 : Fantômas se déchaîne d'André Hunebelle

1965 : Furia à Bahia pour OSS 117 d'André Hunebelle

1965 : Train d'enfer de Gilles Grangier

1966 : Estouffade à la Caraïbe de Jacques Besnard

1967 : À tout casser de John Berry

1967 : Casse-tête chinois pour le judoka de Maurice Labro

1967 : Le Fou du labo 4 de Jacques Besnard

1968 : L'Auvergnat et l'Autobus de Guy Lefranc

1995 : Le Sang du chasseur de Gilles Carle

1997 : Ronin de John Frankenheimer
| | |
| --- | --- |
| 1997 | Cyrano de Bergerac d'Edmond Rostand mise en scène Jérôme Savary |
| 1996 | Nina Stromboli de Jérôme Savary mise en scène Jérôme Savary |
| 1985 | Panache  chorégraphie Rich Rizzo… conception Donn Arden |
| 1983 | Bye Bye Show Biz de Jérôme Savary mise en scène Jérôme Savary |
| 1979 | Troïlus et Cressida d'après William Shakespeare mise en scène René Dupuy |
| 1974 | Good bye Mister Freud  mise en scène Jérôme Savary |
André Cagnard a été cascadeur pour les spectacles suivants (liste non exhaustive)
1994 Chantecler after Edmond Rostand directed by Jérôme Savary

1993 | The Taming of the Shrew after William Shakespeare directed by Jérôme Savary

1991 | Marilyn Montreuil design Jérôme Savary
Novel
The Child Who Wanted to be a Hero (Published November 2015, Kindle Edition)
L'homme vertical (Published on May 2018, Kindle Edition)
The Master of Tigers (Published May 2017, Kindle Edition)
The Torn Astre
Pascal Guégan
Pascal is known for his work on Lucy (2014), Taken (2008) and Kiss of the Dragon (2001).
Stuntdouble by Willem Mijholt in a Dutch film by Edwin de Vries De vriendschap / Friendship 2001

Philippe Lazoore
Gansari's zombies and others episodes, 1988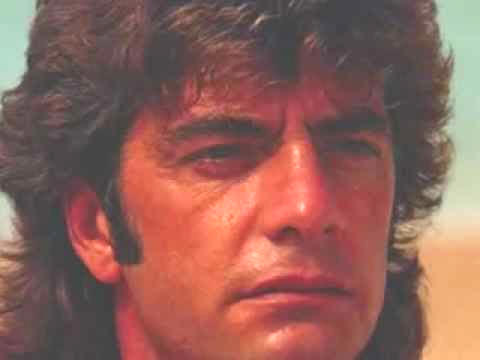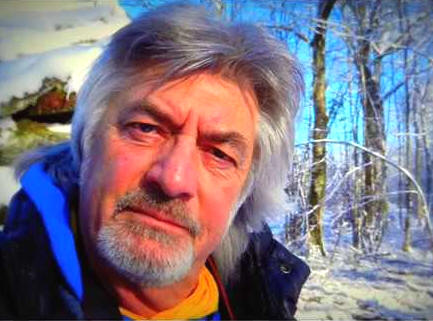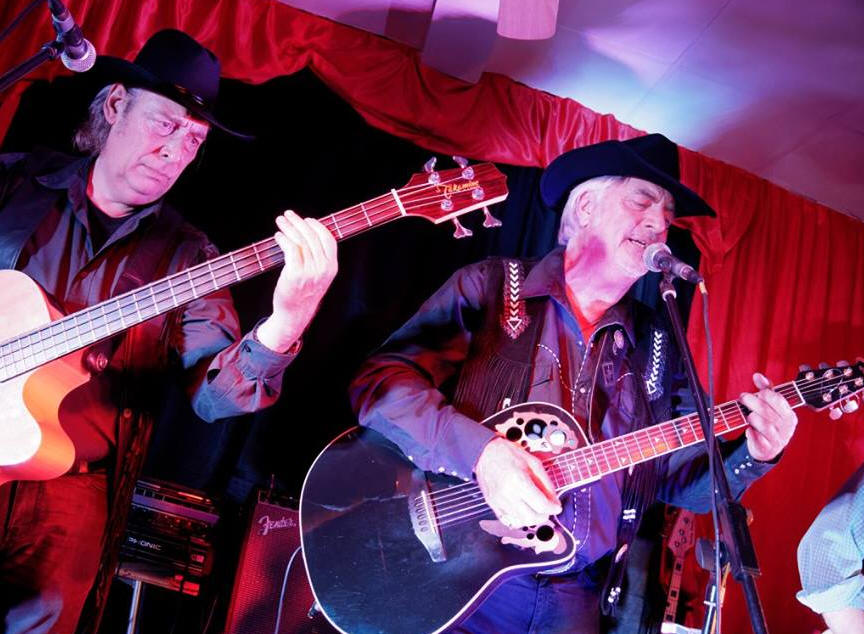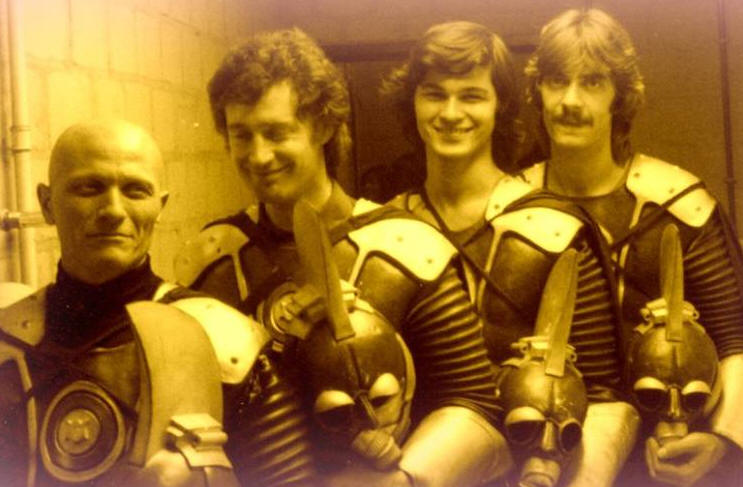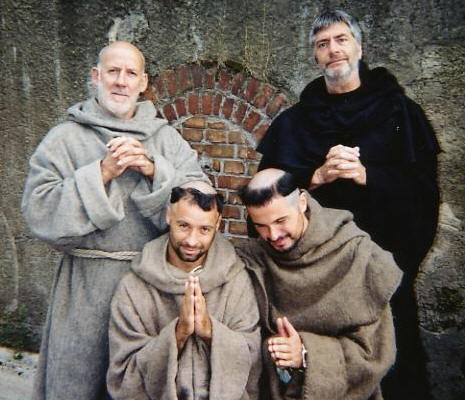 Episode Gansari's zombies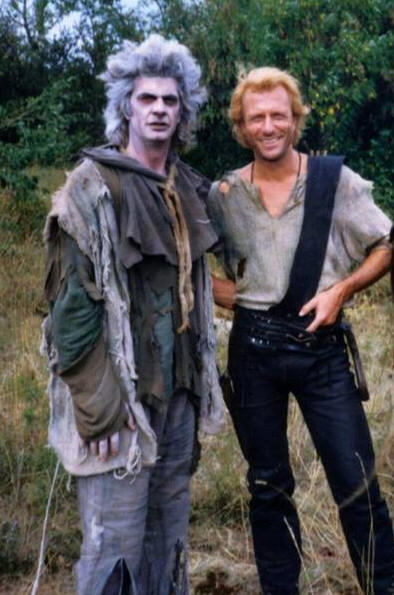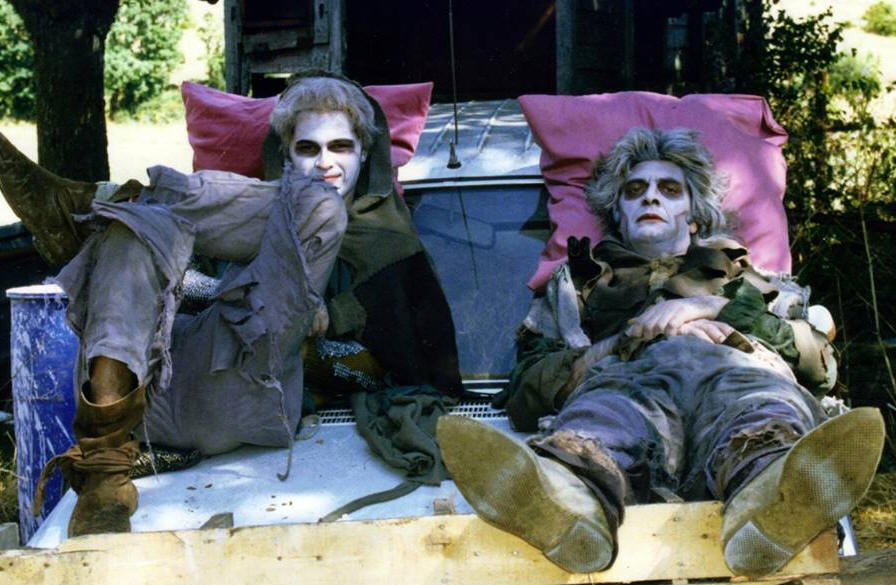 Philippe Lazoore in a 'fight' with Tell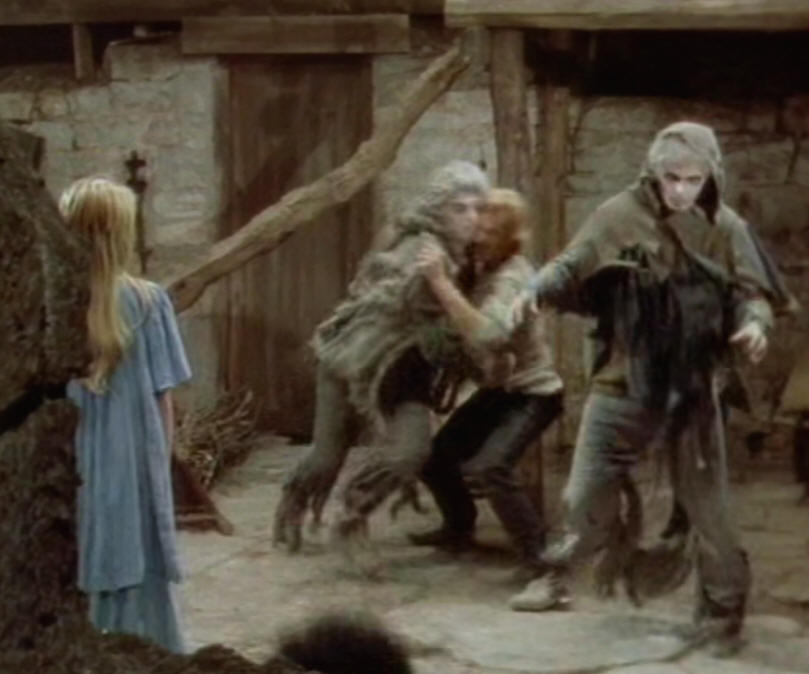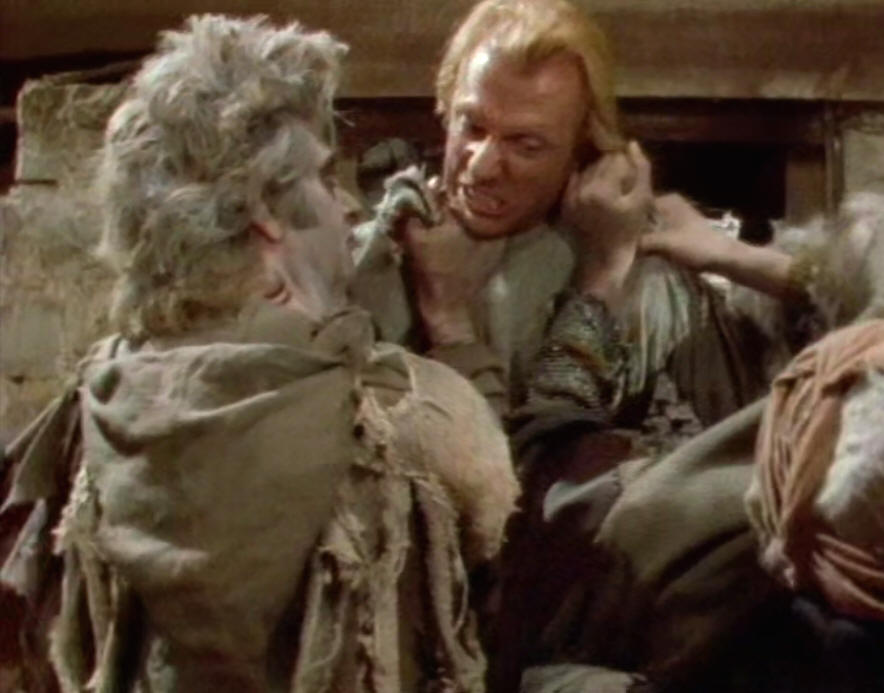 Falls in cascade
Falls, blows ... he knows! Injuries and bruises do not scare him
Since 1979 he has often had the opportunity to change his face: GI, Musketeer, Scotsman, Zombie, Bounty Hunter, Farmer, Revolutionary, Sbire de Vidocq ....
It's a job where one day or another, we are brought to rub shoulders with the greatest
Press: They said about him ...
Let's talk about friends. Far from the "hit parades", and other "play-list" formatted and ephemeral which we drink on the "FM-band" it advances ... A singer-songwriter, a real one!
An autentic artist with diverse talents! At once tender, funny and ironic. defending strong ideas sometimes ... he takes you into his poetic world, with the words ... Embark with him for a nice trip.
"My songs will not go to college," he said, "but, if someone, somewhere, hums one of my jokes, then I'm happy" ... E.V.
His life
Since 1992 I settled in the Loiret with Eva whom I married after 20 years of engagement. After a failed experience in Gien in the coffee bar business, we bought an old house
in Batilly en Puisaye. And since then we have discovered life outdoors. I'm no longer in the capital, except for a TV show or other big-screen movie!
I take care of my flowers, my friends, my two dogs Gaston and Lulu, my cat Nono, and Eva take care of me ... of course. I pick up a little of these old walls every day. It is there too,
contemplating the nearby forest, that I compose my songs and prepare the albums that I produce. I hope to make some more as long as I find some friendly ears to think
Marcel L'abbaye
Plays Flamingo, minimal 6 episodes, probably many more (1987)
He was in episode 'The Mission' as an actor plus he did stunt and in episode Albion, Sanctuary, Doppelgangers, The Pit and The rock and perhaps many more I wasn't able to spot yet.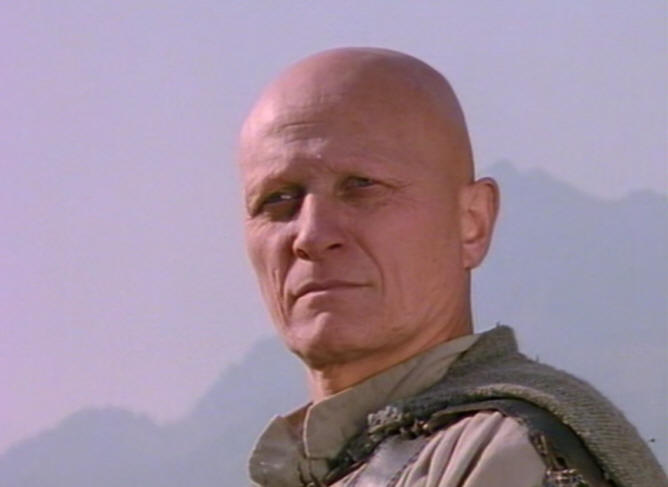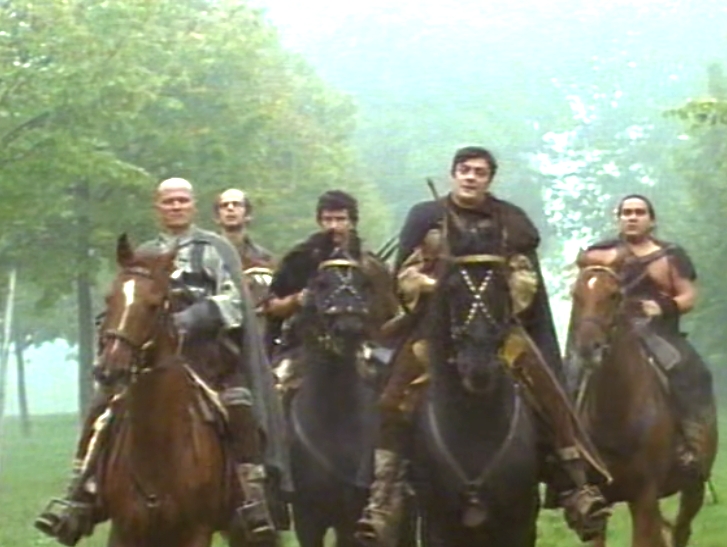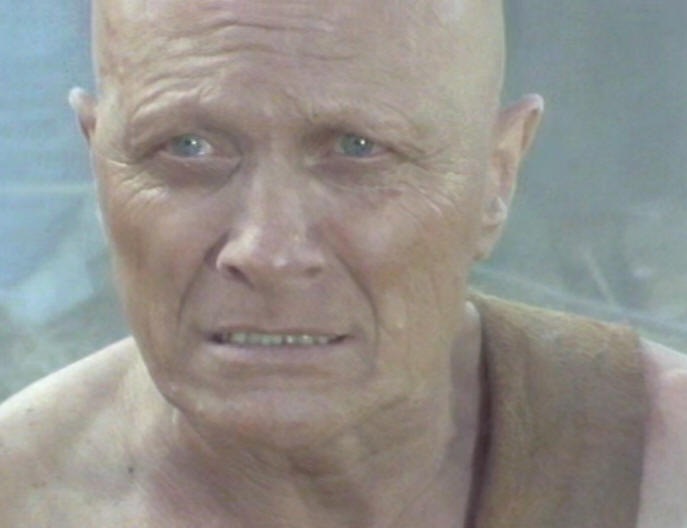 Marcel L'abbaye is known for his work on Zorro 1975 stunts, Highlander 1 episode stunts, The Transporter (2002), The City of Lost Children (1995) and Joan of Arc (1999)
First Marcel L'Abbaye then Christian L' Abbaye, Will MDLC and Phillip Lazoore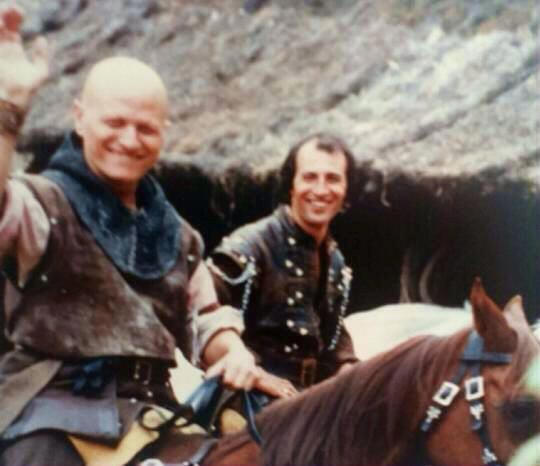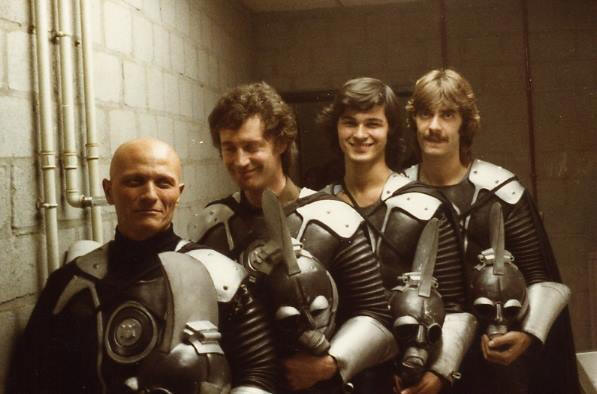 In episode the Rock and The Pit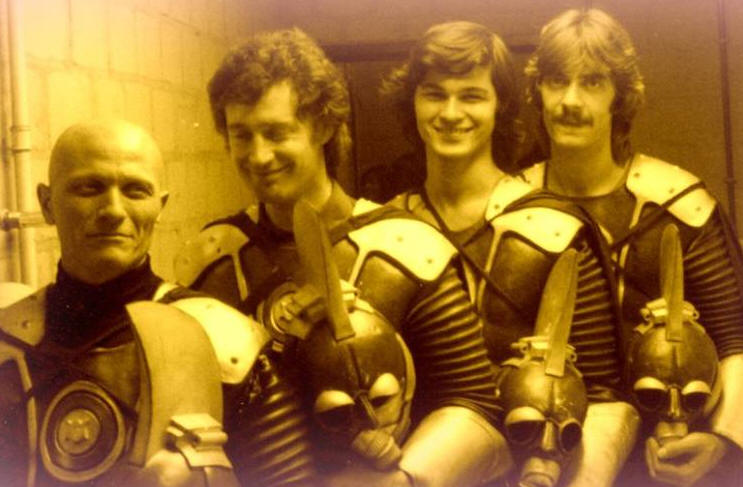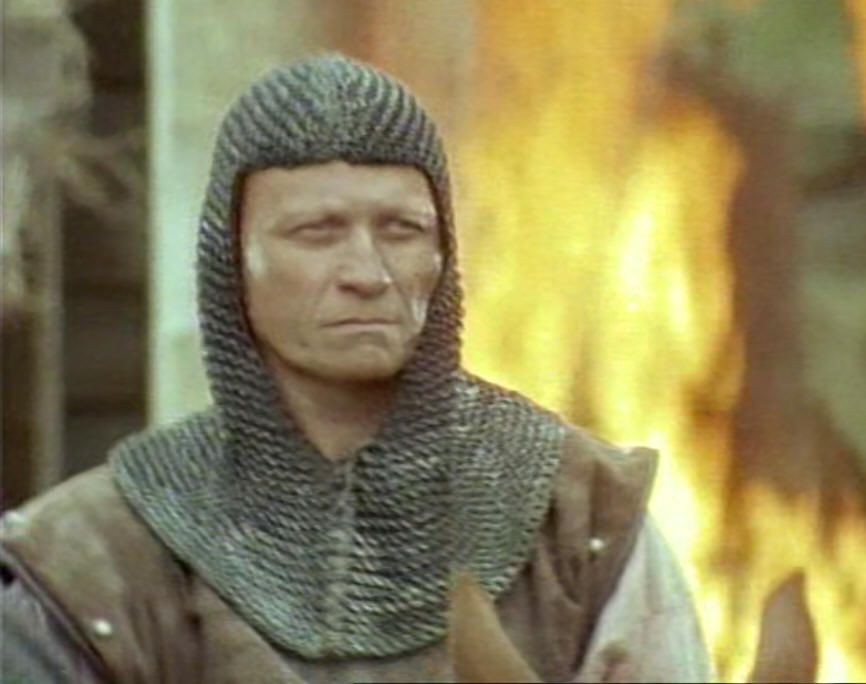 Meeting during Crossbow (it seems at Virieu gardens) Below a scene from episode 'Albion.'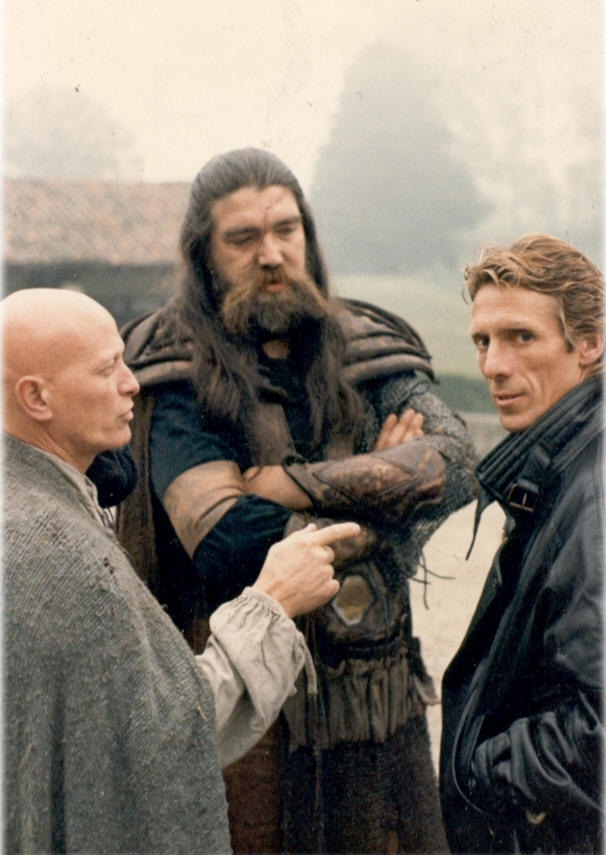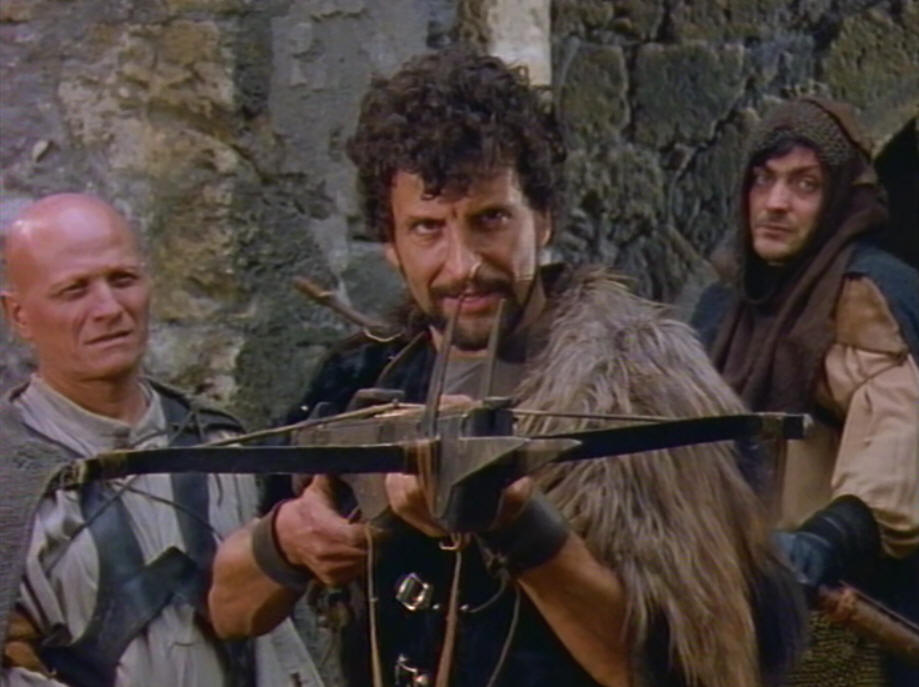 Below: in the monastery of Lavaudieu (in episode Sanctuary, as one of Dante's men)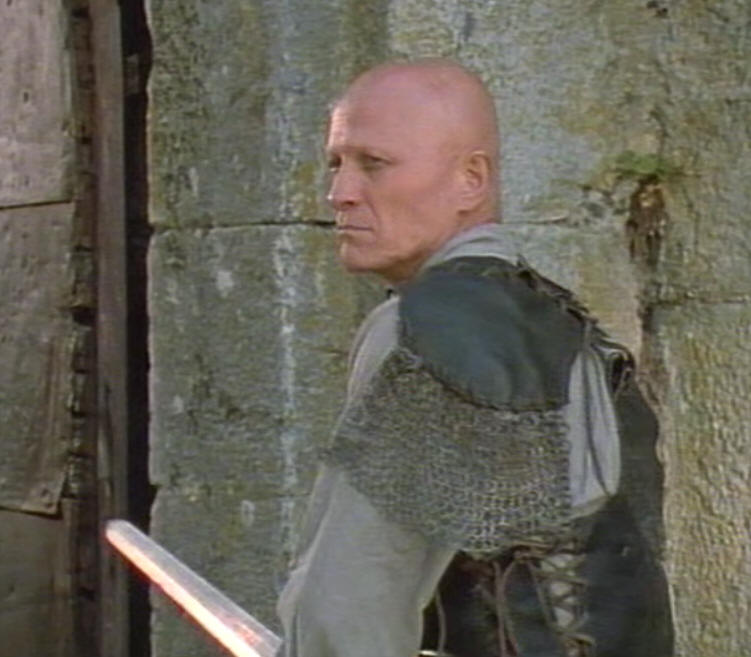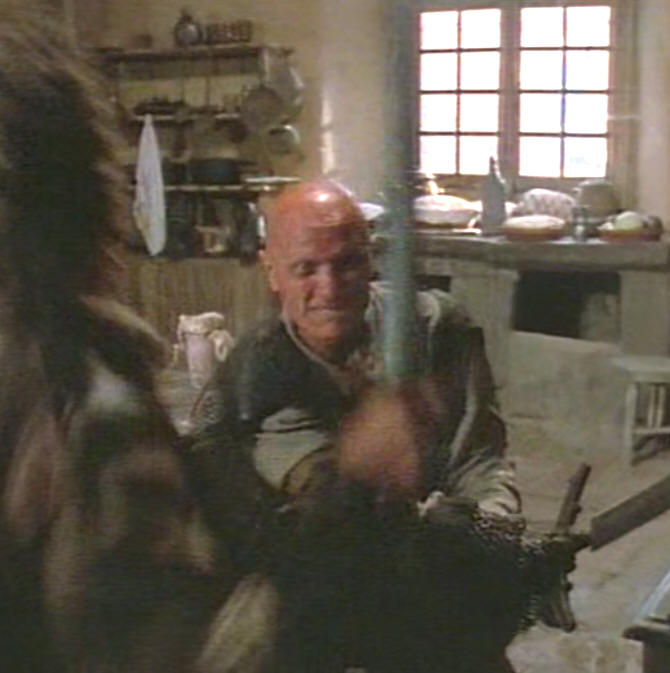 Episode The Rock. Marcel against Tell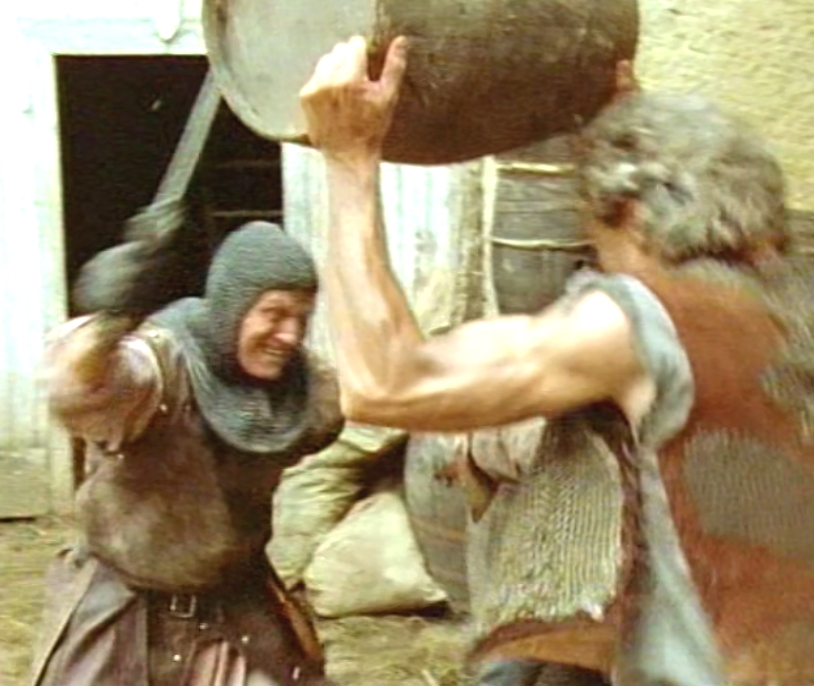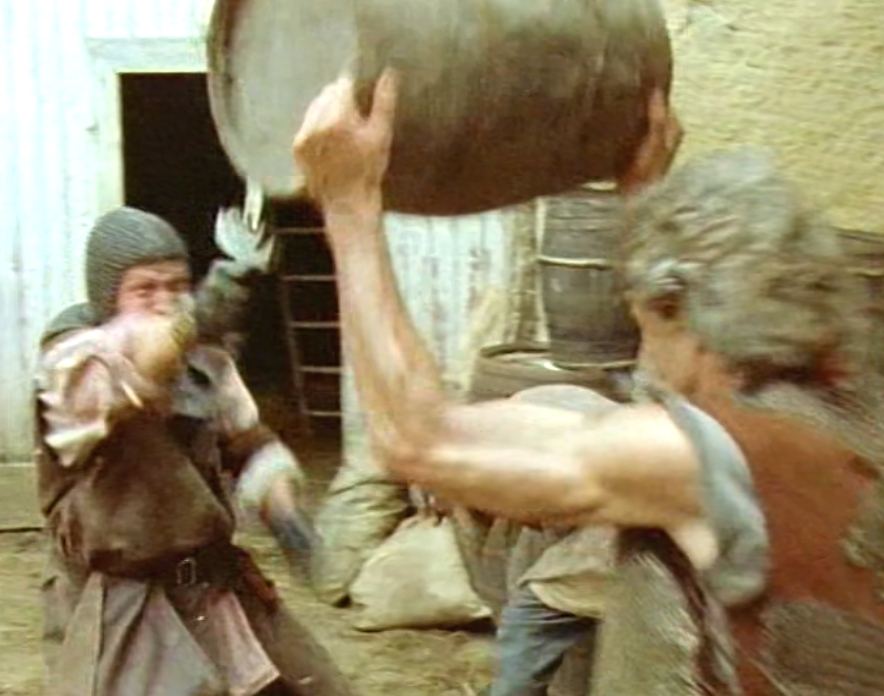 In episode The Mission I spotted him and in Doppelgangers again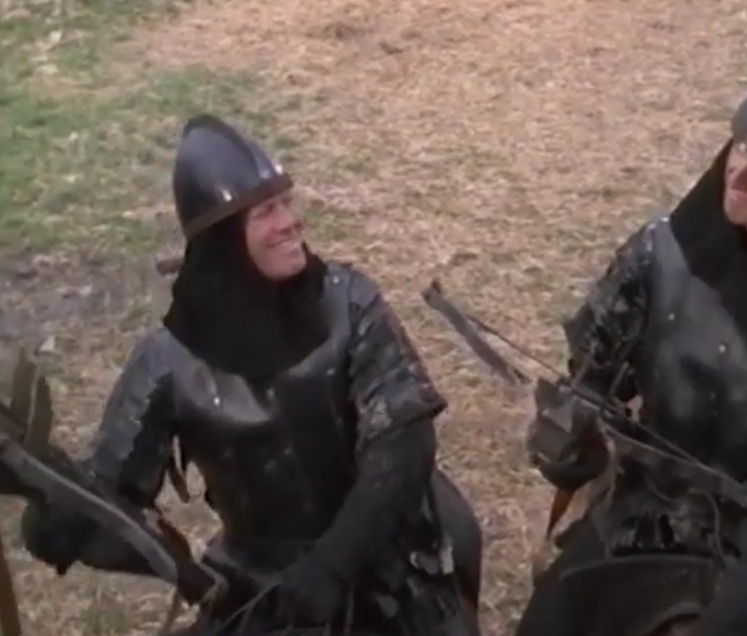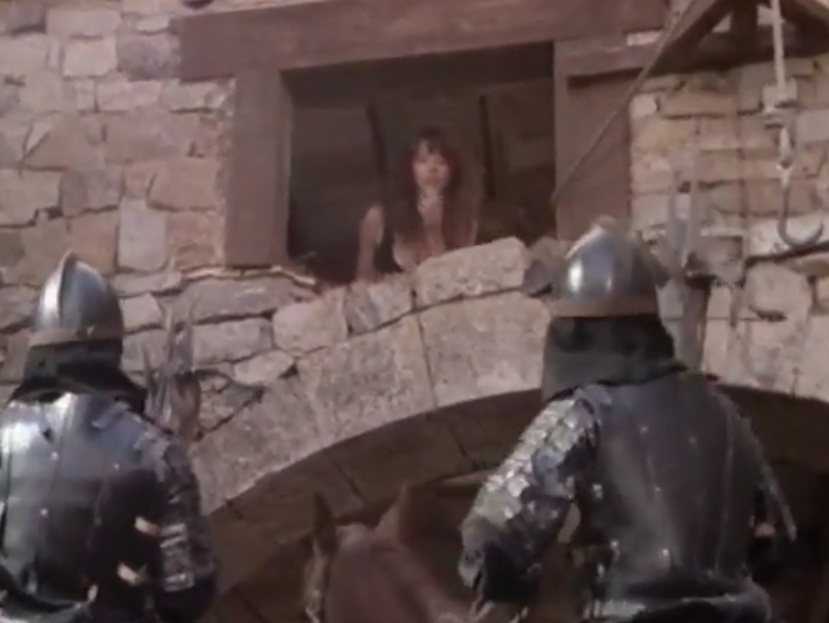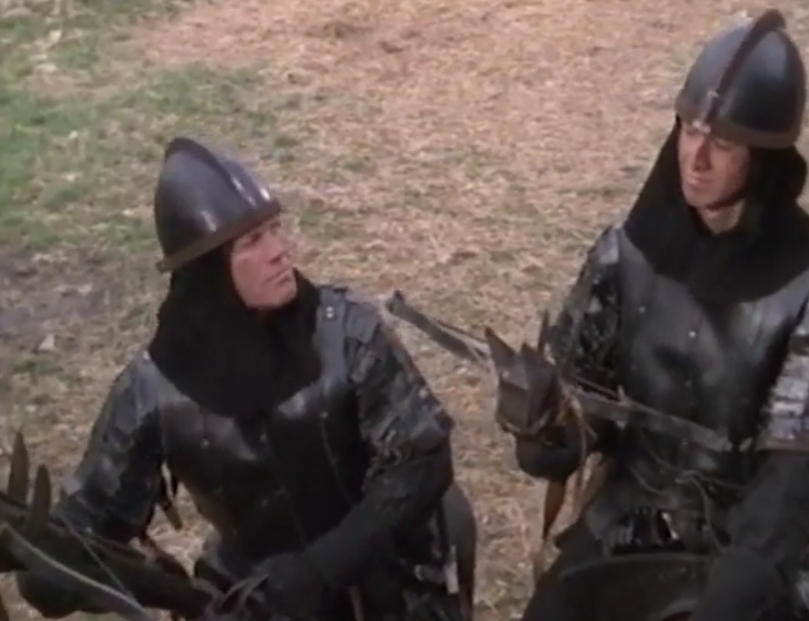 On the of Crossbow set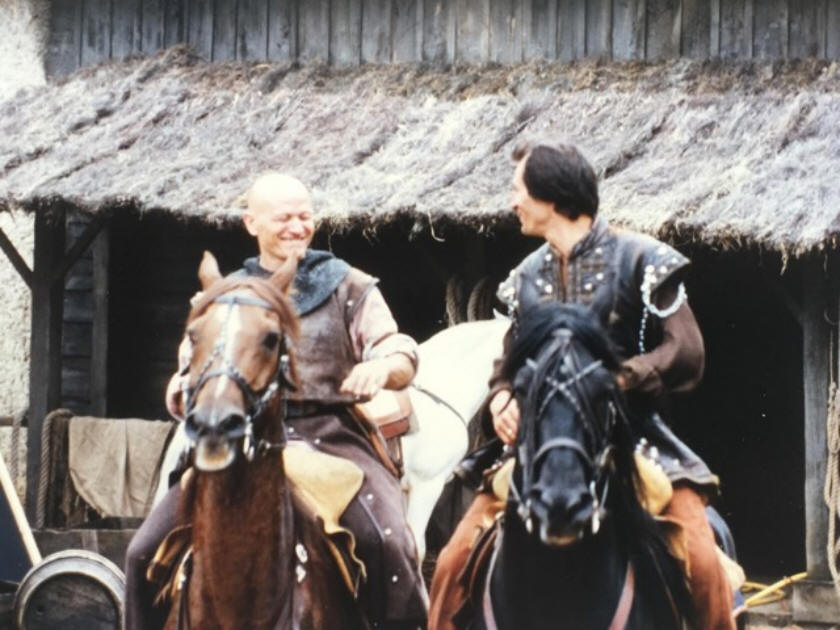 Mdlc Will
Stuntman and actor in Episodes: Possesed and Gansari's zombies and for sure a lot more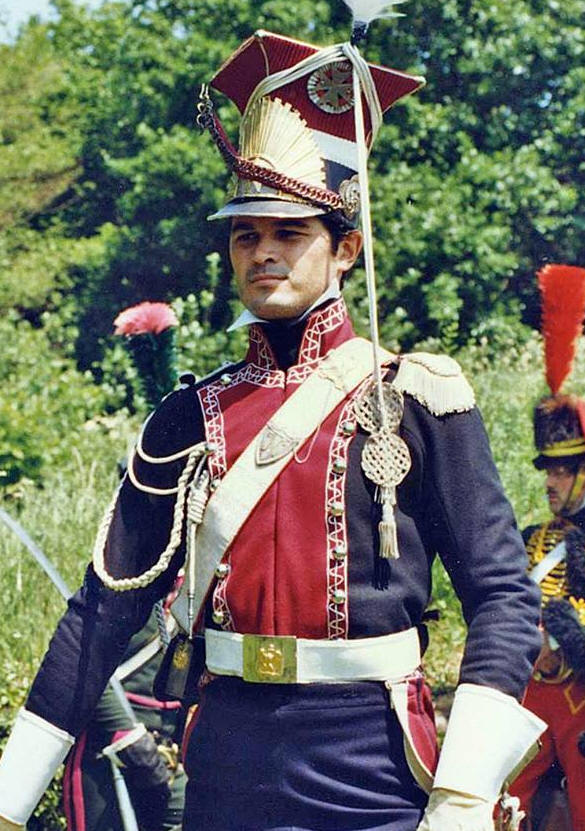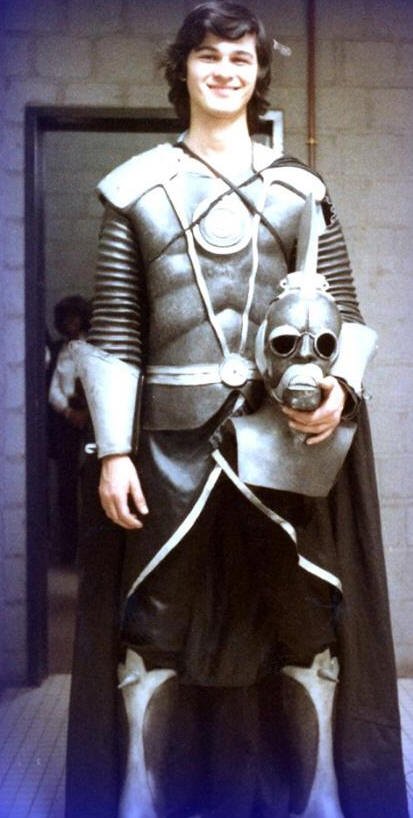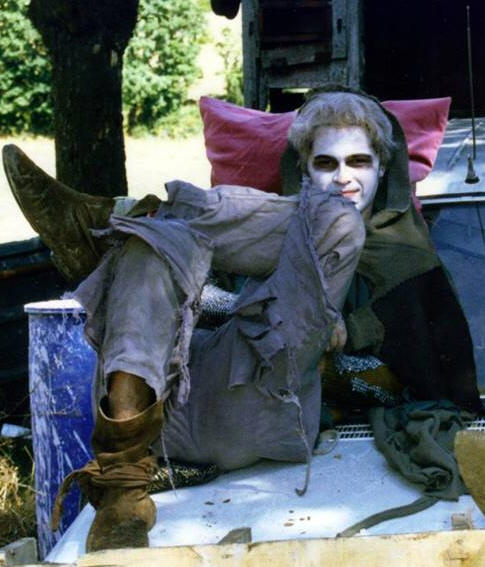 In Highlander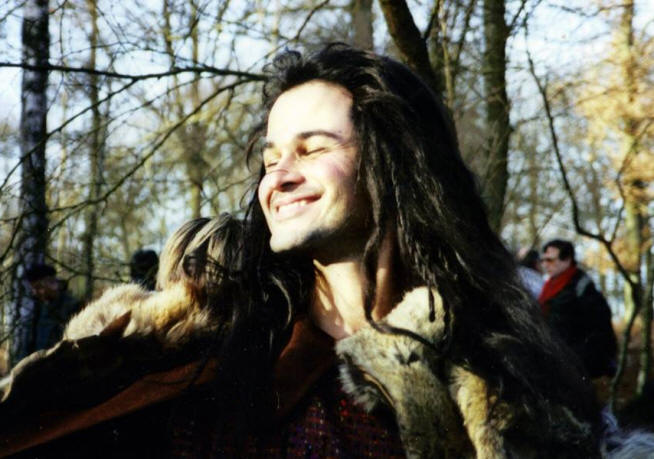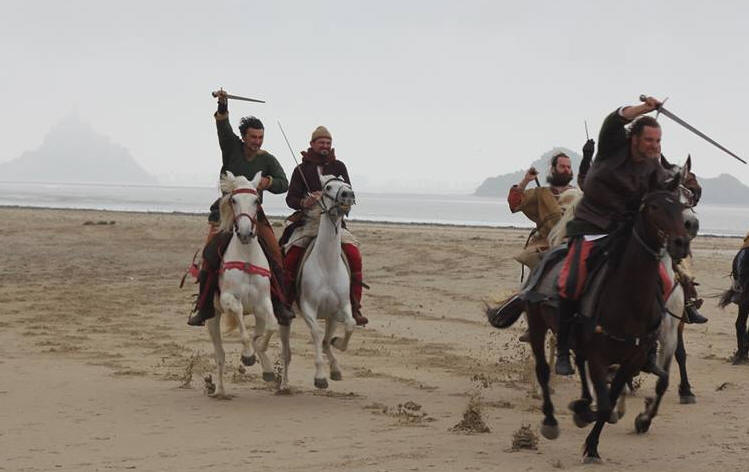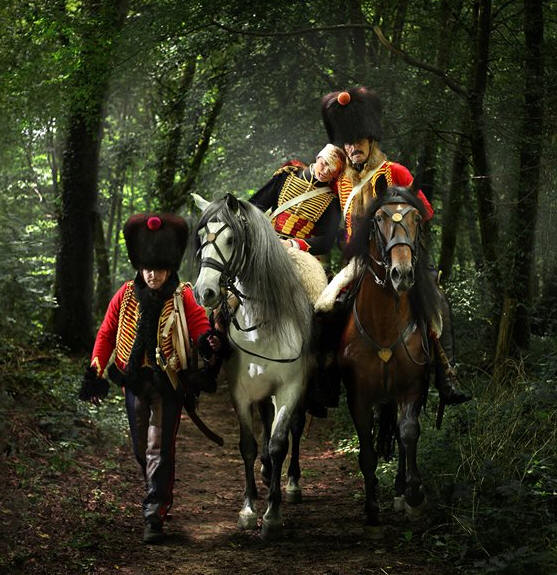 L 'Abbaye, Cagnard, MDLC Will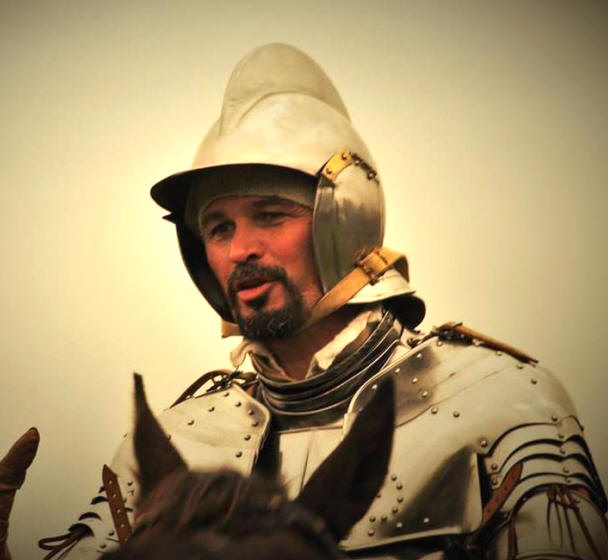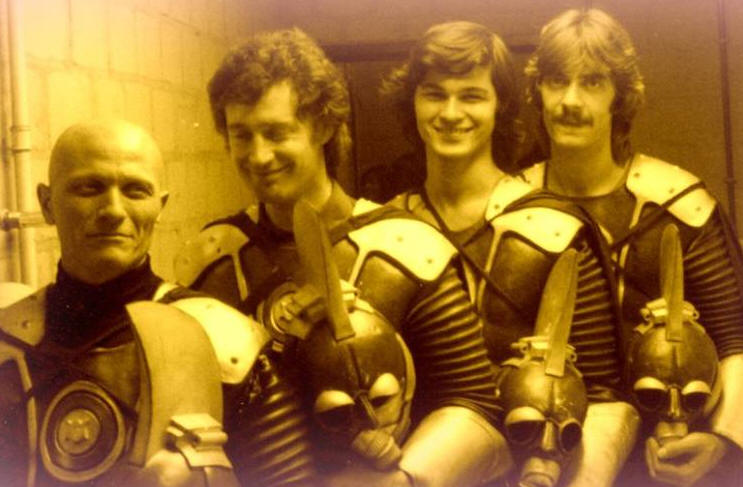 MDLC Will was in a film (left below) in Vercors, look at the beautiful Mont Aiguille in the back. Beautiful view on the mont Aguille in Vercors. We once climbed the foot of the mountain, very steep.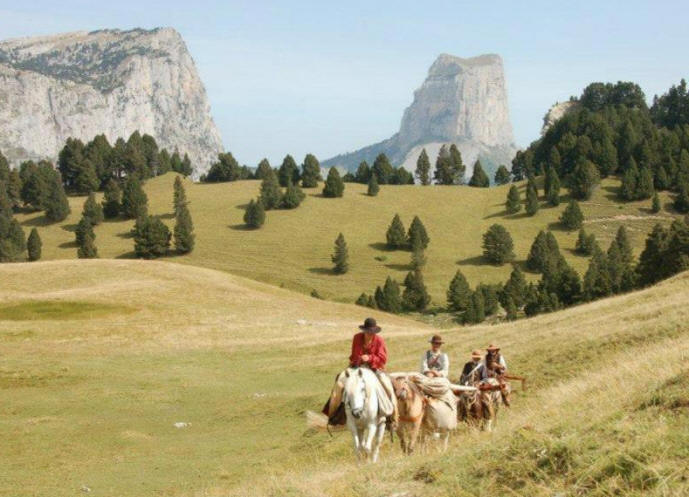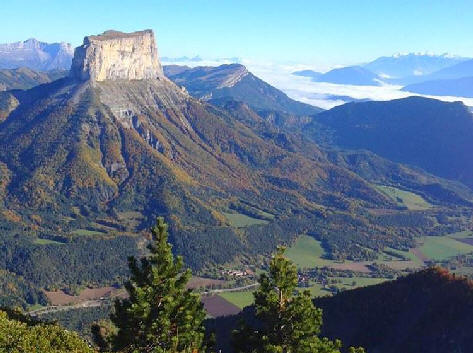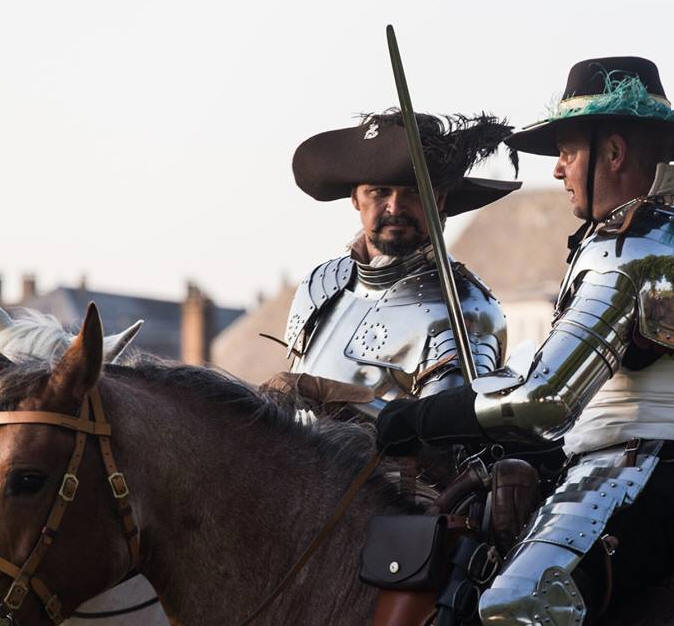 The mountain is beautiful! It was very steep and the climb through the forest took at least two hours, although you would not say that. There was also snow higher up (around (May).
The descent went a lot faster. It was so steep that we had run down a large part of the mountain due to gravity, we could barely stop. Our knee joints bend the other way into the
wrong direction for 2 days (didn't know that was possible). The walking two days after did not look. If you are nearby in Vencors I can recomment this stunning mountain.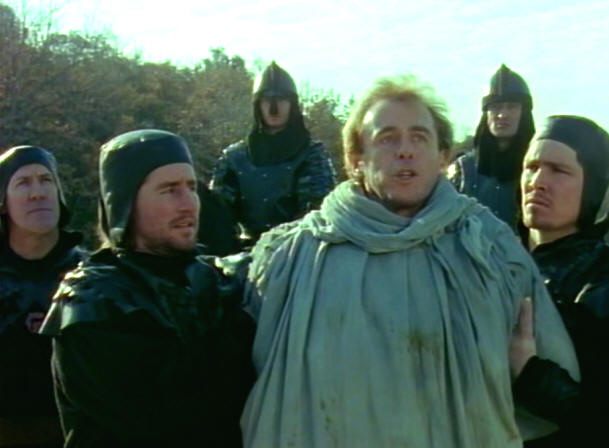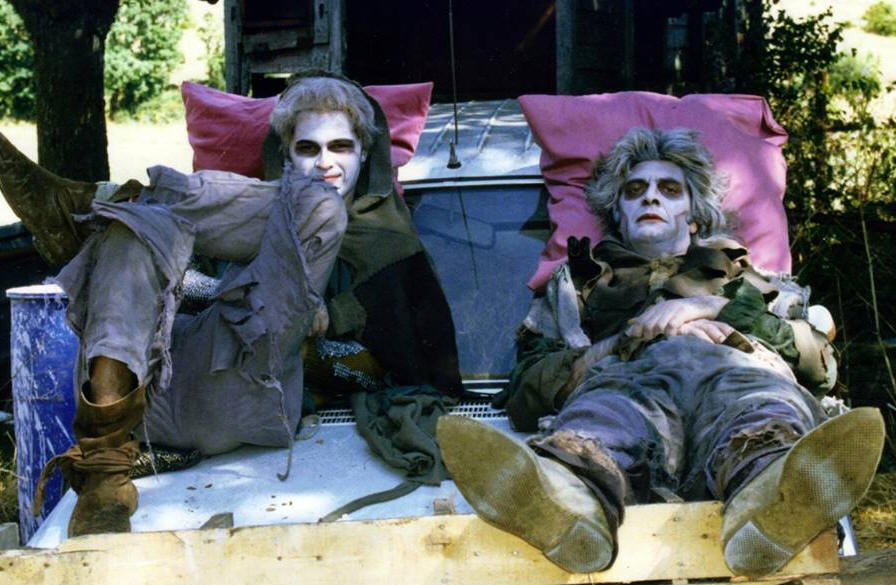 About the right piucture above. Will is on the right and P. Lazoore on the left. Mdlc Will: "yes I remember it well. I did a lot more episode too but this is so far away....
I remember on that day the director having a hard time to keep us serious as we were acting stupid been dressed as zombies. Here is a full action pack picture of that day.. "
Francois Hardy
Equestrian advisor (12 episodes, 1987)
François Hardy is known for his work on Le pacte des loups (2001), Astérix & Obélix contre César (1999) and Arsène Lupin (2004).
Photo was taken on the CRossbow set - from Jean-Marc Vasseur Episode The Mission Episode Doppelgangers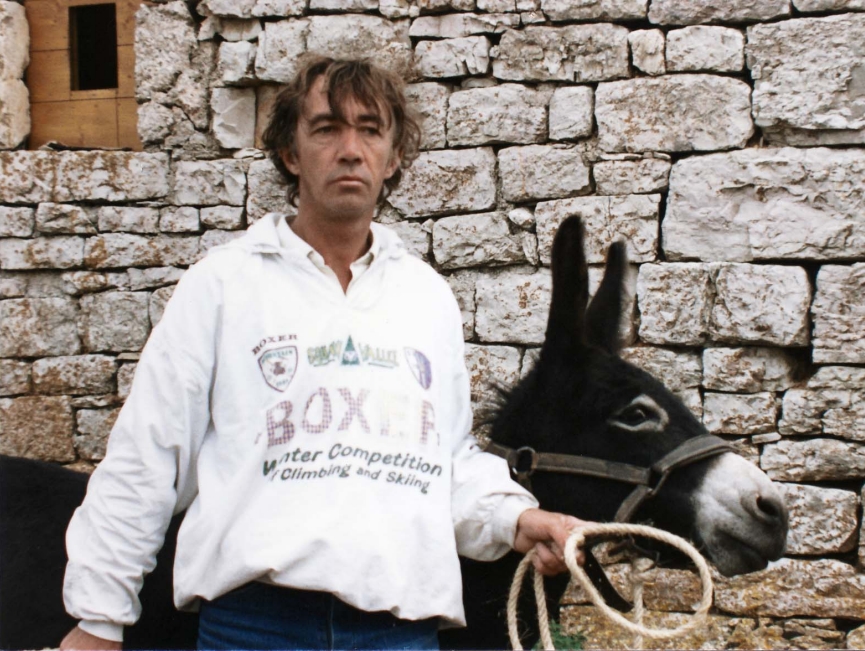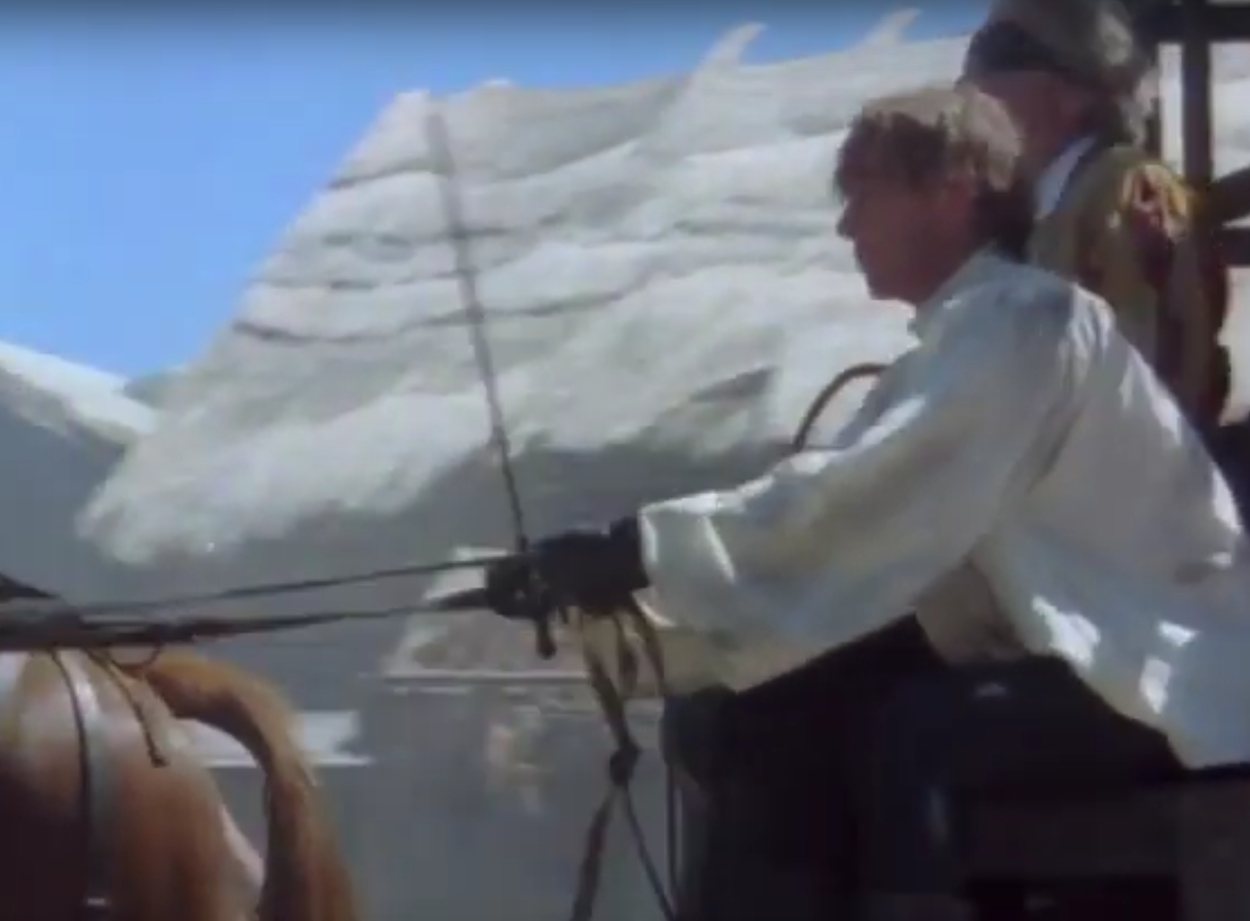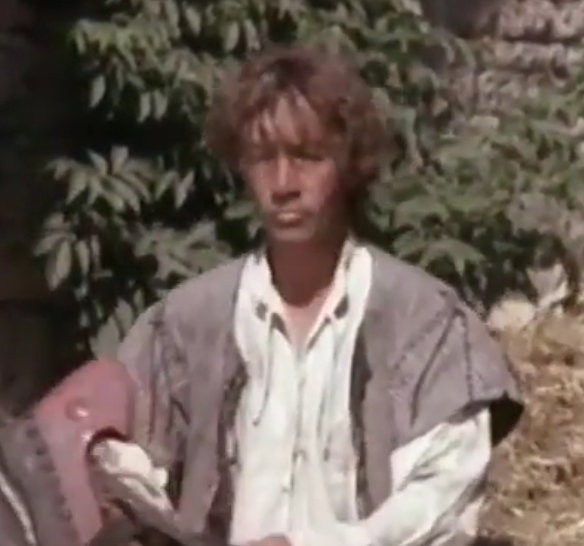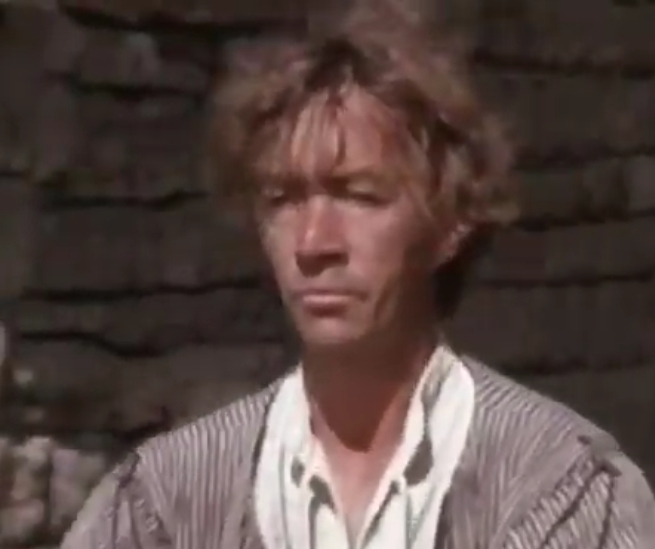 Philippe Zone
1 episode, 1987 in episode The Bet and assistent horsemaster
Philippe Zone is known for his work on Tristan + Isolde (2006), The Medallion (2003) and Joan of Arc (1999)
PHILIPPE Zone set up the scenes, which were based on Webster murdering first wife Claire in 1994 by crashing their Daihatsu 4x4 and torching it with her still inside,
for upcoming drama The Widower. It left him shaken he says. (daily record)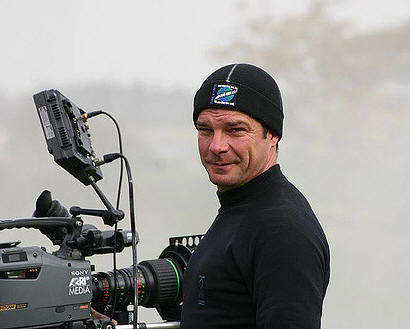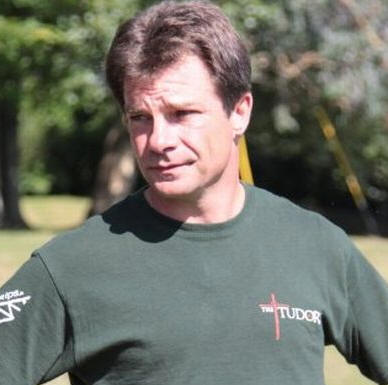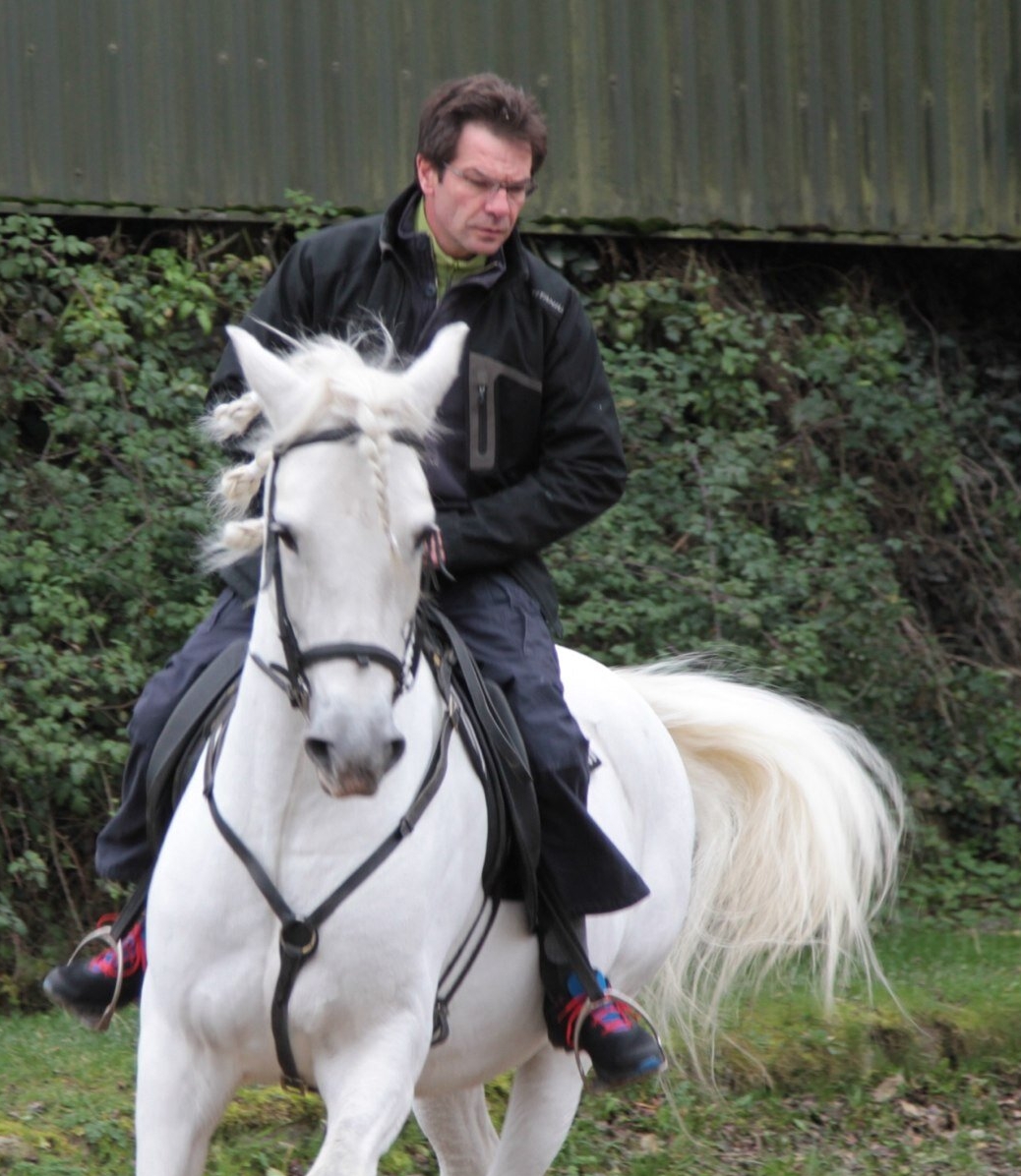 Horse Stunts
Some of the Crossbow horsestunts by Mario Luraschi
As a horse trainer, stuntman and stuntrider, riding master, driver, trick rider, but also saddle-maker, stable manager, etc, Mario Luraschi is a real equestrian master.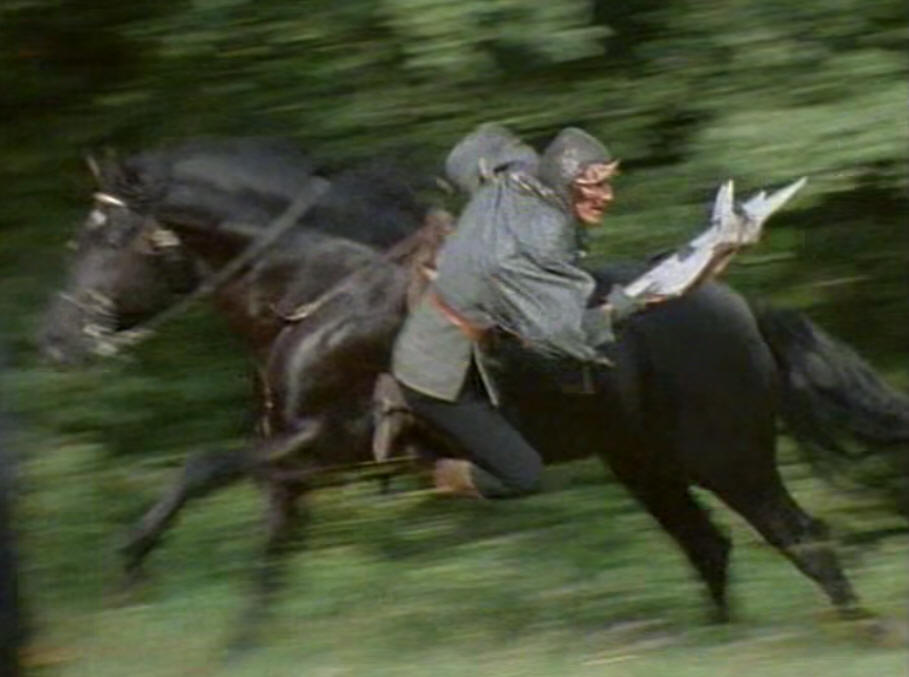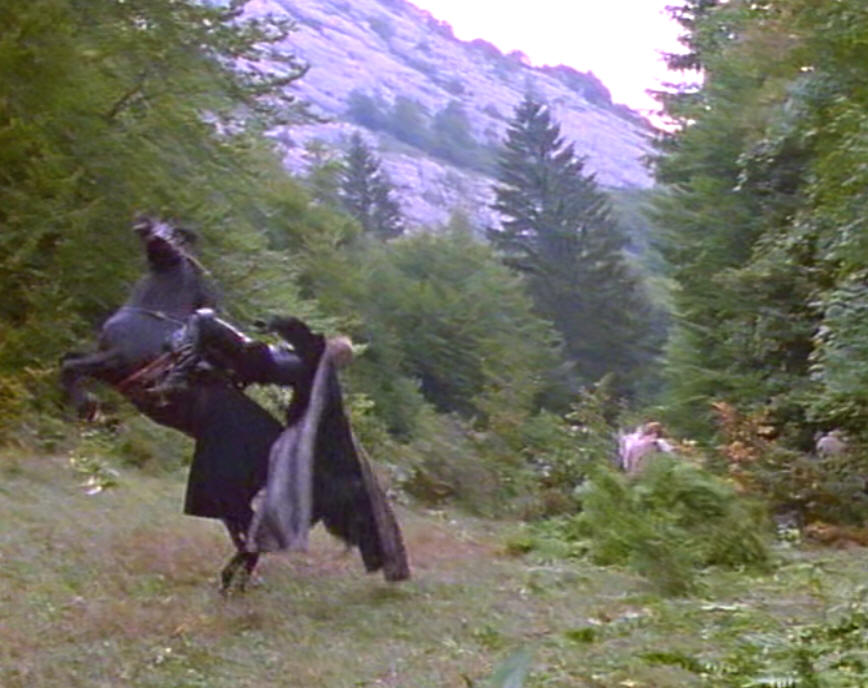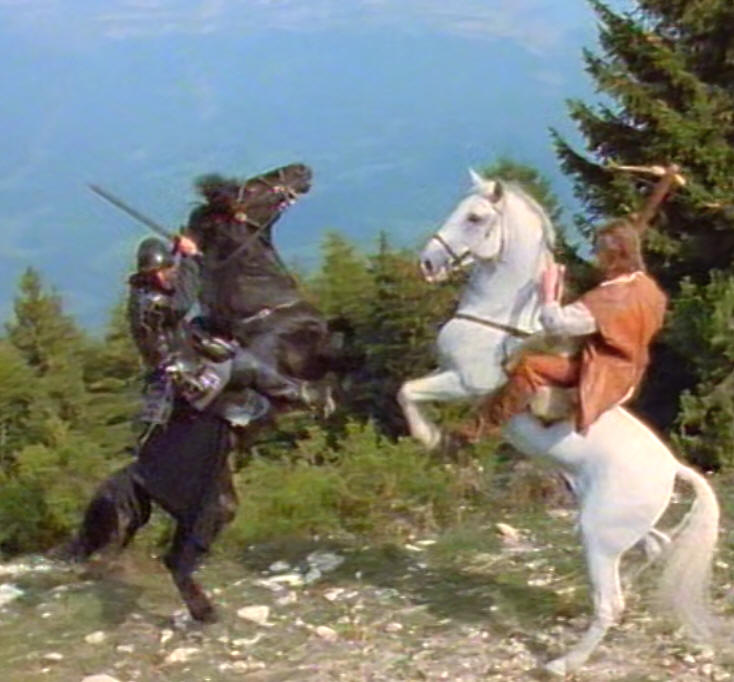 Left: episode 'Ladyship.' Right Episode 'The Pass.'
Episode 'The Pass.'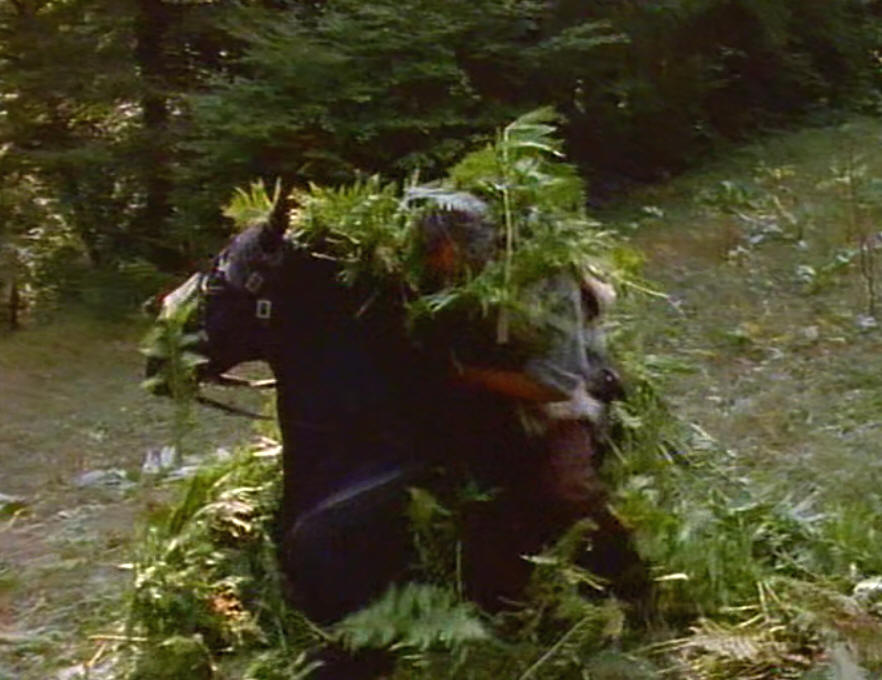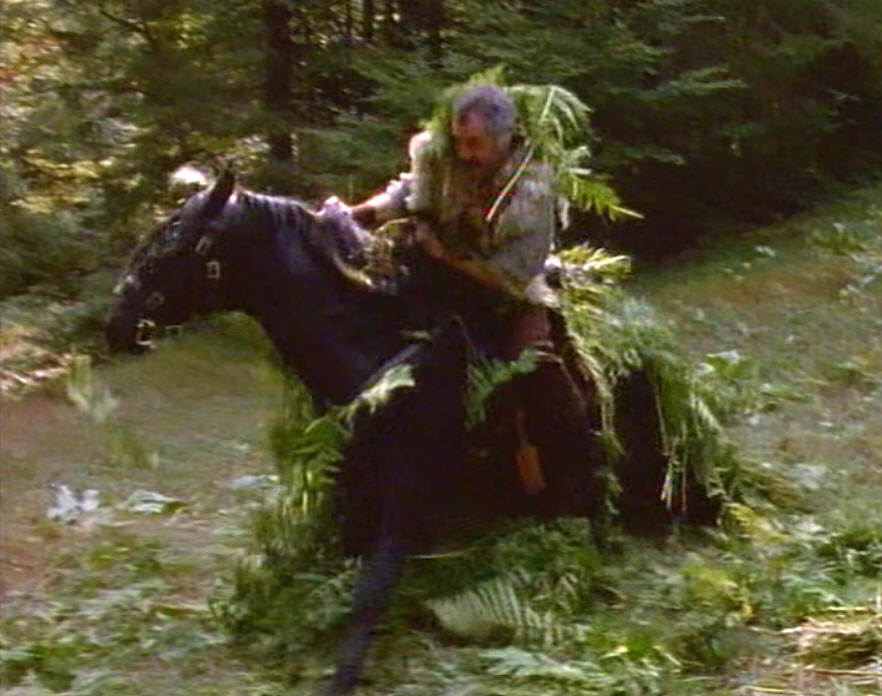 The fence opens up and with trust in the rider the horse rides close to the fence (episode The Rock)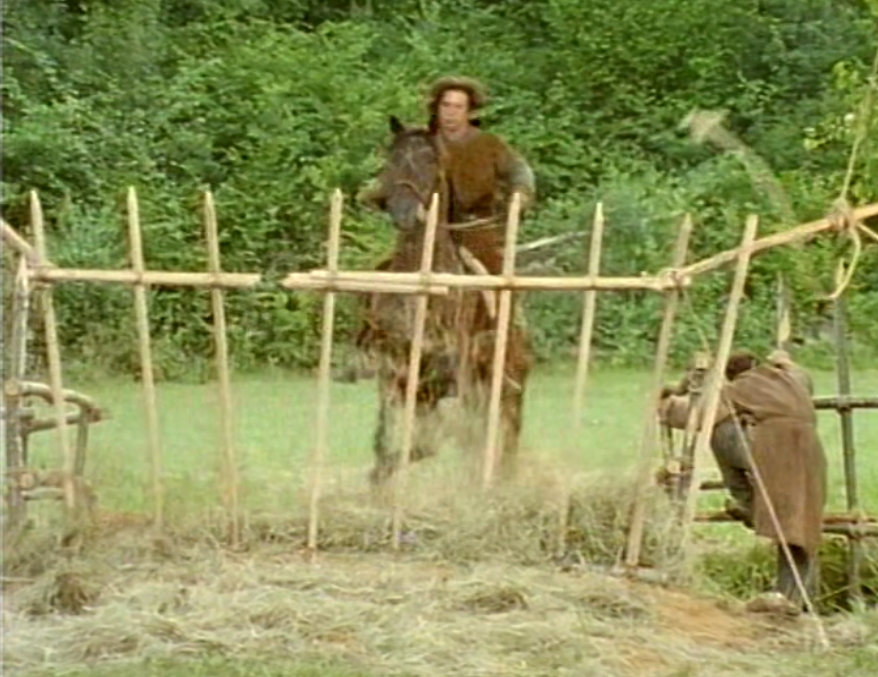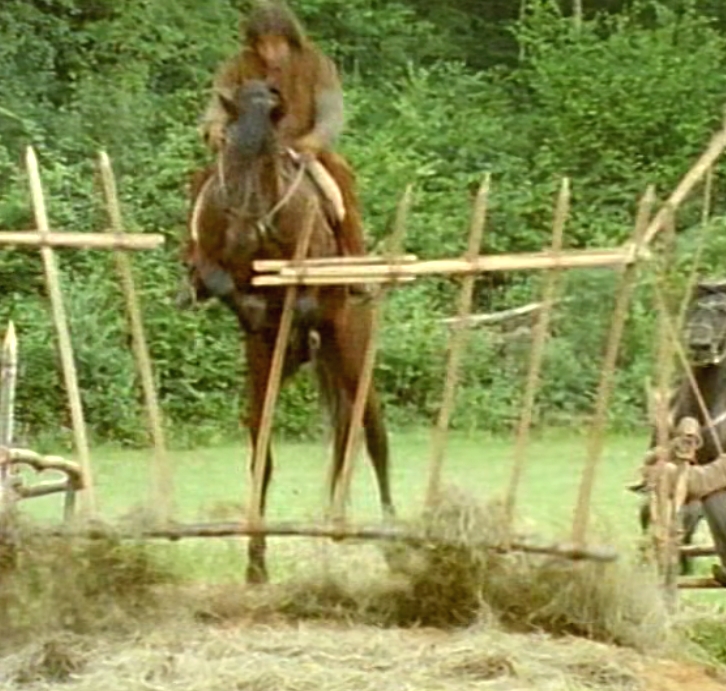 Mario Luraschi is known for his work on Le pacte des loups (2001), The Brothers Grimm (2005) and Mr. Nobody (2009).
Mario Luraschi provided horses and stuntmenfilms in films like: Bandidas, Jeanne D'Arc, Lucky Luck, Black Beauty and James Bond and many more. His horses were in shows in Las Vegas (Excalibur)
en Disneyland Parijs (Buffalo Bill Show). His work brought him in contact with Pénélope Cruz, Sylvester Stallone, Salma Hayek en Leonardo di Caprio and many more. You can click here for his list of movies.
Around the end of the 80 ties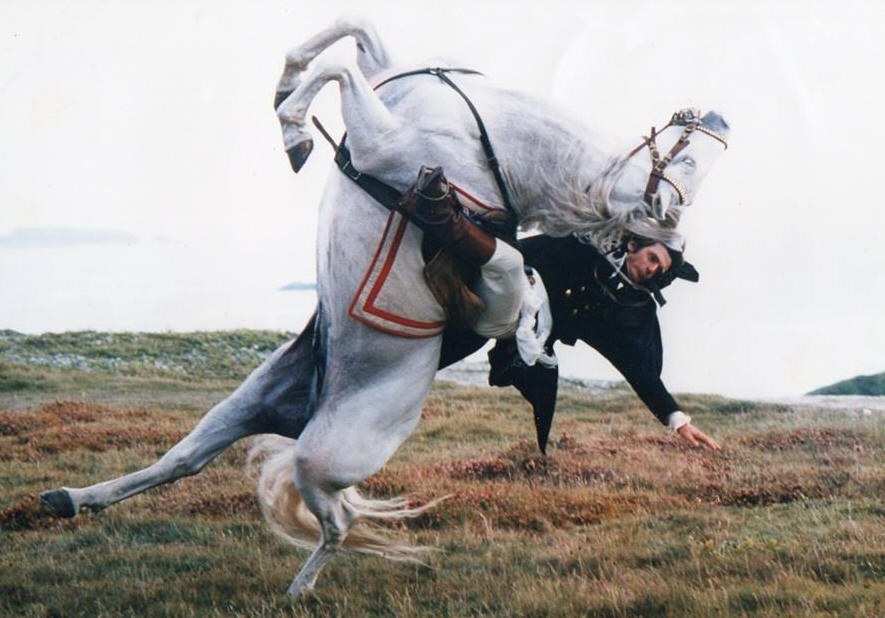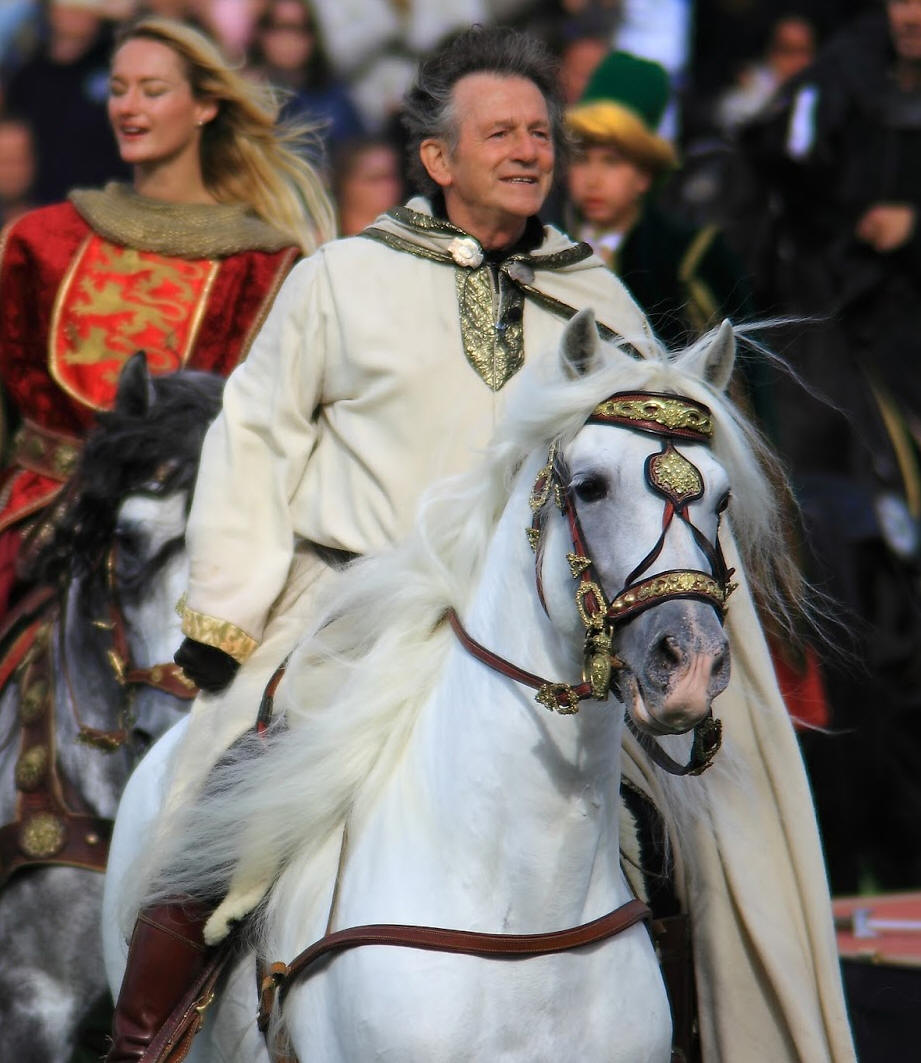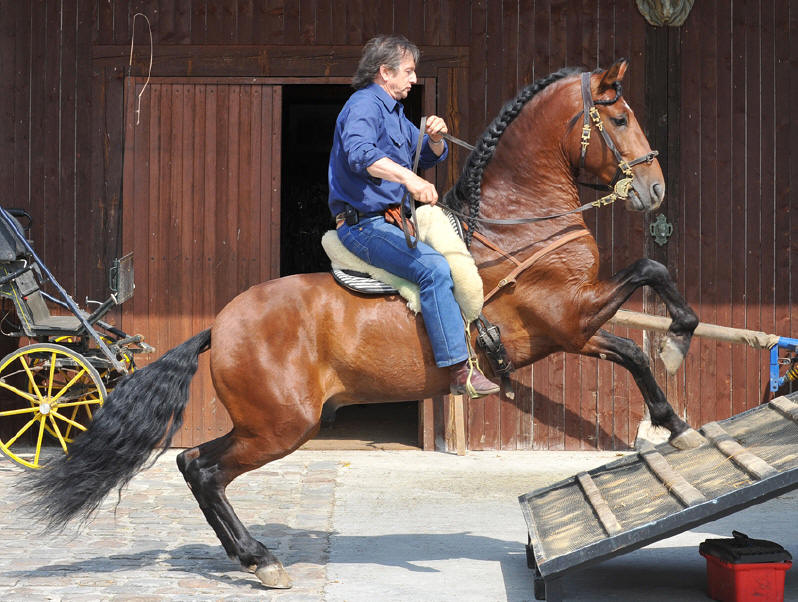 Music Clips
Artists on its own, Mario Luraschi's horses, stole the spotlights, in music clips of Mylene Farmer, Kendji, Shy'm and Eddy Mitchel.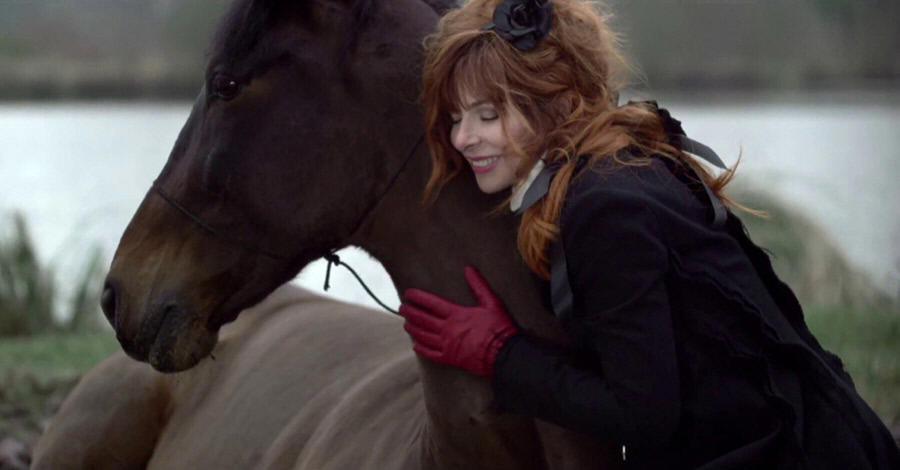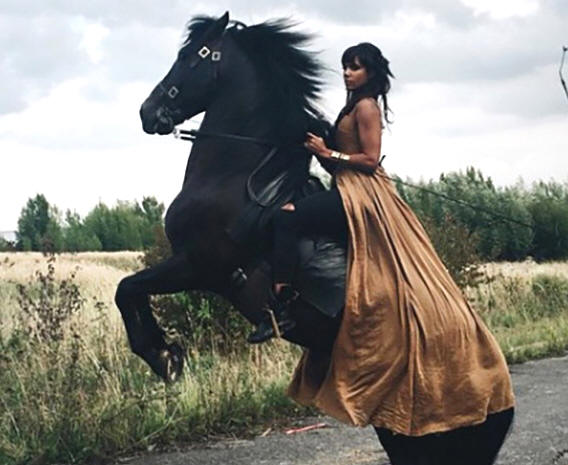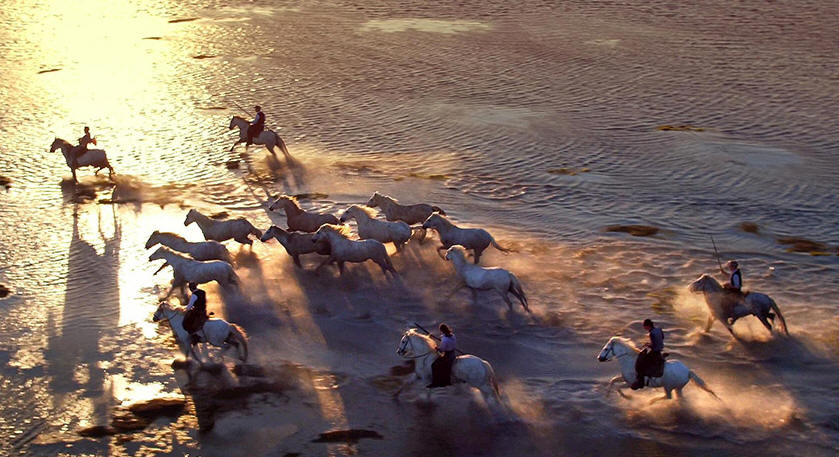 In Christan Duguay's 'Jappeloup' (2013), Mario Luraschi coordinates the stunt scene in which a horse truck is on fire and a horse runs freely on a highway, surrounded
by cars at full speed. His horses and riders doubled also the falls, the missed jumps and the dressage of the young horse.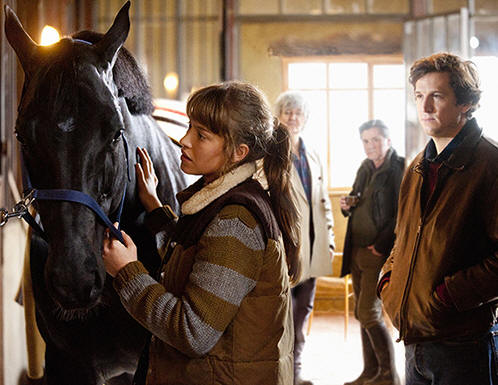 He accumulates observations, knowledge and experience and goes to the utmost of his reflection concerning the horses.
Horse Events
Mario Luraschi was the first to introduce equestrian shows during international show jumping contests. From 1972 onwards he entertained the public during
the first horse exhibition of Paris and created show acts for more than 14 years for Fierracavalli, the Horse Exhibiton of Verona, Italy.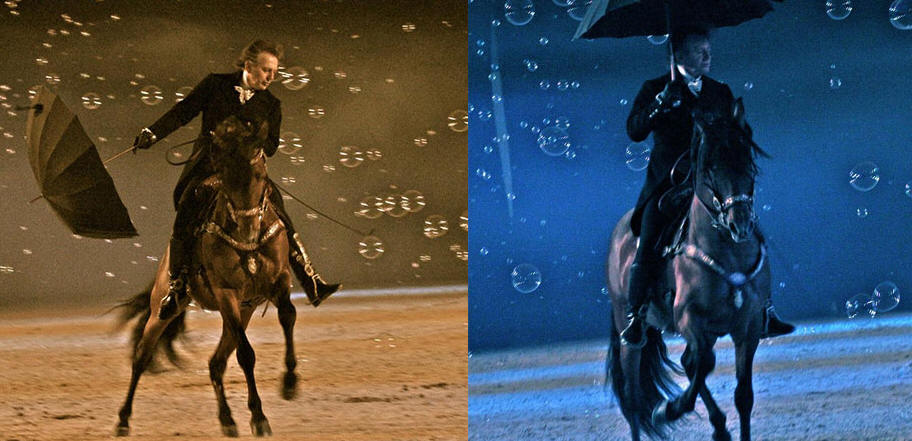 Excalibur
Mario Luraschi created the first equestrian show with more than thirty horses in Las Vegas in 1990. During six months, the legend of King Arthur and his Knights of the Round Table was the talk of the town
in the world's casino capital. Twenty-one years later, in September 2011, he coordinates the jousting tournament of more than 40 horses and riders in the Stade de France in Paris: the stuntmen joust on a
wooden scaffolding, more than 15 feet meters above the scene.
The Wild West Show - Disneyland Paris
Mario Luraschi directed the show, the stunts and the dressage of the buffalos of this show which celebrated its 23th anniversary. This is an absolute record for
an equestrian dinner show which all ready hosted more than ten million spectators!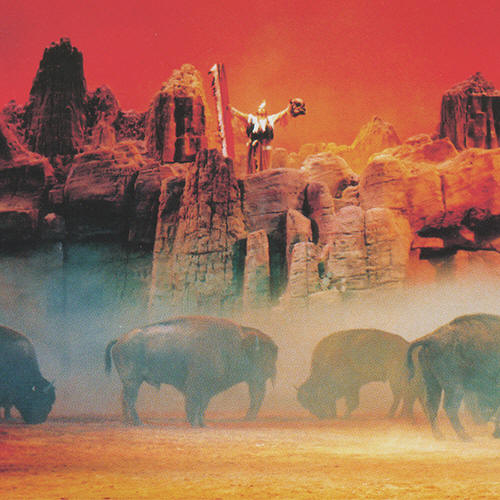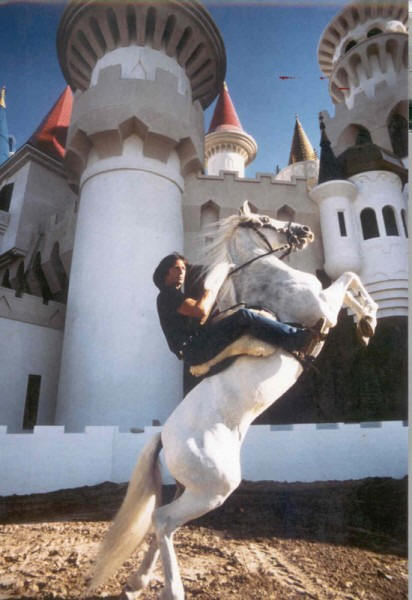 Kaltenberg
Every year, Mario Luraschi stages a great Medieval show and jousting tournament at the grounds of the Prince of Bavaria, near Munich, Germany. His horses and riders
act as warriors, trick riders, stuntmen and classical dressage performers during 8 shows attended by a public of more than 100.000 spectators! Kaltenberg website.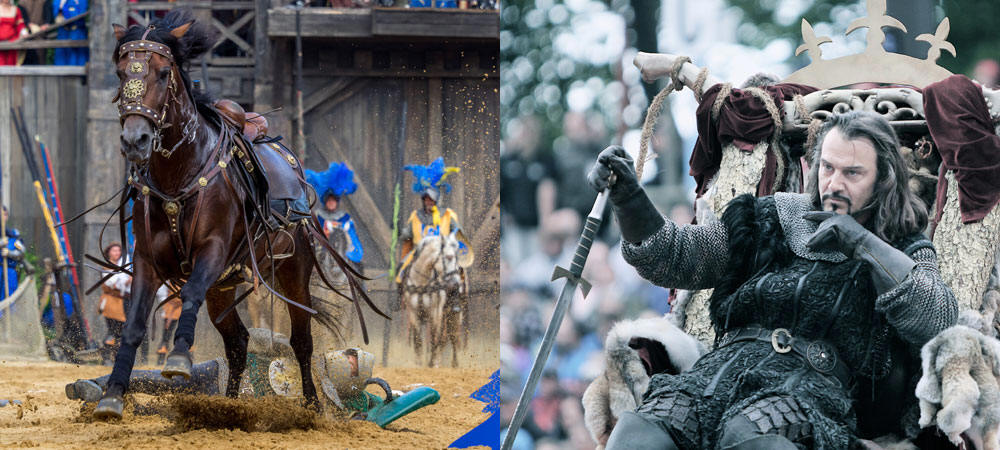 The nineties
'Lucky Luke', directed and played by Terence Hill in 1991. Jolly Jumper disappears under the water after a jump into the river and gets reanimated by Terence Hill himself!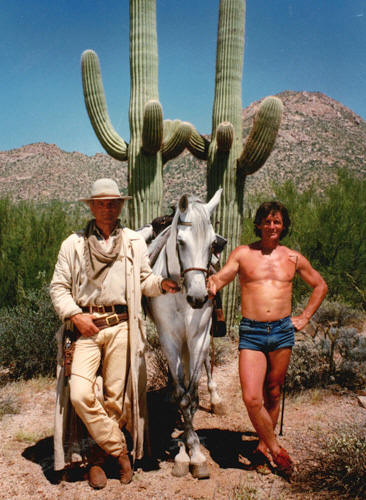 1984, Les cavaliers de l'orage (Riders of the storm)
A film by Gérard Vergez with Marlène Jobert and Gerard Klein. Mario Luraschi accomplishes his famous jump into a small and crowded boat: From the small quay, his horse leaps
3,50 meters into a boat with 15 soldiers aboard. The almost impossible jump into a full boat. This stunt went well and safely.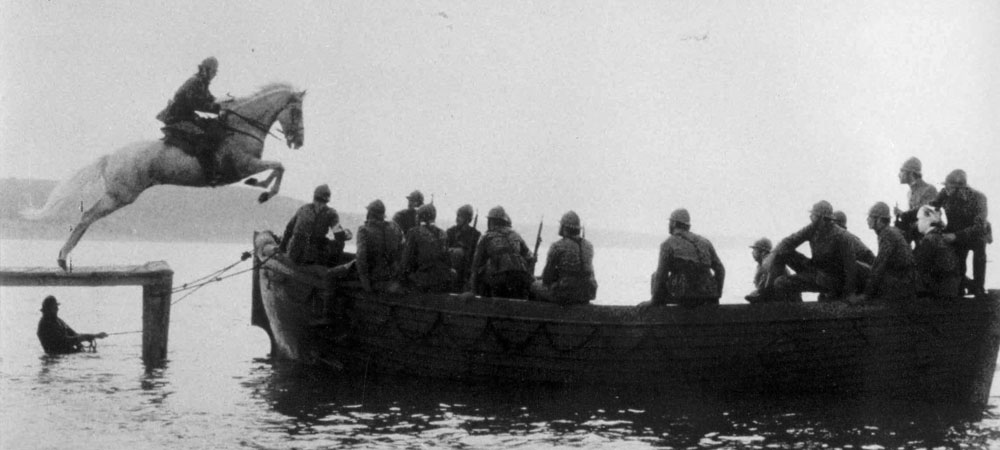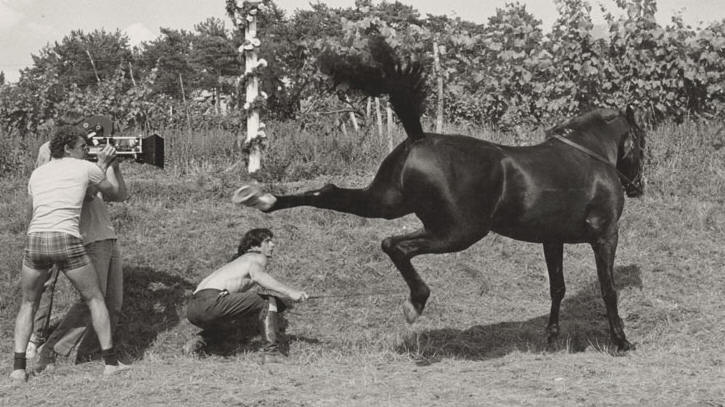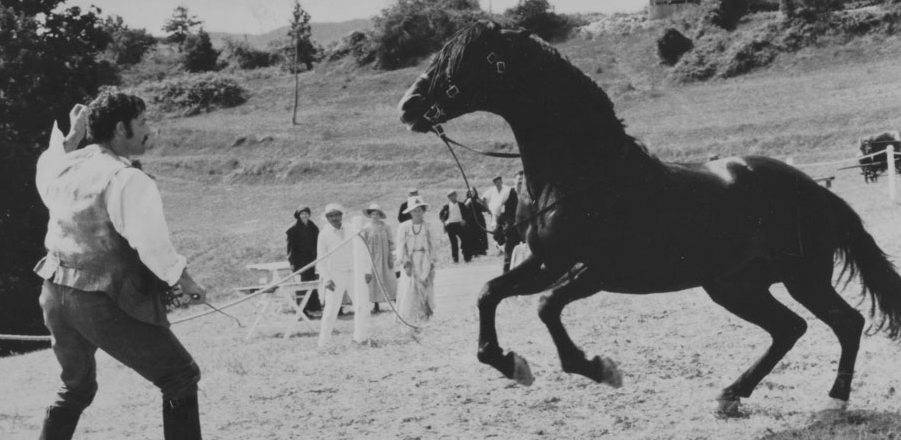 Events
Mario Luraschi and his team are present at all sorts of events: 'The tweeting horse' for the opening of the Olympic Games in 2016, a fashion show at the George V Hotel in Paris,
Mario riding and performing high school amongst the tables of the guests of the Palais des Beaux Arts or at the Deauville Casino … But he can also entertain at his place, in his stables, a dream
setting, an environment which is perfect to launch a product, shoot a commercial, host a professional congress or organize a great party.



Publicity
Actors, dancers and even acrobats, Mario Luraschi's 40 horses act and pose for the most prestigious brands as Chanel, OPI or Hermès. Four of them even took the elevator of the
Eiffel Tower, and saw one of the most beautiful cities of the world from the top of the iron lady, for Paola Pivi and the Perrotin Gallery.

His eagerness to learn and his persistence made him to be nominated 'Chevalier des Arts et des Lettres' (Knight in the Arts and Literature) and receive, in 2016, the medal of honour
of Knight in the French Order of the Légion d'Honneur, out of the hands of Robert Hossein.
As a pupil of the Spanish horse trainer Paco Yanez, Mario Luraschi was schooled in the equestrian tradition of working with Spanish bulls. He learned also very much in the circus, especially thanks to
working with Alexis Gruss senior (father of Lucien) in the world famous Circus Jean Richard Pinder. He schooled more than 300 horses into high school and classical work. An absolute record!
He teaches one and the same horse to jump into the flames, to pull a carriage in a breathtaking gallop, to fall, to rear or … to play dead for a movie shoot.

Mario Luraschi started his career in the western theme park 'La vallée des peaux rouges' in 1965, in the Oise region near Paris. As sspecialists in the Cossack vaulting, he and his team of stuntmen are the
masters of the action scenes and equestrian tournaments.
He coordinates the most incredible stunts to the last detail and in absolute safety for his horses. For the movie 'The riders of the storm', he jumps with a breathtaking gallop into a small and
crowded boat. In the circus of Amiens, he makes his horse disappear into a box. In 2001, he wins the world stunt award for a stunt in 'A Knight's Tale', an American film of Brian Helgeland.
He accomplished nearly 800 'rear-and-fall-overs', a very dangerous equestrian stunt, often seen in battle scenes.
Driving & Harnessing
He equips all sorts of carriages, wagons and chariots with several horses and launches them at full speed, simulates accidents or drives them through the fire. Driving is one of the great specialities
of Mario Luraschi and he created an incredible demonstration for an audience of 298.000 spectators in 2006 in the Stade de France, Paris, for the staging of 'Ben Hur', a show directed by
Robert Hossein. Being a detail fanatic, he can harness a Russian troika or an ancient Spanish equipage. "Where ever I go in the world, I watch, I ask for explanations and I learn." A thirst for knowledge leads him t
o visit museums, to read historical works of the old masters, to collect objects and to fabricate himself the harnesses and saddles that he needs. He owns an extraordinary collection of saddles, harnesses,
bridles, bits and historical equestrian items.
As real actors, his horses can play everything: attacking, sitting, laying down, playing asleep or arrive at a full gallop as in the 45 episodes of 'The Black Stallion'. For a commercial for OPI ('Instinct of colour'),
one of his stallions challenges four dancers, imitating the style of each of them. In 'The riders of the storm' of Gerard Vergez, a horse attacks his trainer
and in 'Into the West' a horse appears in a magnificent way on the beach.
Interview with Mario Luraschi
Now. Kayman bends his hind legs, raises his upper body and jumps. Left, right, left, right, left, right. From one side to the other, the proud Andalusian jumps out of the stall. Eight, maybe ten
times in a row. A short break, then there is another passage and another. Slowly, Kayman's legs get heavy. 400 kilograms to the left. 400 kg to the right side. That consumes. Kayman is fighting.
But he keeps jumping. Until his coach, until Mario Luraschi is satisfied. "He was a bit lazy today", laughs Mario Luraschi after the training. A reward for Kayman nevertheless. Pats, a few words of
appreciation and also a treat from a leather bag hanging on the fence of the training ground. The few gestures are enough to make the relationship between Maria Luraschi and his horses special.
The stud farm of Mario Luraschi is located in a no-man's-land. "The nearest neighbor lives two kilometers away." It is the perfect place to find peace. Or to work concentrated. If you look around,
you look out over fields, meadows and forests. It's hard to believe that Paris Charles de Gaulle Airport is just 30 kilometers, a good half hour's drive away.
25 years ago Mario Luraschi found this place and adapted it to his needs. In addition to the long stables housing up to 48 horses, there are several paddocks, four training courts, two of which are
covered, a workshop for costumes and show equipment and pitches for the trucks, with which Mario Luraschi and his horses travel throughout Compete world. The trips lead to Oman, to Thailand,
to China or just to Kaltenberg, to the largest medieval festival in the world. Mario Luraschi and his stunt team Cavalcade have been part of the Kaltenberger Knights Tournament for fifteen years
"I'm crazy about horses," says Mario Luraschi. Already as a child he was. His passion for horses is closely linked to another passion: the one for Indians. "I always wanted to live like an Indian."
And as a true Indian you just need a horse. But how do you get on the back of a horse as a boy from the Paris suburb? Two coincidences helped him. The first: Mario Luraschi is a very good
gymnast, so good that even as a teenager he can win the Parisian Championships in his age group "I was the only one in my age group who could hold the support with really horizontal
arms at the rings. Also, I was able to flip the flip forward. Everyone else turned him back. For the turn forward but there were always two more points. It was the hardest exercise. So I won.
"The second coincidence: About the contact and the recommendation of an actor, Mario Luraschi had written, because he played in an Indian film, he comes to a theme park: The Valley of
the Redskins, which opened in 1966. When Mario, who is just 18 years old, sees the actors there, he, who knows almost everything about Indians, immediately thinks: That works better. And
say so too. Incredulous, the cheeky boy is looked at. Until Mario Luraschi, the gymnast, takes the proof. Mario Luraschi makes a deal with the director of the theme park: He teaches the other
performers movements, posture and the grandeur that is indispensable for a good show, but he learns to ride. The director agrees.
Before Mario Luraschi sits on a horse for the first time, he has to clear out the stables for a month. Then it's time. Mario Luraschi is allowed to ride. "I was put on a horse without a saddle.
Nine times I fell down on my first day. "But Mario Luraschi gets up again and again. He is getting better. When he finally rides, there is nothing left in the Valley of the Redskins that Mario Luraschi
could learn there. "There were no coaches there. People buy the horses ready trained. But I was interested in how to teach the horses the tricks. "His way leads him to Spain. There he learns like
horses for the Reonejo, bullfighting being trained on horseback. "That was impressive. The horses there were trained for the war. "The training includes elements of Western riding, the high school
of dressage and training, not to lose his head in a crowded arena with a loud audience and a wild bull. They are beautiful, strong and proud animals. From then on has happened to Mario Luraschi.
His wish to live up to his motivation as an Indian, another has come: "I wanted to buy any horse, I like, one day, ."
Training method and his own stable
He goes back to Paris, works as a coach for the horses of other people and refined his
training method more and more. "I taught myself then a lot." Then he comes up with the idea of ​​the Salon de Cheval. Mario Luraschi performs with the trained horses in front of an audience and
shows what they have learned. He starts to make money with his performances. For a long time the Salon de Cheval has been the financial basis of his work with horses.
is still in its infancy at the beginning of the eighties. "You were asked if you dared jump out of the second floor. If one said 'yes', one jumped and was driven to the hospital afterwards. "One
did not deal with horses squeamishly either. "Back then horses were often brought down with laces." Not an option for Luraschi. He trains with his horses until they can fall on command
without hurting himself. One year of work alone costs this stunt. Cavalcade is born, Mario Luraschi's own stunt group. A rider is a cavalier in French. Stunt is called casacade. Constricted
results in the Cavalcade. The troupe quickly makes a name and grows. Always new stunt people and always new horses are added. Mario Luraschi is constantly looking for new horses.
For three months, he has to work with a horse to make sure the horse has the right mentality and the necessary quality for a stunt horse. Error included. Despite his decades of experience?
"Do you have children?" "Yes." "You already know for sure what will become of them." "No." One day of training, one day of rest. This is what the "working day" looks like for the horses. If a
horse is not suitable, or does not respond to Mario's training method, Mario Luraschi separates from the animal rather. His training method works by conviction. Mario Luraschi would never
urge a horse to work with him. "There are stunts where you trust the animal to your life." But you can not enforce trust. Although he also has his own coat of arms, his own character, Mario
Luraschi's horses do not wear it as a brand. He does not like it when horse owners mark their animals in such a way. "As if they were slaves." There is contempt in his voice as he says so. In
2003, Mario Luraschi was honored by the French Horse Protection League for his special handling of horses.
Battlefield
At this time Mario Luraschi with his horse stunts has long been the No. 1 in the film business. Whoever needs a horse in a movie who needs something special or something particularly
dangerous can choose the phone number of Mario Luraschi. He wins the Best Animal Work Award at the World Stunt Awards with "Knights of Passion." He works with Roger Moore in
James Bond. He's shooting with Jean Reno, Luc Besson, Terence Hill, Milla Jovovic, Penelope Cruz or Terry Gilliam. There is no danger of Mario Luraschi succumbing to film glamor. For him,
his horses are and remain the true stars. If an actor, no matter how great his name may be, has a lack of respect for the animals, Mario Luraschi clarifies the fronts: "I always tell them that
they are truly famous only when they feel like the horse 100 films. "For the series Napoléon a scene has to be shot after a battle. When the film crew arrives to film Mario Luraschi's stud,
she can hardly believe what is there. Nearly 30 of Mario's horses are lying dead on the ground for twenty minutes. Beside and partly on each other. None touches. As if they had actually
fallen in a battle. Most coaches would consider such a dressage impossible. Mario Luraschi not.
In addition to the films developed Mario Luraschi shows. He performs with his horses in Las Vegas in a casino. His Buffalo Bill Wild West show, which he is developing for the Disneyland
Resort in Paris, now has more than 12,000 performances. There are three Cavalcade shows every day in the Europa-Park in Rust. It is the highest rated show in the park. "4.8 out of 5 points."
Mario Luraschi tells the same story twice. The judgment of the audience is important to him. Only when the audience is satisfied, he is satisfied. Without appreciating the viewer, his work would
not pay off. And she does. Mario Luraschi has long been able to buy every horse he wants. Mario Luraschi has only Andalusians. It would also be possible to work with other breeds of horses,
but Andalusians were already the first choice of kings in the past. For your elegance and strength. And because of her prudence in the fight
Clear that Mario Luraschis horses awaken in other desires. A very famous French actor liked the horses so much that he wanted to buy one. But normally Mario Luraschi does not sell horses.
"There are ten, fifteen years of training and work in each of my horses." Even if he could buy three new ones from the money he gets for one of his horses, they would have to be trained
again. Mario Luraschi does not give up his horses even if they get too old to work on the film or in one of his shows. With their work, his horses have earned their pension. They are getting
old at the stud in peace. Right next to the central training ground, there is a small chapel in which the pictures and names of Mario's deceased horses hang in memory. Past. The future is
already set in the paddock next door. "The laced gangs have exactly the dimensions of the arena for our show in Oman." Thus, the animals can already get used to the exact length and
width of the course there in training. So in a few months every gallop, every stunt sits. Before the workshop of the stud is screwed and hammered. The black chariot is not quite ready for
this year's show of the Kaltenberger Ritter tournament. But he will be.
Meanwhile, Mario Luraschi is 68 years old. This is an age when others retire into people. Is pension an issue for him? After all, does one of his two sons have great interest in horses and
show talent? Mario Luraschi laughs. "I think there are three types of people. Some are pensioners for life. In the head. The others, who spend their entire lives becoming pensioners.
And then there are people who feel great passion for what they do. Why should they stop? "Mario Luraschi is building a new house near his stud. It is a huge blockhouse in the shape
of a tepee, a tepee tent. When it's done, Mario Luraschi's dream will have finally come true. Then he will actually live like an Indian with his horses. (source ritterturnier.de)
Two nice Youtube films to see how Mario Luraschi works
Horse handler in Crossbow.
- The Citadel (1988) ... (horse handler) and The Dukes of Zharinghen (1987) ... (horse handler)
Gazelle was his first horse and he made a movie about her. It's based on their relationship, a true story.
Jean-Francois became an impressive horsewhisperer and does many shows. Link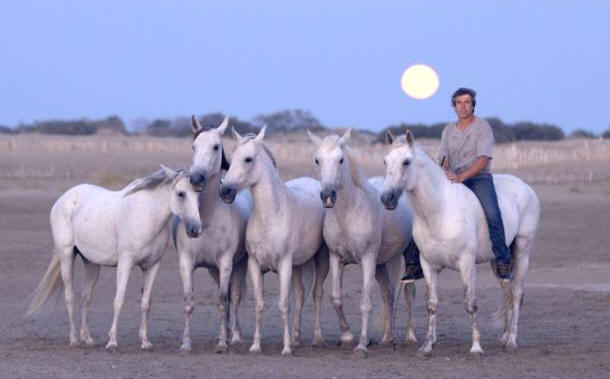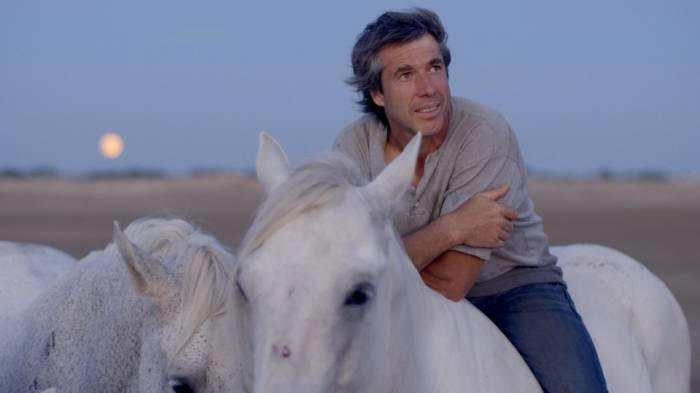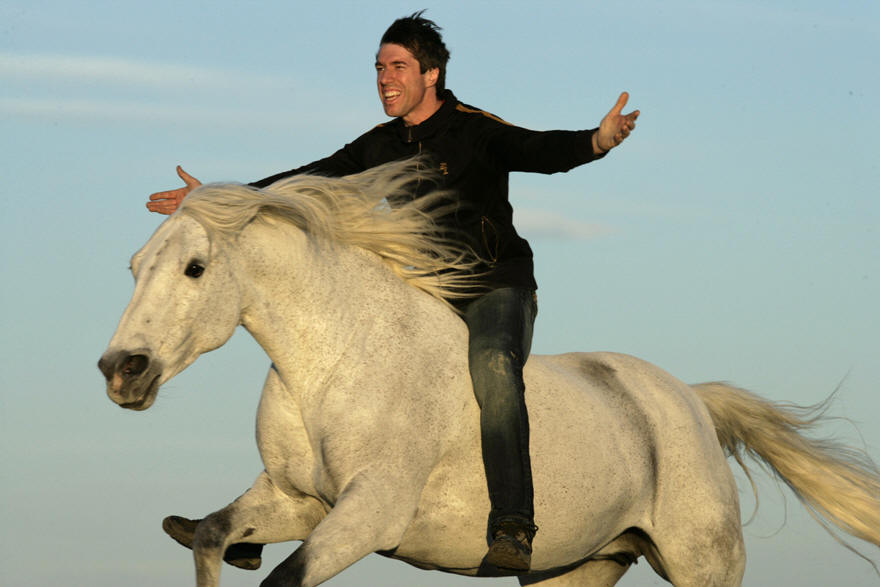 Jean-François Pignon is one of the most famous horse trainers in the world. He invented the discipline of work in freedom and has performed on all continents in internationally renowned shows:
from France to China via the invitation of Princess Stephanie to the International Circus Festival of Monte Carlo at the International Circus Festival of Monte Carlo and by the 90th birthday of
Queen Elizabeth II.
He participated in the film Danse avec lui, with Mathilde Seigner and Sami Frey in 2007. Then he produced, directed and played the movie of his own life in Gazelle (2014), the name of his first horse.
He runs horse training courses. It is his conversion to God in 2000 that will change his life with horses and with men.
He lives near Nîmes, in the countryside, a small road leads to the wooden chalet of Jean-François Pignon. His wife Sylvie warmly greets at the entrance with her two pretty little dogs. From the outset,
they speak with simplicity of their passion. Jean-François is an affable and authentic man who tells his story.
How did your passion for horses come to you?
At the age of 7, I started training a lamb in the wild. I was guided by the desire to work this animal. I imitated her mother, I used her language. And when my father offered me Gazelle, I wanted to reproduce
this relationship. By letting myself be lulled by my intuitive thoughts, unwittingly and little by little, I invented the discipline of free labor with horses that is now more widespread. In 1991, at the age of 20,
I realized the impact on the public and the professional world. The journalists put me forward as a star. I changed and I went into rivalry with my brother. From lamb, I went to Gazelle and Gazelle to pride.
Are it the horses that led you to God?
By Gazelle came the discovery of the horse and the profession of equestrian artist and finally my belief in God. A falconer friend tells me that he has become a believer. I laughed a little at first, but
the plan of God was orchestrated. One day, Gazelle was sick, almost doomed, and this friend was there to help me. He prayed for her. There, I felt something, tears came. Gazelle recovered two days later.
So I started with little prayers. In my courses, I start a prayer of the heart at the beginning when we are in a circle. Then reading the Bible helped me. I reconciled with my brother. An incredible turn in my life
Today, what relationship do you have with your horses?
If man was created dominant over animals, it is important not to overplay that dominance. Do not abuse your power. My natural domination with the horse adjusts to the respect of God and the horse.
For dressage, a yes is a yes and a no is a no. You must love all horses, not just those who work well. Every time I read the Bible, I had a trial in my life to progress. An anecdote: one day I was entrusted
with two horses. One that I thought was beautiful, another that I found ugly. The magnificent progressed quickly, the other no. The horse is a scanner on legs, it feels our interiority much more than
the human. I understand that I have to love him better. So I imagine that the horse is sent to me by Picasso. I do not like his paintings too much. I help myself to love him and, finding love for him,
I see that he catches up in two days the level of the other. The worst, I think, is to feel this lack of love. In humans, it's the same, even if the scanner is in my opinion less developed! That day,
I measured how God could accompany me to help the horses, but also the humans.
'With horses, you must demand respect, but in Love'
What do horses teach you, and what does men not have?
The horses have nothing to do that my name is J-F. Pinion, famous equestrian artist. I arrive like a little man in front of them. The horse takes me as a gentleman. And a method
without a good state of mind of love is worthless. We have the idea of ​​a documentary that would take place in Patagonia where I would arrive in the middle of wild horses
Gazelle
Gazelle is a French biographical film written, produced and directed by Jean-François Pignon, released in 2014.
This is a portrait of his beginnings, and his relationship with the mare Gazelle. The equestrian show jumper is at the same time the director, the scriptwriter,
one of the actors and the producer. The little Jean-François, aged twelve, receives a Camargue mare that he raises on his family's farm. With her, he develops a unique relationship and gradually
becomes a free horse trainer. But after the success of his first show, pride invades him. Assistant to the miraculous healing of his mare, he begins a spiritual work on himself to find the right balance.
But has critics as well.
In 2009 more then 25 years will have past after his first performance. This autodidact is born 12.18.1968 in Chalones sur Loire, in West France. At the age of six, he moved with his family to the DrÔme
region. As the third boy of five siblings, he keeps the memory of a privileged childhood that was poor but full of love.
As a youg boy he was sold on sports only thinking about jogging and soccer until the day a newcomer changes his life fundamentally. André, Jean-François` father, bought a oneyearold fillie for a song
which he named Gazelle. There is an extraordinary link between the boy and the mare at once. They play for hours and even go to school together. Jean-François took the work with horses up in a
natural way. After escorting a lot of times rides of the family-owned enterprise, he built up a company with his brother where they acted the roles of circus riders and acrobats in riding shows.
Together they take part in some riding scenes in different episodes of the film "Wihelm Tell". In 1987 they spend a time in "Mer de Sable" (a famous leisure park in France ). When they returned to
the french riding shows they had a newcomer coming along with them: Salsa, Gazelle`s daughter.
In 1991 Jean-François presents in Avignon ("Cheval Passion") an extraordinary show with his horses without any tack for the first time. What a su
ccess! A jump in his career that provided the opportunity to perform his show in Verona and Paris and at a lot more important events. The two brothers split. It`s time for both of them to
start a career on their own. They are glad to run into each other sometimes at different events in France or other countries.

Since 1993 Jean-François performs in foreign countries, especially Germany, where people love his performance by liberty horses. Jean-François is lucky to get the chance to perform at the
biggest events. He takes part at the "Equitana" (the biggest fair concerning horses in Europe) five times. He performs in 15 different countries and visited in this context among others the following
cities: Berlin, Vienna, Zurich, Barcelona, Sevilla, Oslo, London etc…
In 2003 his group consists of eight horses. He carved the shows out especially for them. Jean-François achieves the maximum of trust between horse an men.
Today he educates embaraced people all over the world and shows them his method of training horses, from Japan to Canada.
For a short time Jean-François presents his own creation, a musical act horseback "LE PARDON" (The forgiveness). Coacting with Caracole, Arnaud Gilette, und Pieric he designed a play that
involves the message of peace.
In addition to the riders and the eight live musicians the audience is always involved in the play. Almost 100,000 people came to see the show. And it has more chances of success. They arrange
for going on tour in Europe in 2007, 2008 and 2009.
Since that time Jean-François has two strings to one`s bow. He trained the horses in the film "Danse avec lui" (Dance with him) directed by Valérie Guignabodet and acted a part.
With Gazelle, Jean-François began developing his techniques — "I am still learning today" — and at 14 he was doing his first public performance. Initially he built up a company with his brother
Frédéric, where they acted the roles of circus riders, and in 1991 he performed his first show without tack. The two brothers then went their separate ways to carve out their own shows.
Read more here
He initially performed with his brother
With Gazelle, Jean-François began developing his techniques — "I am still learning today" — and at 14 he was doing his first public performance. Initially he built up a company with his brother Frédéric,
where they acted the roles of circus riders, and in 1991 he performed his first show without tack. The two brothers then went their separate ways to carve out their own shows.
3. Jean-François experience a religious conversion at the age of 33
Aged 33 came a turning point for Jean-François. "Gazelle was very ill with a uterus infection and a vet came, but it wasn't going well," he remembers. "After six months of heavy treatment we weren't
sure if Gazelle would pull through. A friend asked: 'Would you like me to pray for your horse?' I said he could, but I didn't believe in it.
"So he put his hands on her. I felt very emotional — a shock went through me and I started crying. Gazelle got better and my friend said you must now believe that miracles can happen.
"Before that I thought that people who believed in God were scared of death or were weak. Now 50% of my technique is achieved through observing horses and 50% is through the words of the Bible,
especially the words of love," he says.

Read more at here
6. He has never been injured in his show
Despite what appears to be a dangerous show, Jean-François has avoided injury. "Horses are very claustrophobic animals, but they have freedom here.
They never feel endangered and I am careful not to make big explosions with my movements." Read more
In total Jean-François has 17 horses, of which around 50% are from Gazelle's bloodline. He still has the last of Gazelle's daughters, 33-year-old Salsa,
who performed with him at Olympia in 1997. Read more
Actor and stuntman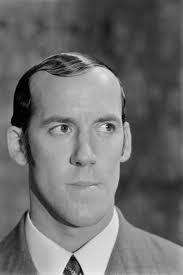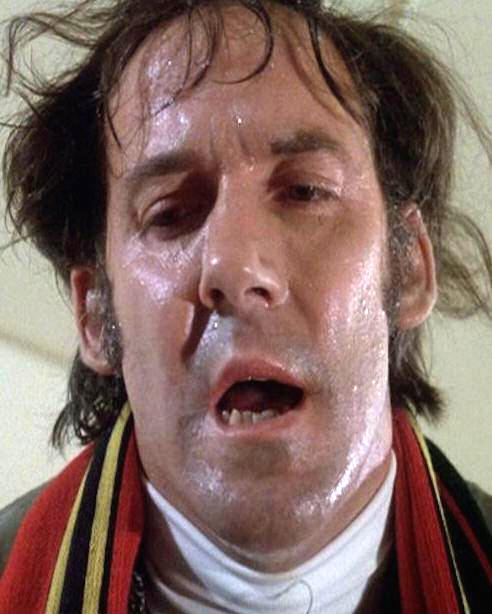 Lionel Vitrant was born on February 1, 1937 in Le Bourget, Seine-Saint-Denis, France. He is known for his work on Ronin (1998), Joan of Arc (1999) and Les visiteurs (1993).
IMDB (actor and stunts, don't forget to click on his stunt work) Crossbow The Imposter.