The making of the 'location galleries'
It started very small and incomplete. When we made the website, 20 years ago, we had never been to a single location. There was also little variation in photos online. Ten years ago we supplemented those photos. Why should we not even visit a location? No, not only Crossbow locations in the vacation. We could combine it with nice places in the area. The locations are in fact very beautiful areas. So it happened and we started the children were small in the first years and we didn't want to drive that far. In 2012 we started Paris around Christmas. Awesome! Then every year a piece of southern France, different locations...and sometimes back to the same point, then they must have been special. So we combined some locations with other beautiful non-Crossbow places.
The Provence, for instance, has so much beauty in culture and nature. It is always nice to return.
We often receive emails from enthusiastic fans who had beautiful memories from watching. Everyone has their own reasons why Crossbow is important to them; one for the actionshots and the other because of it's beautiful elements such as well-chosen ancient locations, beautiful music, good actors, the storyline, many (guest) actors or the great horses. Almost everyone who was involved with Crossbow remembers it as some of the best years of their life.
That emails also, together with my own curiosity, made me want to try to complete the locations. We almost almost succeeded.
Below a view on the Wasteland

Expending the location gallery
With a little help...

S. Bathelemy contacted me before 2004, he was affiliated with a historical group in France (they were dressed up in style at events, simulating the atmosphere as well as possible). Therefore he knew a lot about many castles because his group visited a lot of them and besides he had a lot of knowledge. He liked to watch Crossbow. He was happy to help me to find the first castles and he found the Scarvenger's cave. That made me very enthusiastic too! He drew us a map and even with the map it was hard to get there without signs and through hiking paths including side roads...

Then suddenly I came to the places I had considered as a big adventure as a child. A great 'wow' feeling!

When we visit such a location it always happens that we see more beautiful things such as special animals, plants, nice vistas or viewpoints. With my husband, as a teacher and a biologist, it is a pleasure to combine culture and nature. And that wonderful peace is always present in those old villages. Time seems to stand still or at least time is considerably slowed down.

Perhaps nice to know is many places have a 'beau plus' status and that is very justified. You can read which villages they are in the location gallery.
Not easy at all
But at some point we were not able to find more. It was like a needle in a haystack. I have to admit that many locations are pretty well hidden! How do you find a farmhouse? There are thousands of them ... But with the help of him Mr. Lyman and his old French maps you do! So we were able to find the farmhouse of episode 'Message from Geneve' and the 'Electors.'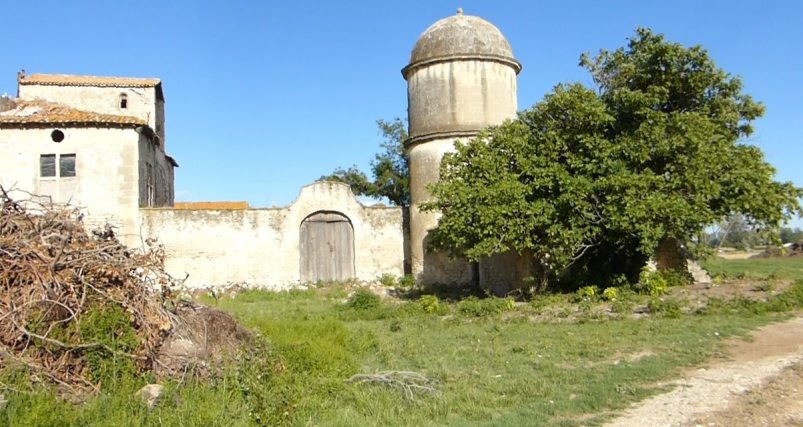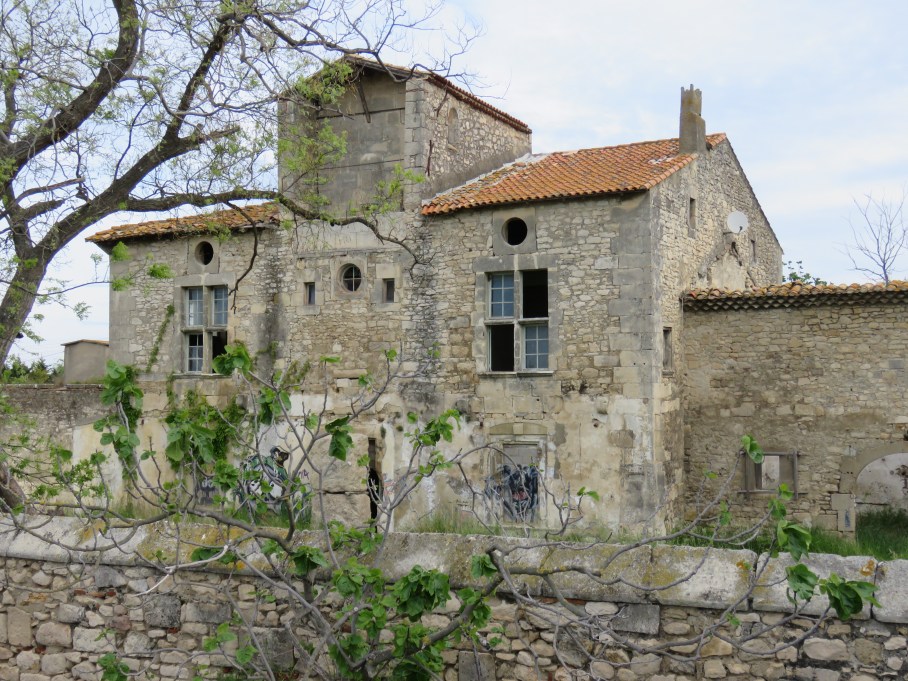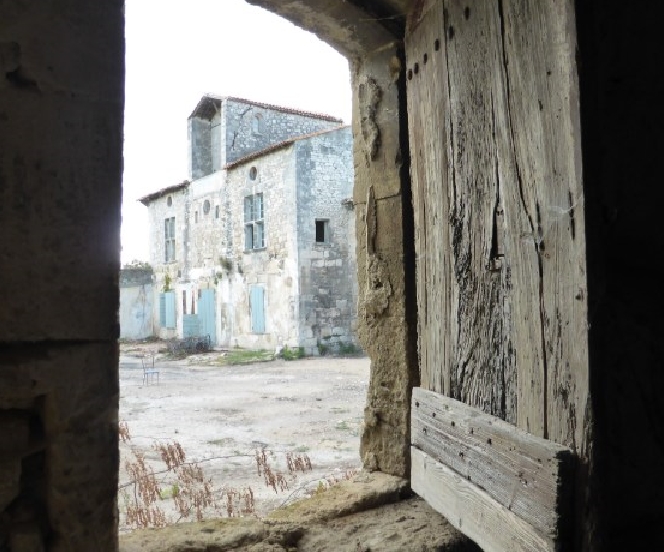 Above and below: the Farmhouse in episodes 'The Electors' and 'Message from Geneva'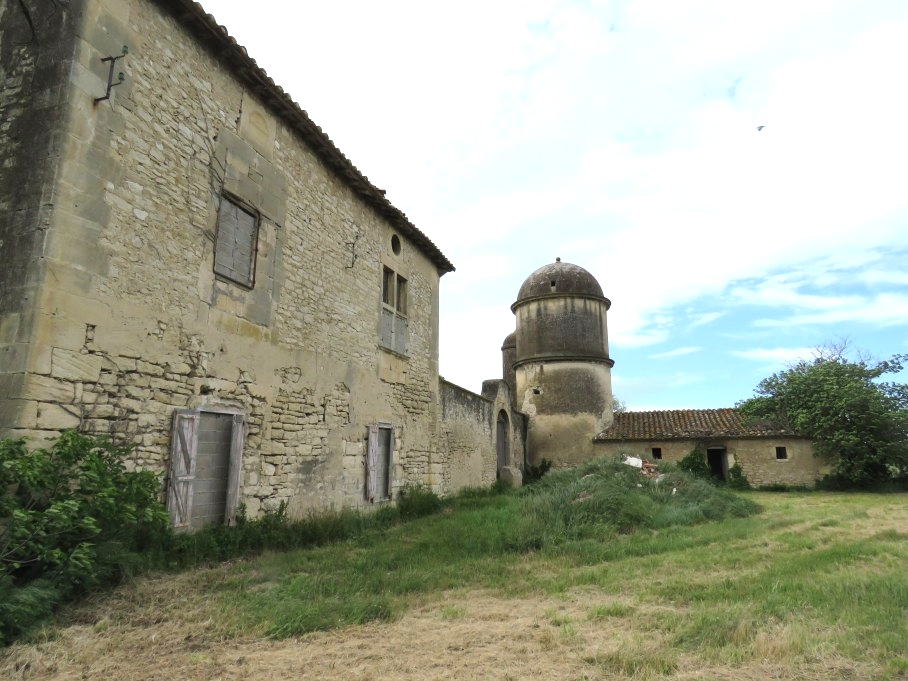 After 30 years places have changed, they have often become private.
What makes it even more difficult is the fake elements such as fake statues and wells.
Another spontaneous helping hand
About 6 years ago C. Petit contacted me and now we are still in contact. We see it as an adventure. It became sort of a hobby, because the love for France and it's ancient buildings was already there... We had fun and sometimes a little frustration, but the last feeling didn't last long. We tried hard but some places were impossible to find. Sometimes simply because the well was fake or because it was a private place. Some are still not found. More asbout the missing locations below. But joy was the most present feeling.
1986 C. Petit and me 2018 at Saint Andre, Villeneuve les Avignon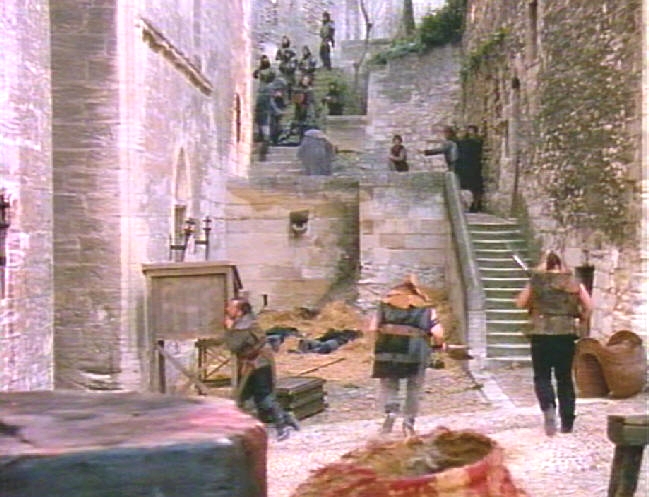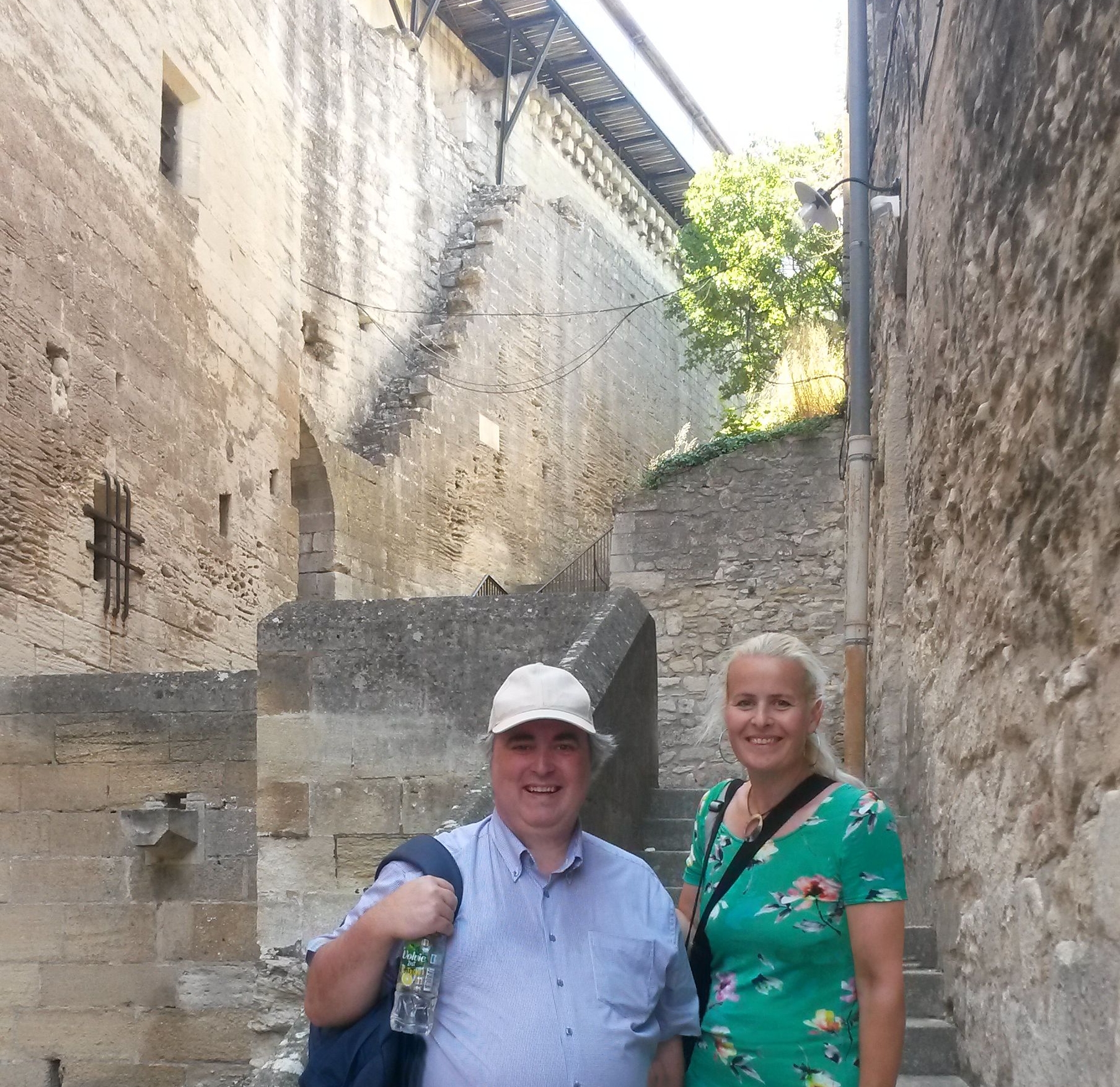 In the area
It felt like a hobby, our interests lay with medieval and France. In addition, I always discovered beautiful other locations that I would like to visit on holiday such as Red rocks of Roussillon and the white horses and flamingo birds in their habitat in Camargue, the pink lakes and wonderful parks with rock sculptures, like Chaos de Montpellier-le-Vieux, we walked passes like to Las Tours, mountain passes, found etc. That's only a small selection of the many beautiful collection of nice places.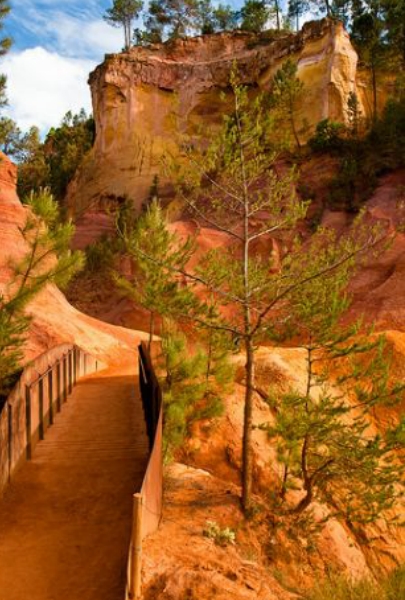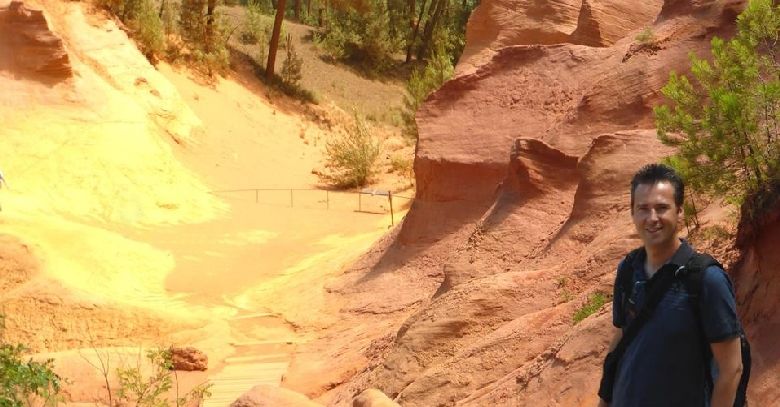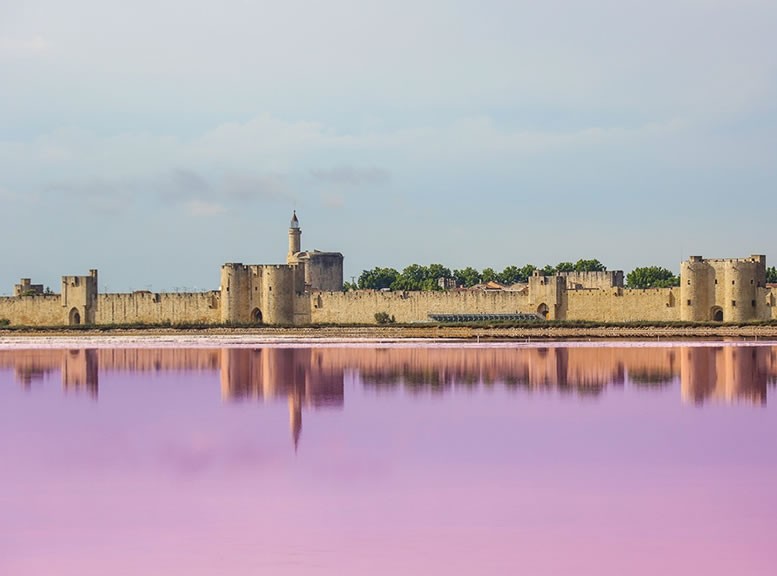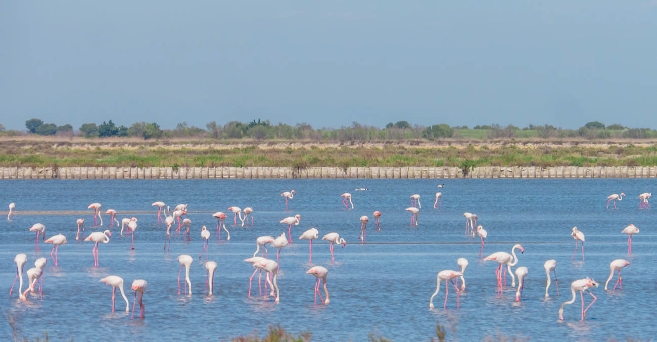 A place to return
Both holidays coincided and were in the Provence. It was around half July, I was invited for a family picnic and we enjoyed ourselves for hours in the beautiful monastery gardens of St Andre and we visited a wonderful gallery of ancient stunning paintings of this area in the monastery. Despite the temperature of 40 Celsius /104 Fahrenheit in the shadow. I'm not used to it, but it was a terrific day to remember.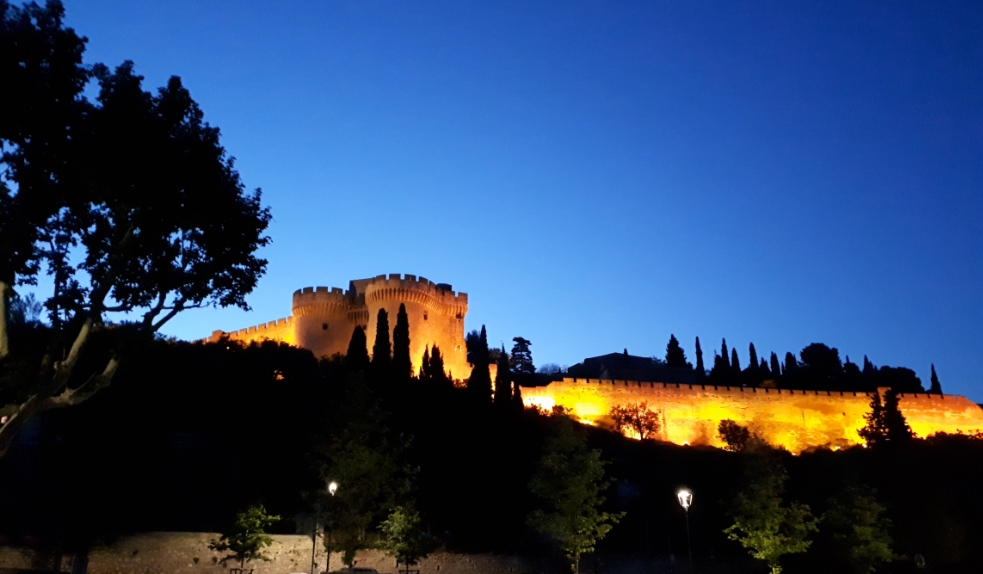 Seasons
With 40 degrees in Saint Andre or during a thunderstorm the only visitors of Les Baux...in some places you keep coming back because they are just so beautiful and different in every season like Senanque. No matter if it's snowy, it's always pretty, like Senanque for instance...It's pretty during the lavender, the snow, in autums colors...always!

The pre-Alps, The Desert of Entremont is so incredibly beautiful in June! So many orchids, everything blooms, but the autumn is fantastic to see the discolorations in the winter, nice to ski. See below.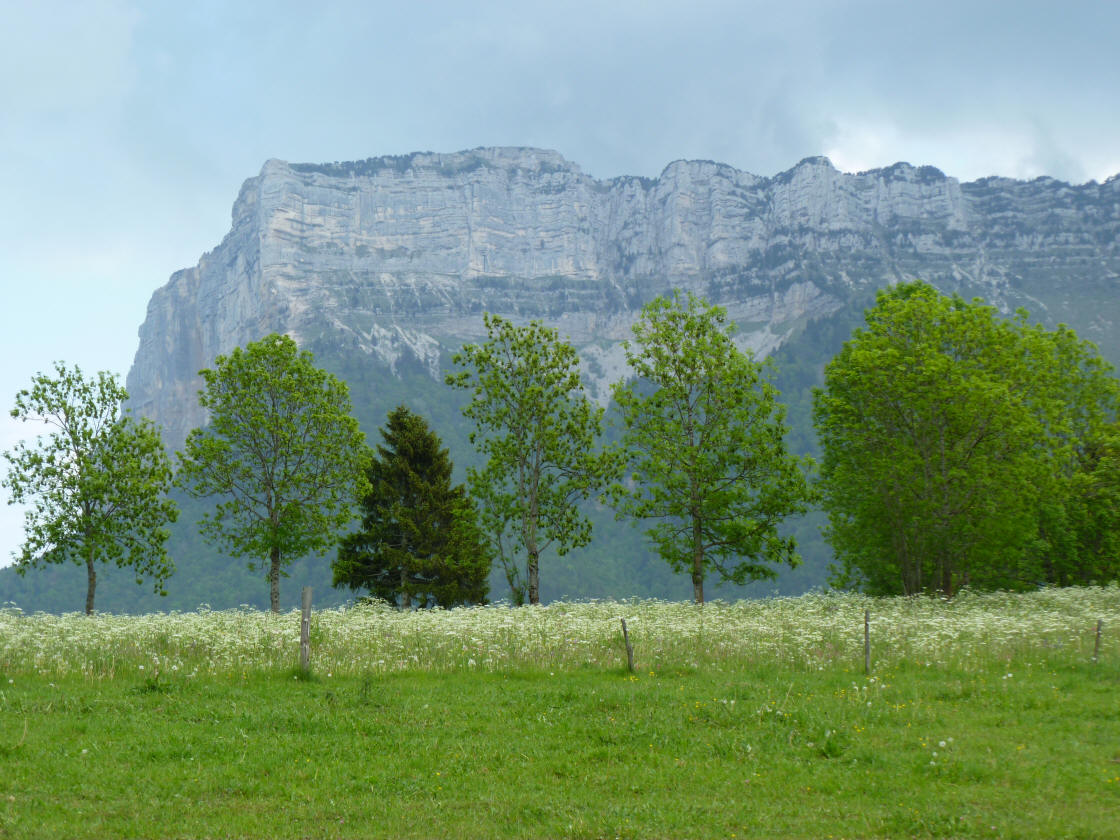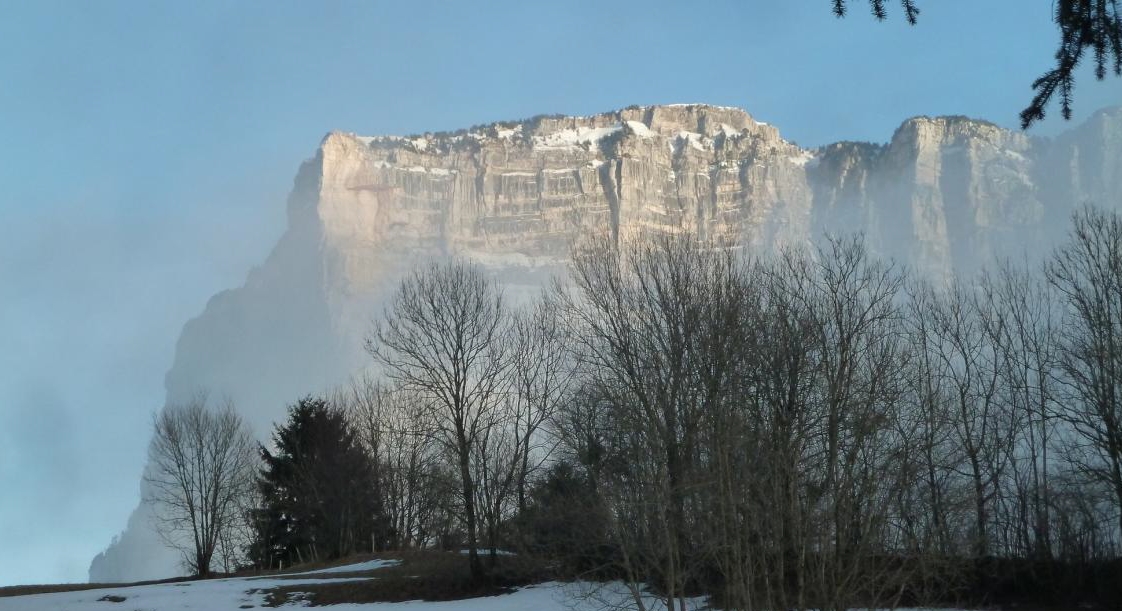 The location gallery has become large. I admit, too big for some. Then I'd like to give the advice; skip the stories in between and focus on the main photos and their locations.
Some said they previously missed a link of summaries about each episode. That might come in the future. I've now made a combination of it. I think it has a nice atmosphere and you can link the location to the episode more easily.
Red Thread
I missed something in the previous location gallery. Everyone is different and I can't make everyone happy. You will see that some galleries have less text than the others...it depends on the episode. Some are like a red thread of the story or just because they have a message. Sometimes there are literally pieces of dialogue in it. Examples are: the story of the hat, Where Matthew went, the friendship with Stefan, the questions of Matthew about what happenend to the hometown and his mother, the search for his son, the canopy of Lotus and their view on situations of father and son.
Inn season 3 It's about Gessler who is trying to find out Tell's secret and Tell's struggle to cross the wasteland etc. Sometimes it is more businesslike and it sometimes seems like you are reading a part of a novel.
Difficult locations:
It was hard to find the two farms of the Emperor part 1 and 2, but we finally succeeded!
We have now been to all locations except a few that we cannot find. That is the smithy where Tell gets work in episode Rebirth. It is about the interior and the exterior.
A small selection of the many photos. We have now been to all locations except a few that we cannot find. That is the smithy where Tell gets work in episode Rebirth. it is about the interior and the exterior.
The Smithy in Episode Rebirth The cave of The pit and the Rock (somewhere In the Perigord).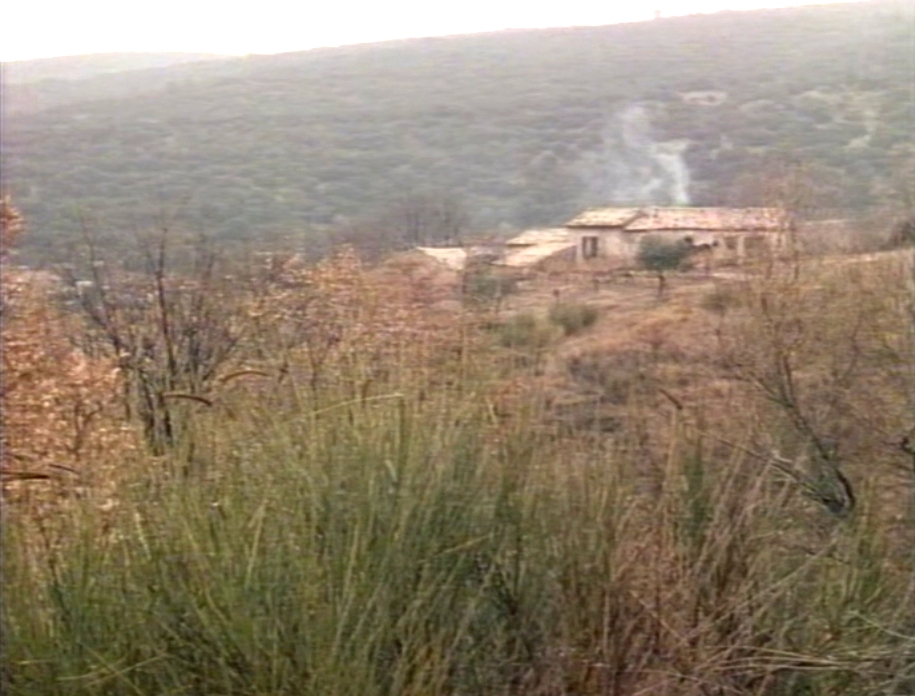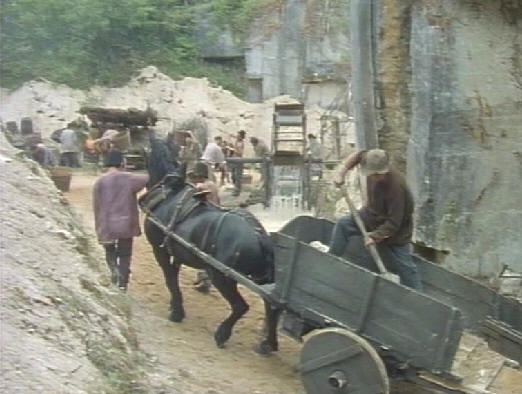 The hardest ones
Roman Gothic, Neo Gothic...or perhaps fake...
There is great love for France and it's environment. We also learned to look closely at medieval buildings and their characteristics. As a painter I already did that. Now we learned, among other things, to distinguish gothic and Roman characteristics, meanings of medieval signs. If the going gets tough C. Petit draws the village on the computer and mostly we find it, just via Google earth. He always makes those drawings so well and he knows about the camera tricks and angles. One of the hardest locations was the room of the Alchemist.
The location was named in the end-titles 'Fort Bruissin.' But it often happens that not exactly everything is mentioned. We found it a bit strange that the Alchemist room was quite low and there were big cloths on both sides of the room. We thought it was a small chapel and that an altar was hidden behind a large black cloth. But we couldn't find it. We carefully viewed the doors, walls and pillars ... we doubt about the wall...it could be a fake wall.. a few stone lines seemed to be wrongly drawn, but it also seemed quite real. Difficult! We looked on the internet… small chapels in the Lyon area, to see if windows match. None were the same. Even David Warner (The Alchemist himself) didn't know.
Dana Barron said, during the telephone conversation (the interview), that she still had a photo album and as soon as she got it out of the storage, she would scan it for us. Then she came with that one revelation. Dana Barron helped us out and made it complete. She had encircled the room in her photo album long ago. Then C. went to look in the building (via the internet (not all rooms are photographed or open to the public) and we found the room. A room of a bunker, didn't correspond with each of we saw in Crossbow. Unbelievably they changed it all. Wasn't it easier to pick out a small chapel in the area? Incredibly misleading. I think this was the hardest location to find together with the coordinates of the huge stones in season 3.
I know it's hard to imagine but it really is this room

The other side of the room (see below) also does not look like the original bunker one. The same doors can really be found in this bunker, the other side of the room can also be another place in the bunker ... If Tell opens the door you see (very quickly) a modern brick wall ...
We will not look at that anymore. It's fine this way. You can find more about this in the Alchemist location gallery.
Left photo: the stones are on both sides of Tell's head, in my opinion, wrongly drawn. And the right photo: it looked quickly drawn and messed up above both doors.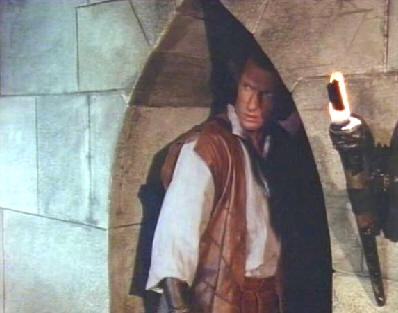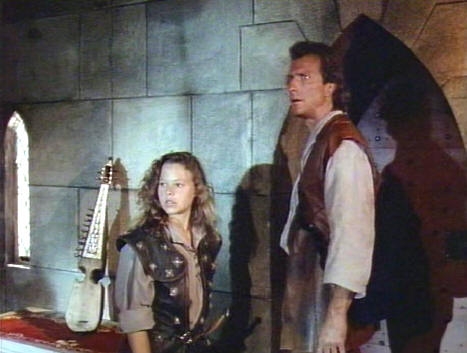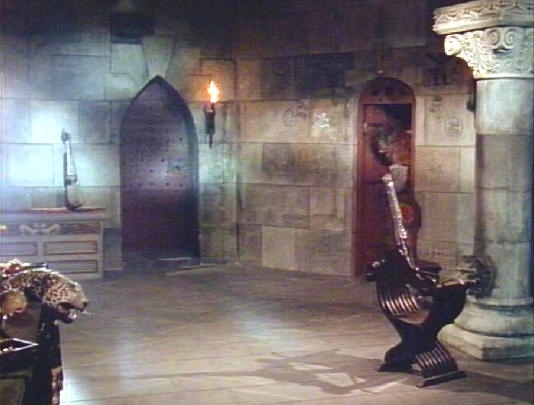 A difficult one
Almost the same thing happened with the door in episode 'The Four Horsemen.' There was a large celtic cross on the door ...
The door was between two pillars, there was always shadow on the door and when I looked at the churches in the area, you didn't see this door at all. When I accidentally came there, I stood just in front of it. 'Wow... cool!' The door has not changed at all and is nicely sheltered between the pillars. The heavy Mistral winds on top of the hill have damaged the church, but they couldn't get much grip on the door. The church is currently being restored. Beautiful door! Nice if you do not expect it and suddenly run into it!
It was my husband who wanted to visit Opedde, but I was not that enthusiastic yet. I really came back to that. I have now visited it for the third time and I love to walk in the old town and take pictures of the hollyhocks and take the little cobblestone roads to everywhere and sometimes nowhere :) Streets and houses in their pure form! It's like you I didn't expect this place to fascinate me at first. When you are the only one in the morning or a quiet moment it's like being the first to discover this old half- plant-covered village. I really had such a 'wow' feeling! You know that there are only a few places where people live, but you really don't notice it, it feels like a completely deserted village. Where do you find another beautiful abandoned village in 2019? Italy has some...but I doubt if they are that beautiful as this one. Although the beauty of Opedde, they once built another village next to the old one.. because the sun almost didn't shine on the old village during the winter and it was always foggy, damp and cold. People had to walk all the way from top to bottom for everything and they build another town next to the old one. It has the same name. In the village living artists and I can understand that well ... there is so much inspiration and peace there.
The door between the pillars always shroudred in a shadow.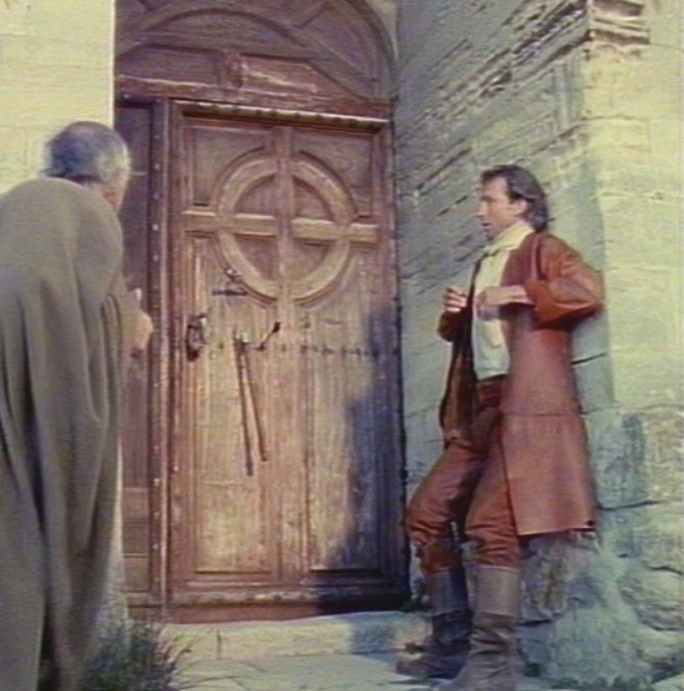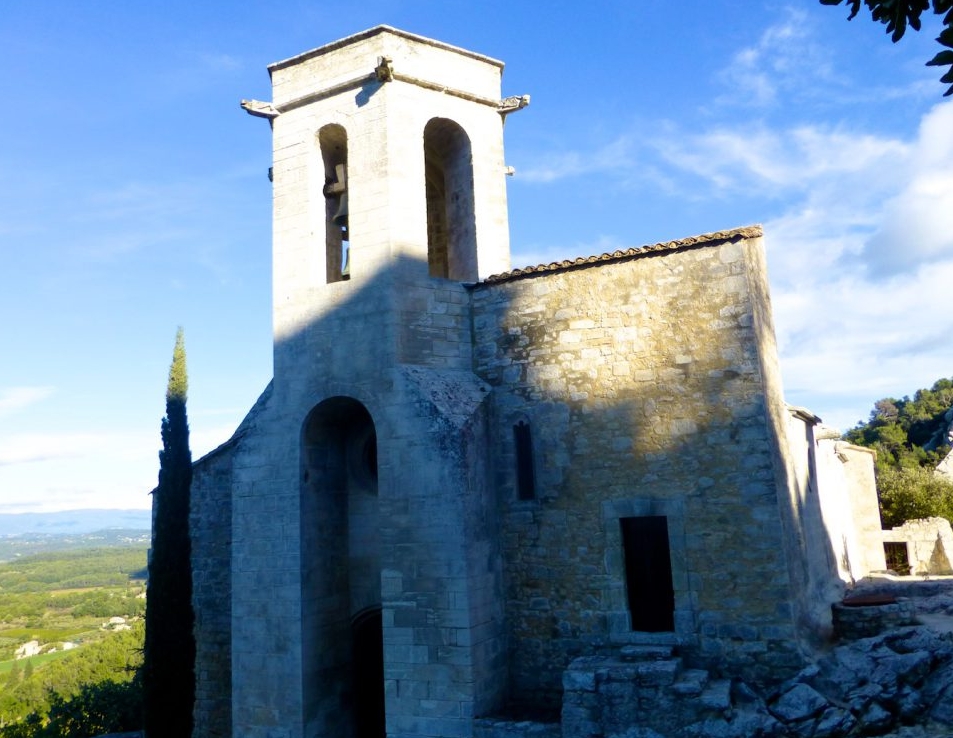 The cave of episodes 'The Children' and 'Forbidden Land'
We are for 99 percent sure this is another cave than they make us believe in the series. We have an idea of the left one, but are still not sure. Cavers seem to be keeping the cave secret.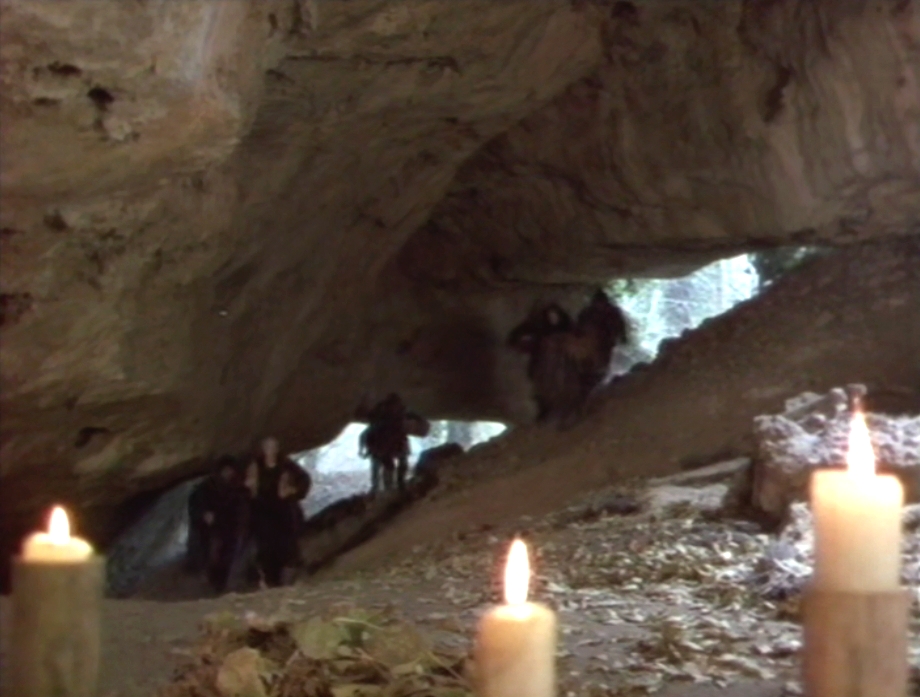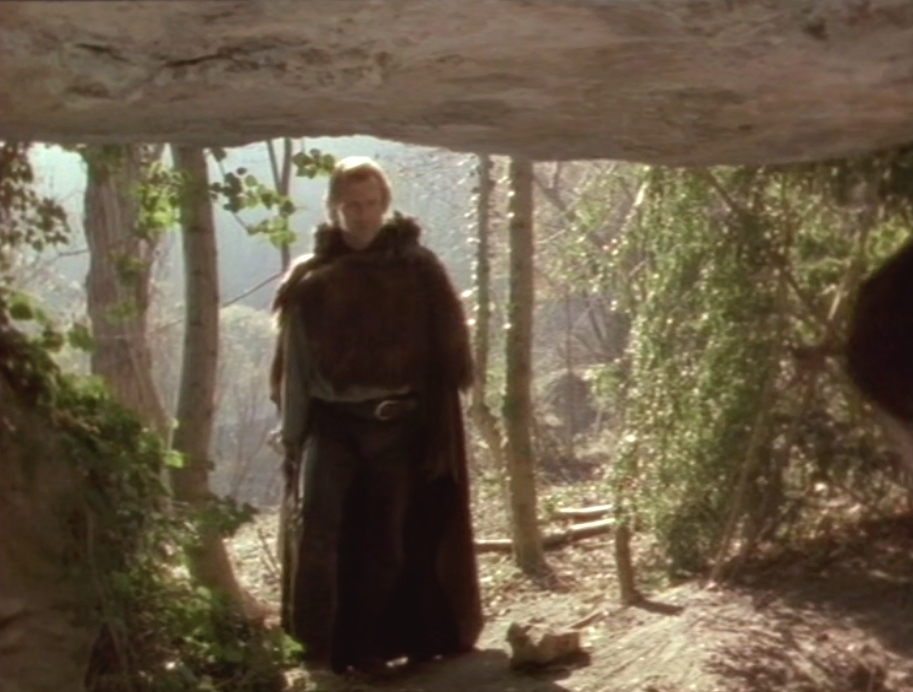 The cave of episode The Rock, The Pit and Trolls we haven't found yet. These episodes are all shot in the Perigord but perhaps the location could be a private ground or changed into a quarry. That one we finally found. We are looking for some missiong location.... the house (with a vineyard) where Tell works as a blacksmith and the interior of it (episode Rebirth).
Vinyard, probably in the Alpilles mountains, Montagnette hills.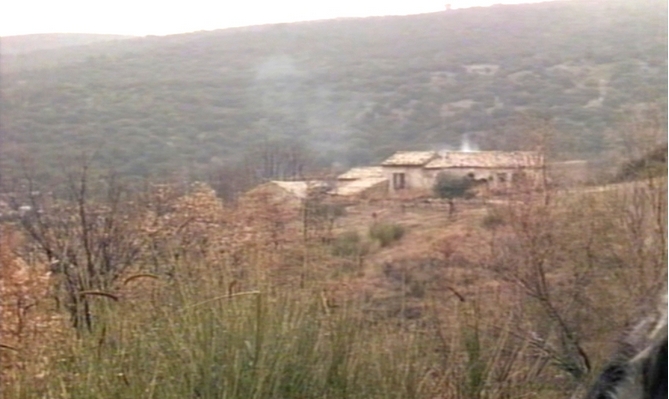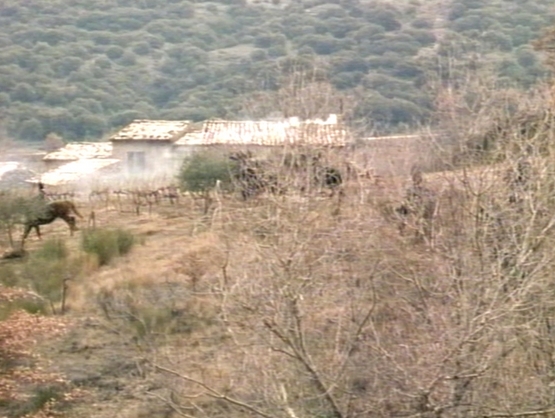 Movie tricks
C. Petit is fantastic at technical drawing on the computer. The Crossbow cameraman uses different angles. Sometimes it seems very far away, sometimes closer than it is ... or bigger or smaller. Like a boulder near the cave in episode 'Fear', it was knee-high and in Crossbow it looked like 2 meters! The cameraman also avoid modern roof gutters, downspouts, cars and electricity pylons, and there were many in 1887, filming had to be done with tricks and image interruptions and tricks.
C. he can very well complete a village, which has been shortly filmed from various sides, and so we can find it much easier. A great help and friend. I was invited at a family picnic in the beautiful gardens of Saint Andre last summer.
Preference of locations
The most exciting locations for me were: Montmajour, St. Maur, the forbidden monastery. There were dogs after us and the sign warned us for wild bulls. Very bushy outhere.
But there were many other locations like: Senanque, Miolans, me and my husband were walking around alone in the gardens of Pontgibaud with permission of the baronnes. She showed me the stables and told about her castle. It was a beautiful summer evening, we walked in the gardens for hours.
Les Baux: Just before a big thunderstorm occurs. Before we were almost blown off the stairs (to reach the top) was without railings and with heavy erosion on the steps. This was not without danger. We were alone outthere because of the bad weather Les Baux. The wind was extreme and we were almost hanging there half on the egde of the castle wall high on a rock. It was a thunderstormcloud that was approaching instead of a shower. In no time the castle was hidden in the cloud. The thunder had not announced itself earlier. We went down at once. Half way the stairs the thunder came with a mega bang and the rock quivered. I don't know what it is but we always have rain when we return there.
I also remember the huge key we picked up and we entered the Arlempdes castle in the early sunny morning. Wow! Nice view on the Loire river and a nice look at the lava rocks. For Lozere: We spend a night in La Caze. Something I never forget, like the night in Perouges at square Tilleul in a real medieval room with big woodframes of the middle ages. In this town is so much history and so much beauty to catch on camera and you feel the atmosphere of the town.
Chateau Chazey with all kind of butterflies in it's gardens, I never saw before so many! The (Electors) farmhouse we entered because it was ruined and had no warning signs. The owner suddenly showed up and scared us of. A year later we came back but we did it smarter and ofcourse with all the respect. Handmaiden is one of my favourites, before I went for the first time to Boulbon I always thought it was bigger, but it's still beautiful. The pass behind the castle is peaceful and nice to walk. You can even reach Frigolet and the ancient windmill in opposite of the castle! Besides Frigolet has such a beautiful decorated church. Really worth visiting.
Boulbon castle Abbey of Frigolet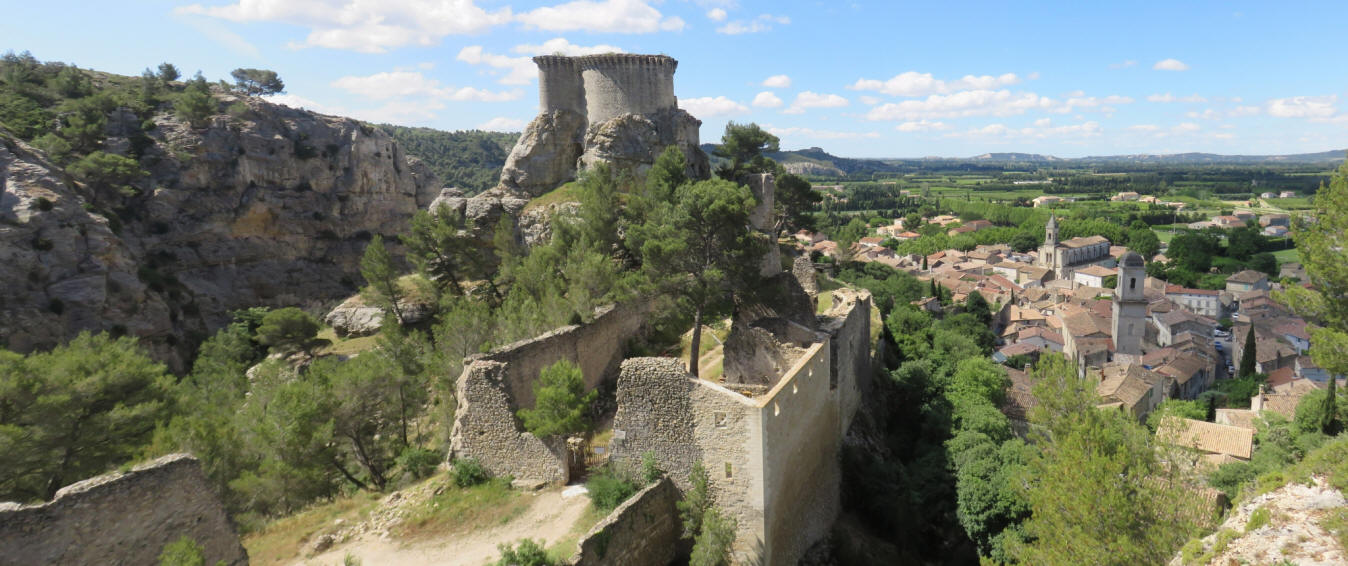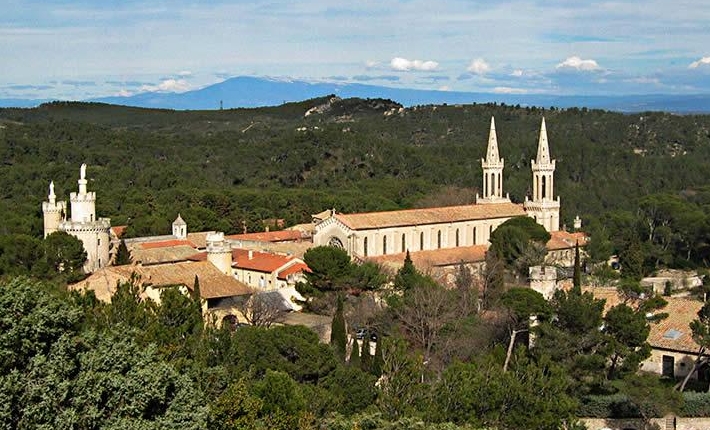 No need (for us) to visit Tarascon again, because it's at a busy crossroads and the courtyard is very small. The Rhone riverside is beautiful. From top of the castle you can see the tower of Beaucaire (on the other side of the river).
Palhers de Bramonas nowadays, 2019

Lanuejols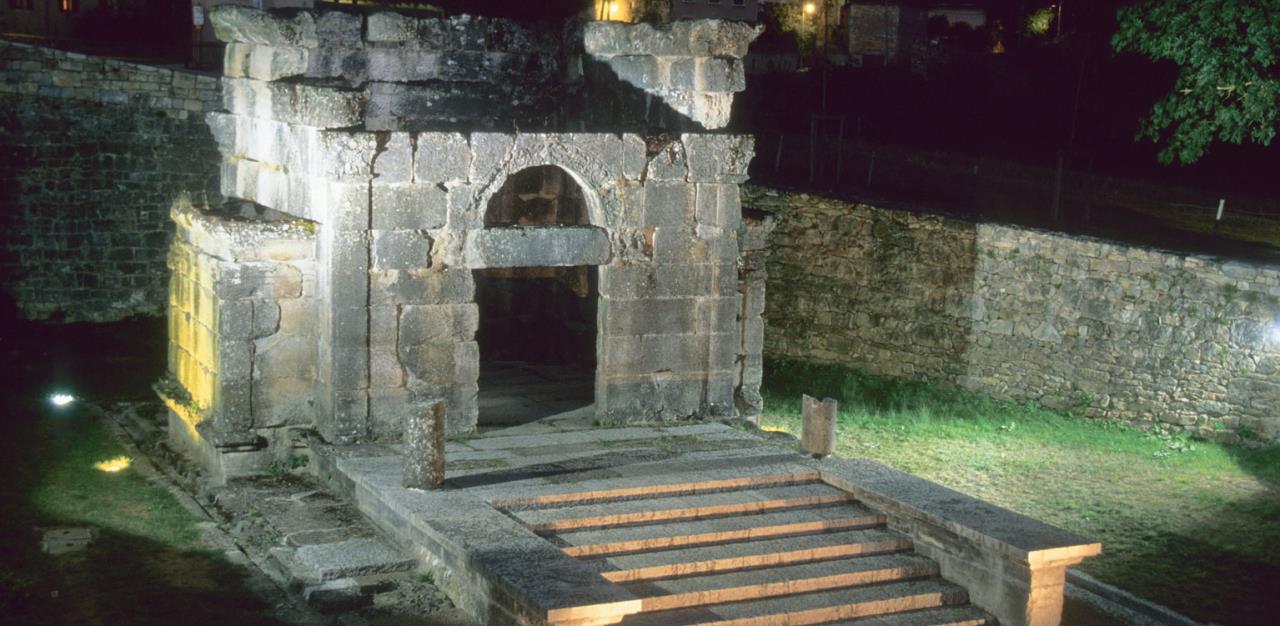 Chateau Dauphin Frigolet Senanque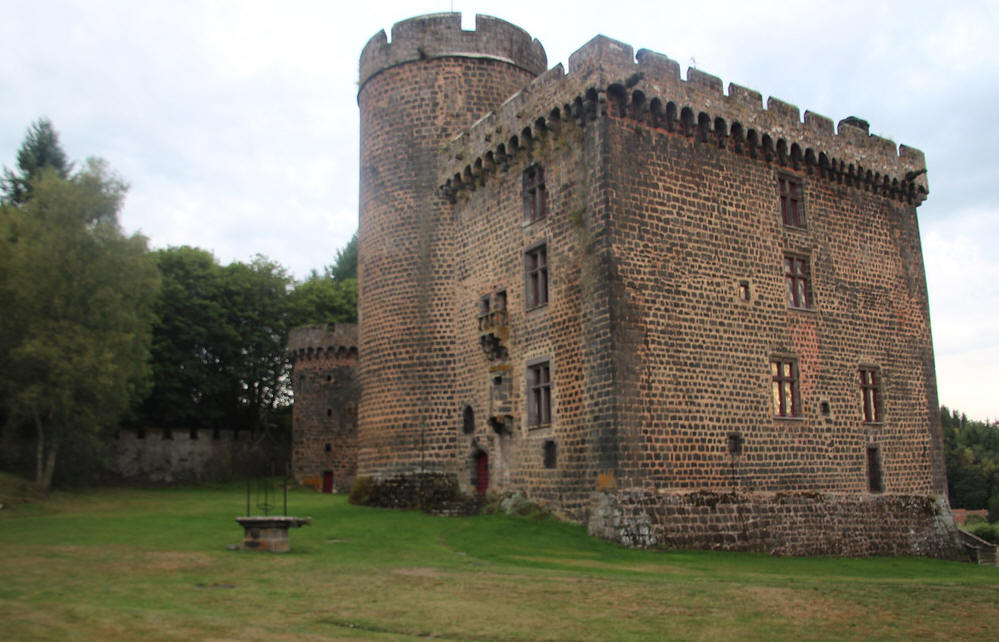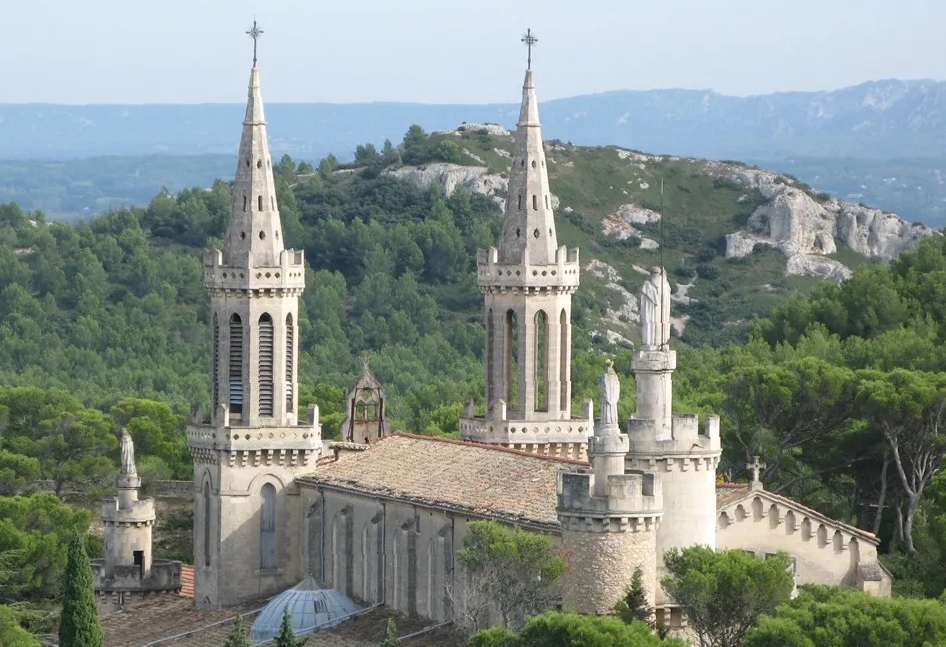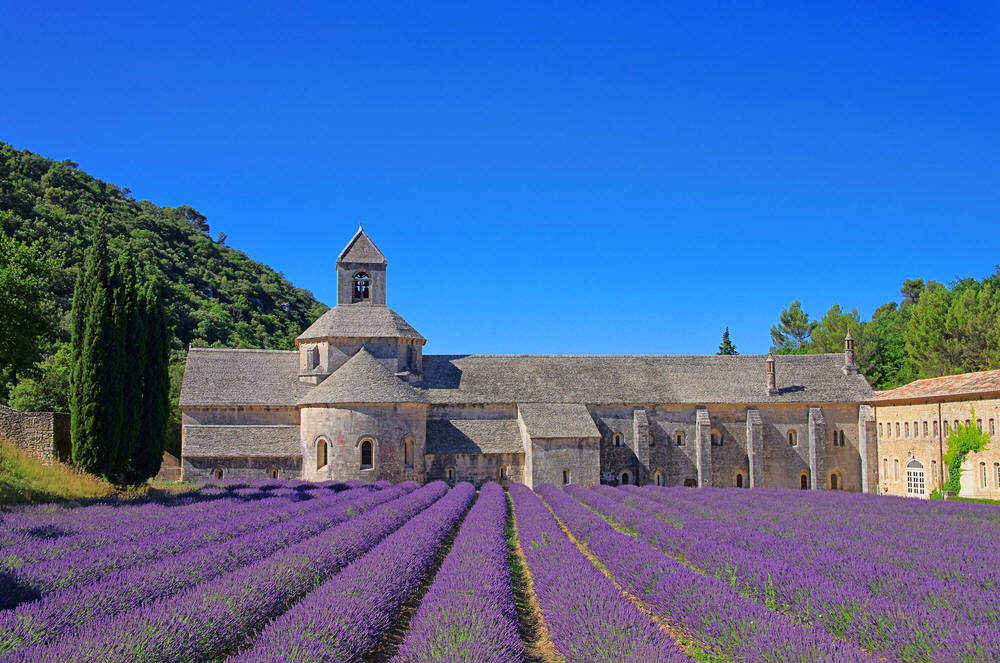 3 photos of my family on trail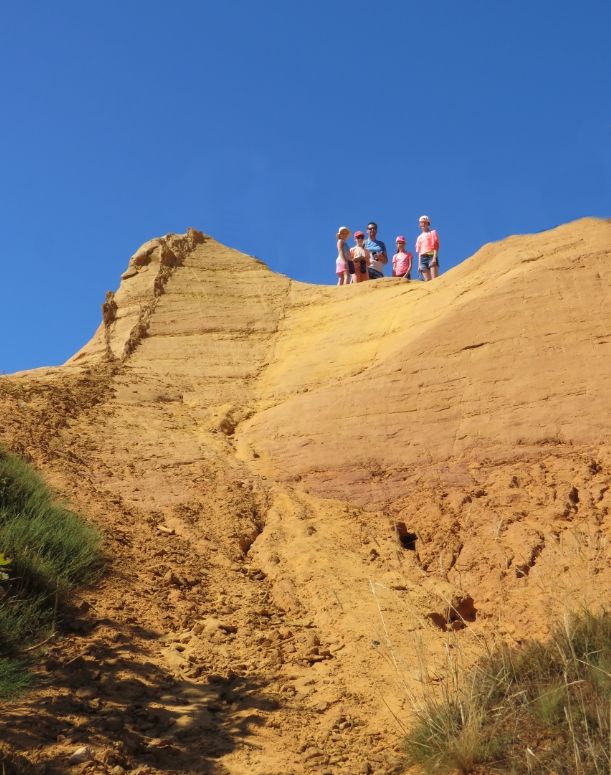 Lavender, my little one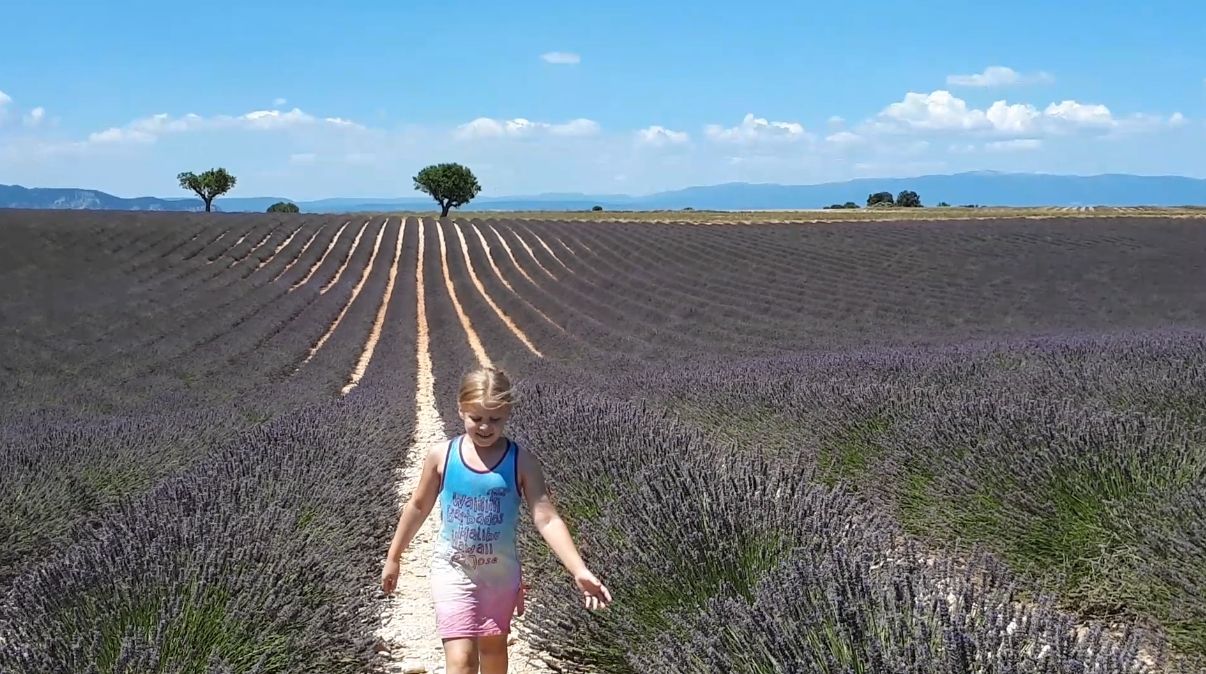 Boschaud