The Interview with Mr. Jeremy Clyde
"Gessler" (with some helpful commentary from Mr. Chad Stuart)
September 2014
by Laurel
Recently I had the pleasure of interviewing Jeremy Clyde, who in the 1980s kept us brilliantly entertained as the man we love to hate, Hermann Gessler. As most Crossbow fans will know, Jeremy Clyde is not only an actor, but is also half of the singing duo Chad & Jeremy, who became famous as part of the British Invasion of the 1960s, and it was during a Chad & Jeremy concert tour that I was given the opportunity to interview Mr. Clyde.
This was doubly fortunate since Chad Stuart, the other half of the duo, also just happened to be in the first episode of Crossbow, as the prince whose demand for entertainment brought about the famous apple incident, and I was hoping to get a few comments from him. The concert was at the Barns at Wolf Trap in northern Virginia near Washington, D.C. It is also, incidentally, Chad & Jeremy's favourite concert venue. We met backstage before the show in a busy green room. Jeremy is very charming and has a relaxed manner that makes it very easy to talk to him and we sat down for an informal little chat while Chad wandered in and out of the room getting ready for the show.
Jeremy had fond memories of working on Crossbow and talked enthusiastically about how much fun he had with the more action-packed aspects of playing Gessler... sometimes too much fun.
I'd ridden in my childhood and all that, so I had the most marvellous time. I was given a stunt horse, one of the finest animals ever ridden and the most highly-strung beast. Then I went mad with the stunt guys. We just thundered all over the place and there was a huge row because I was a leading player in the piece and had I fallen off the horse- I was doing some extraordinarily dangerous things... I was sort of grounded: "he's not to ride those horses and he's not to do those things with the stunts." So I had to stop and I was having such fun.
When you're eight or eleven or something and you want to be an actor, what you think acting is about is taking a sword and going "have at you my liege" and thundering about on horses and castles and stunts and fun! I just couldn't believe it, it was everything I'd ever wanted when I was a child. That's why I behaved so badly and rushed and did all the stunts and went mad, because I just became this boy again... it was great!
Crossbow was filmed at a number of historic locations in France. I asked him if he enjoyed that bit.
Yes, please! And I'd like to do it again. Three summers in France, are you kidding? I saw some wonderful places in France, places up in the Pays des Volcans, which is the volcanic park up in the Auvergne. Places tourists don't go and ancient castles that people don't visit... We filmed at Annecy, which is near the Swiss border. The lakes there are beautiful.
There was one place that I've tried to track down since because it was so extraordinary. It was a place which had a full-on ancient Roman arch such as the arc-de-triomphe, except there was only half of it because the level of the ground had come up. There was a sort of playing field and then this extraordinary thing. I don't think it appears in the show, I think it was just used as a base. I would love to go back there because it was such an extraordinary sight. So if you ever track it down I'd love to know, seriously.
So if anyone reading this happens to know the place Jeremy is describing do please let us know! Jeremy also lived in France for a while... he's a fan.
I did spend nine months of my life at the Université de Grenoble so I have a little bit of French experience and then later, for a while, I had a house in France. I love France and have friends there. The guy I write songs with, David Pierce, he lives in Paris. It's easy: you get on a train and in two and a half hours you're in Paris from the center of London. It's a marvellous thing. You can have another culture at hand, it's lovely. I'm very pro-French.
On the topic of location shooting in France he described an incident with a fire in one of the filming locations. A temporary structure had been built for the purpose of being set fire to and several stunt people were acting as dead bodies near the fire.
We were in national treasures, I mean they are protected, these places. We were allowed to film in a place, Le Puits, I think it's called... there was going to be a fire sequence where Gessler's men (of course, who else?) were going to set fire to the peasant dwellings and put people to the sword, as you do if you're a black knight.
They had got the pompiers, the firemen, who had very natty little uniforms and moustaches, and they were all very proud of themselves and they ran this hose right up to the top of the mountain... So "action" and it's off we go and they've set the fire and it all goes mad. The first thing you see is that the stunt people start rolling around because the fire has gone completely bonkers and they're going to get hurt, it's really painful, it's hot!
So all the bodies start moving away from the fire. And then everyone says "Pompiers!" and the pompiers arrive with their hose and a little drip comes out. They'd taken it all the way up with their little uniforms and moustaches, and that was it. I actually saw the props man go and get an Evian water bottle and he was pouring it on the fire. We were burning up a national treasure. I don't know how we got it out, it burnt itself out in the end.
Here Chad had wandered back in and chimed in for the first time.
Chad: Amazing they didn't talk to an expert. I mean you can't take a hose up a mountain...
Jeremy: Wouldn't you think? I mean, you're a fireman, you're supposed to know these things?
I asked if Jeremy liked working with Chad on Crossbow and was surprised to hear that it had not been a pleasant experience for Chad. Something you would never guess from watching the show.
Jeremy: I liked working with Chad, but Chad was having a very hard time...
Chad: Well, that was a freaking disaster... I'd just had several eye operations. This eye was looking down and this eye was looking straight... it was awful. I just wanted to hide myself away, but I had to do it. I had no choice.
Jeremy: It was a double-booking. I got myself in the most awful muddle... My agent in London had accepted William Tell, and they were all relying on me to be there. Meanwhile another deal had been set up by another agent in America to do the British Invasion tour of '86. I got myself in a muddle, but it all worked out actually to everybody's advantage. Chad was loaned, so-to-speak, and paid to do an episode with me so they could claim Chad & Jeremy and get the publicity and meanwhile we agreed to start the British Invasion tour a little late or something like that. In fact the problem was that it got so tight that I came over from having just finished shooting for William Tell and started on the first date of the British Invasion tour at Madison Square Garden and was so under-rehearsed. It was horrendous... I'll never do that again and I apologise to everybody and everything, but actually it worked out since Chad got extra dosh out of it, and we were able to play the British Invasion, but he didn't enjoy William Tell because he was suffering. The man had just got out of surgery, he was hurting all the time, and people were suddenly shouting "action" [snaps fingers] and Chad wasn't feeling himself at all, so it was not a happy thing for him...
Chad: Well it's all yesterday's...
Jeremy: Yes, yesterday's newspaper, but I liked it because it was nice to see him and have fun in France, but he was so unwell it took the edge off it.
Laurel: Well, you did a good job of covering it up and it was fun for us all to watch you.
Jeremy: Well for Chad and Jeremy fans it paid off, that was the intention I suppose.
I asked about the dramatic differences that occurred in the third season of Crossbow and Gessler's absence for most of the season. Jeremy described how the look and feel of the show gradually began to change due to budget cuts and that the script writers began to run out of ideas for Gessler.
They had terrible problems because they loved Gessler, but the problem with Gessler was, they said "Well, we'd like to give you more episodes Jeremy, but we don't know what to do, because how many times can you say 'At last, I have you in my power!', 'What, he has escaped!?', 'Find him!'" and all that kind of stuff. There was a limit to how many times Tell can escape and Gessler get cross. So they ran out of ideas and they got quite psychedelic towards the end because again they didn't know what to do with it. They'd run out of steam and I think there was some sort of a deal, they had to do a chunk of episodes in order to qualify for syndication if that's the word.
Because of this situation, the quality of the writing started to suffer and Jeremy recalled a very amusing example.
I can say this now: Will was very upset because he had a line of such ghastliness that he came to me, practically in tears, and I said: "Look, just say it. Say it. It'll be a wonderful memory. You'll get stories out of this. Your wife and your child are here. You're having a wonderful holiday in France. It won't matter, just say it, just for the glory of it so you can tell friends. It'll be a laugh." The line remains the worst line ever written... ever, and it is "You're saying my presence oppresses the peasants." Now, I have had such fun with other actors since then, saying "I have a line that is unsayable. And I promise you it was done." And we all say it, they put in pauses, they put in inflections – it still doesn't work. It cannot be said.
It's glorious.
In the end, Jeremy got to do the final double episode of Crossbow, "Moment of Truth", all by himself. Most of the episode consisted of flashbacks from earlier in the series as Gessler sits in prison awaiting judgement.
I did a whole episode by myself. And that was a money thing. And they said would you want to do it … and I said I'd love it! I sort of got my personal episode of triumph...
He has not seen the show since it originally aired and did not see all of the shows due to its being pulled from British TV after only a few episodes.
There was a horrible murder in England shortly after the debut, using a crossbow, and of course that was it, it was gone, because of the title. There was a furore amongst the tabloid press about how crossbows should be banned and I think they were banned as a result and so that was the end of that. So it never got shown in England as far as I know, or very little at all.
I asked Jeremy if he keeps in touch with anyone from the show. He told me that he was very surprised to hear indirectly from Will Lyman six months ago. A friend in Washington was at a charity lunch sitting next to a young woman chatting and Jeremy's name somehow came up and they realised they both knew him. They took a picture of themselves and sent it to Jeremy. The young woman was Georgia, Will Lyman's daughter, who had bit parts in a few Crossbow episodes when she was a child.
So there's the two of them doing a selfie... and it was so sweet... "Did Jeremy remember Georgia?" Of course I remember Georgia. Georgia was eleven at the time and what fun we had; we swam in lakes together and picnics and we had a wonderful time. Will and I were happy as Larry. We had a great time.
I mentioned that Eline had just interviewed Conrad Phillips and asked if they were in touch.
Now Conrad has been in touch, since you ask, and his nice wife, Jenni... I was very fond of Conrad, lovely man, and Jenni. He was a sweetheart. He suffered because back in the days before actors were more protected, the original William Tell, shot on black and white video and running around cardboard rocks and all that and he had an accident, done a stunt, did a fall or something and had ended up not well, damaged. So movement for him, you know stunts and running about, was hard and I remember there was one episode, which you will of course know instantly, which was set in the snows and he had to do an awful lot of walking in deep snow and I know he had an awful time of it.
I asked if he kept any props from the show.
Yes, in the last episode I did there was a three-legged stool made of very flimsy wood and this three-legged stool, all I had to do was walk near it in my cloak and it fell over... and as a joke they all signed it for me and gave it to me at the last night... and I've still got it. It's next to my desk. I've got everyone's signature from the shoot and it's there because they thought it was so funny that I hated this stupid piece of furniture so they gave it to me. Amazingly, I brought it home. Well you had to.
Laurel: It's a great souvenir to have.
Jeremy: Yeah, but you know...Getting on the aeroplane with this stupid thing...
Laurel: Makes a great story.
Jeremy: Yes, it's a nice story, exactly.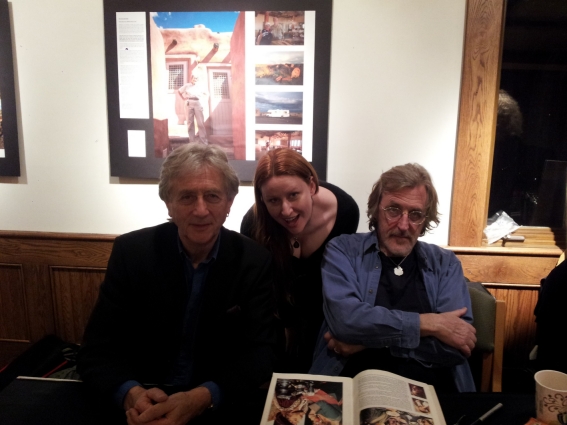 At this point it was time for them to get ready for the show so I said goodbye. The concert was wonderful, despite Chad being unable to sing full voice since he was recovering from the flu. He still sounded great. They put on a good show, much of which is humorous banter. Afterwards they graciously signed for all of their fans, as they do after all their shows no matter how long it takes. I got them to sign my Crossbow book, which you can see in the picture of me with them taken by their manager, Jason Rhoden, who was very kind in arranging this interview for me. All in all a very memorable evening with two very kind gentlemen!
Jeremy has just completed work on a solo album entitled The Bottom Drawer Sessions, which will be released on October 7th!
For more information on Chad & Jeremy and to see their concert schedule visit their website.