Conrad Phillips - Stefan
Conrad Phillips as Stefan, Tell's old friend and comrade-in-arms. In his search for Matthew, William Tell runs into his old friend Stefan. They fought together in the border wars when Tell was a mercenary and
Tell saved Stefan's life. The bond between them is a strong one and they have eachother's trust. We first find Stefan as the leader of a ragtag group of outlaws and rebels in the mountains. Their activities
include undermining Gessler's authority and relieving him of his gold. A widower with one daughter, Eleanor, whom he has raised like a son, Stefan has done his best to make a life for himself and his
daughter, but it is a life of constant and unpredictable change.
Unlike many of tell's old mercenary companions, Stefan is a good man with a strong and commanding presence. A great deal older than tell, he still has all the vigour of youth and can ride fight and scale
walls with the best of them. He is very proud of his daughter and the two of them are very close. Stefan's kind and generous heart and keen sense of humour make him a very easy friend. Stefan accompanies
Tell on his adventures during the first two series. He is always a loyal and trustworthy friend to Tell. Stefan stays with him longer than anyone else and never lets Tell down. He has very idealistic views and hopes to one day see his dreams of a free world take fuition and will take any chance in order to see them through.
This is not the first time Conrad Phillips has appeared on television in a series about William Tell. In 1958 Phillips starred as Tell himself in The Adventures of William Tell, where he wore the same
sheep skin tunic he wears in Crossbow. A veteran of the English stage and screen with countless credits to his name he has become a familiar face on British television with guest appearances on shows
like The prisoner, Fawlty Towers, and Robin of Sherwood and had a stint on Emmerdale Farms. Among his more prominent film credits are the Powell and Pressberger film The Battle of the River
Plate, Stranger's meeting, Murder She Said (a Miss Marple film), and Impact!, which he also wrote.
He returned to the story of William Tell for Crossbow (1987-88) in which he played Stefan, the protagonist's mentor. "Stefan was a much older and grizzled character," Phillips recalled.
"I had far more action in my series but I enjoyed the challenge [of being] an arthritic warrior." (the Royal Academy of Dramatic Art).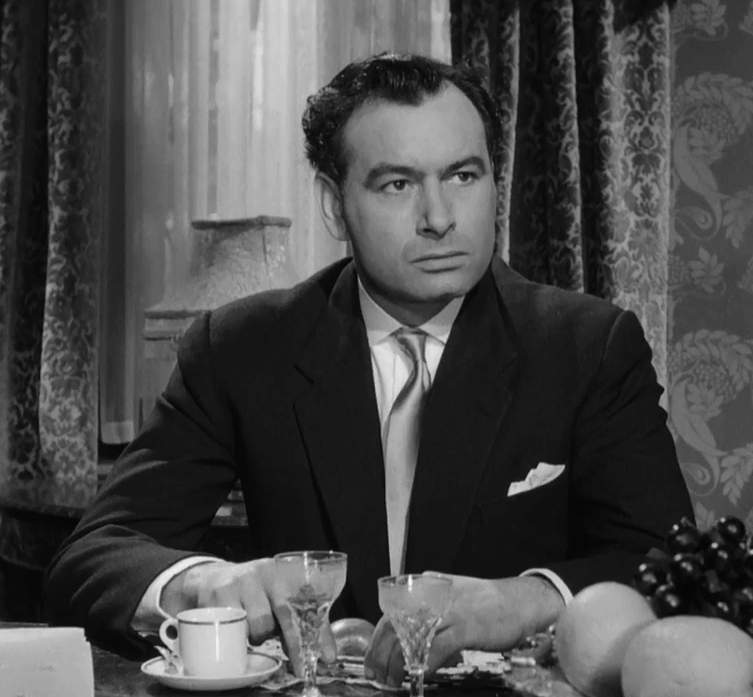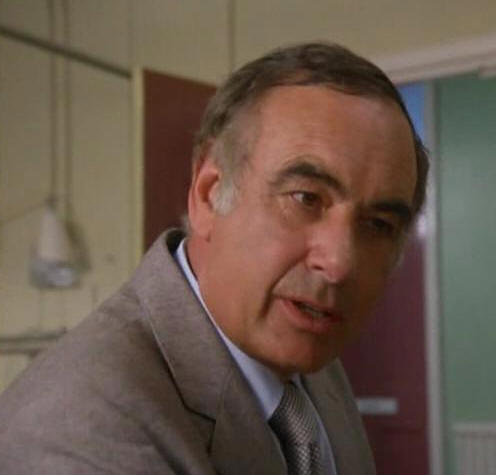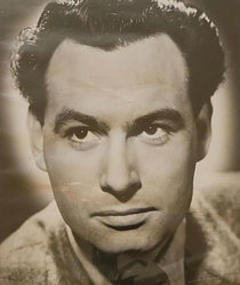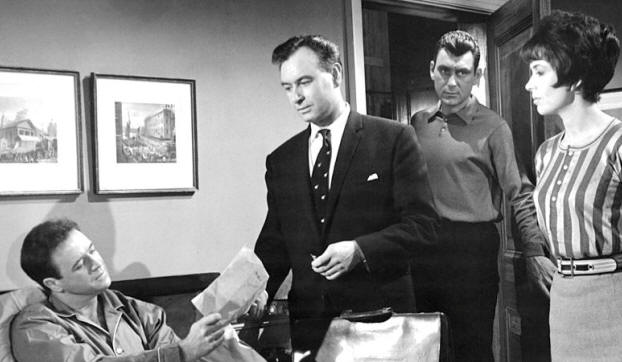 The prisoner 1967
The General (1967) ... Doctor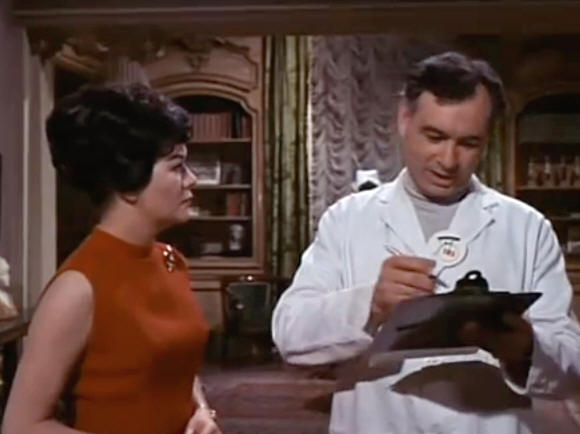 Fawlty Towers 1975
The Wedding Party (1975) ... Mr. Lloyd
Fawlty Towers is a British television sitcom broadcast on BBC2 in 1975 and 1979. Just two series of six episodes each were made. The show was created and written by John Cleese and Connie Booth,
who also starred in the show and were married at the time of the first series, but divorced before recording the second series. The show was ranked first on a list of the
100 Greatest British Television Programmes drawn up by the British Film Institute in 2000.
The series is set in Fawlty Towers, a fictional hotel in the seaside town of Torquay on the "English Riviera". The plots centre on the tense, rude and put-upon owner Basil Fawlty (Cleese), his bossy
wife Sybil (Prunella Scales), the sensible chambermaid Polly (Booth) who often is the peacemaker and voice of reason, and the hapless and English-challenged Spanish waiter Manuel (Andrew Sachs),
showing their attempts to run the hotel amidst farcical situations and an array of demanding and eccentric guests and tradespeople.
Diana King and Conrad Phillips in Fawlty Towers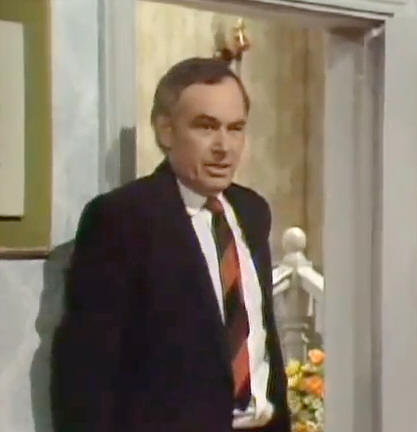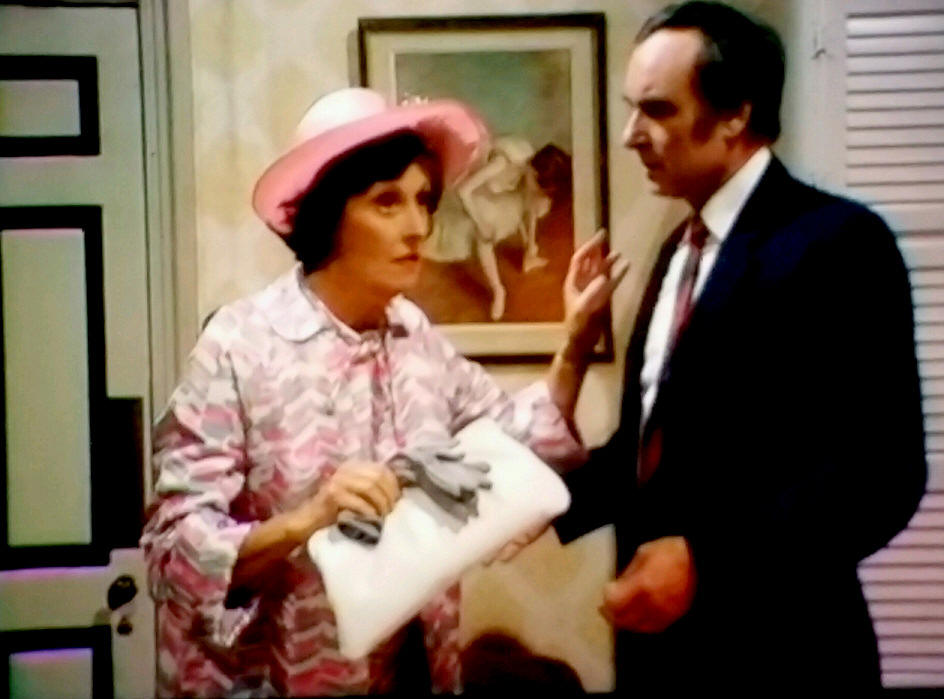 The Avengers 1965
Silent Dust (1965) ... Mellors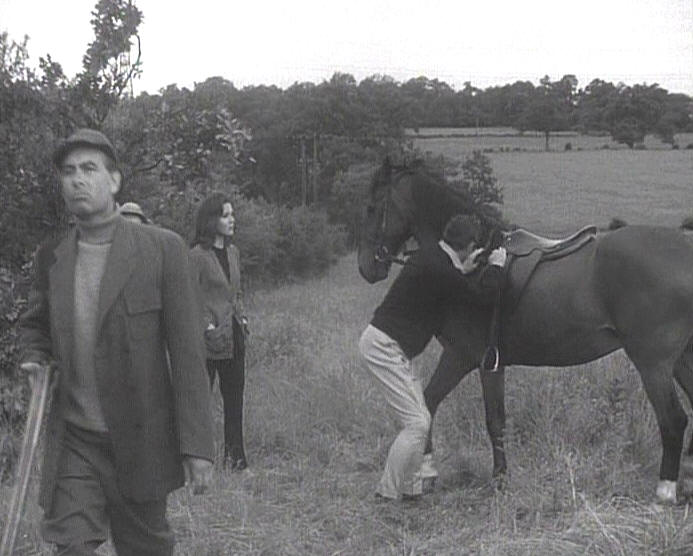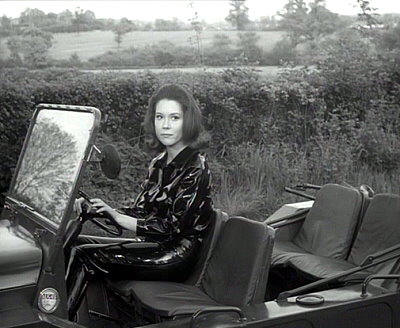 The Queen's Traitor 1967
Campbell Logan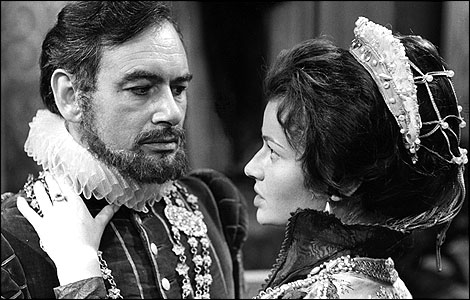 Heidi tv mini series 1974
Episode #1.2 (1974) ... Pastor Link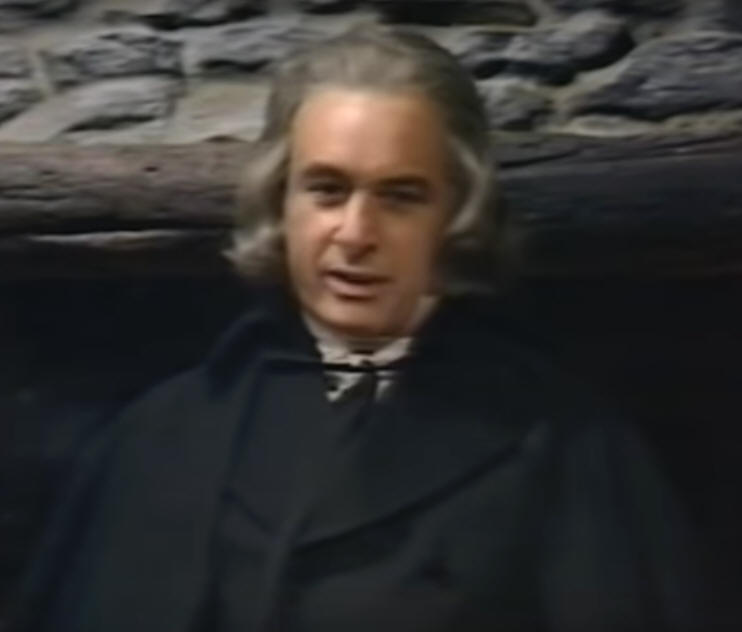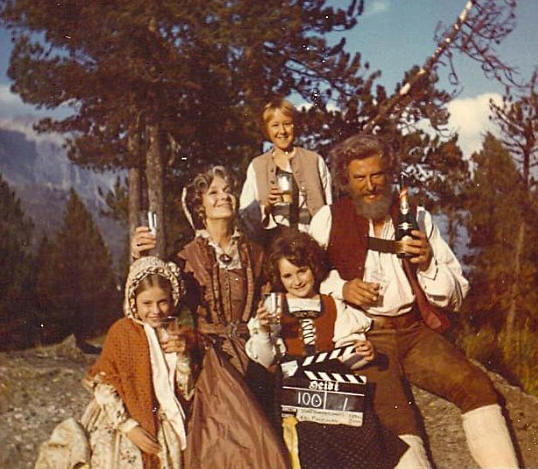 Robin of Sherwood 1984
Conrad Phillips was Philip in episode The Swords of Wayland (1984)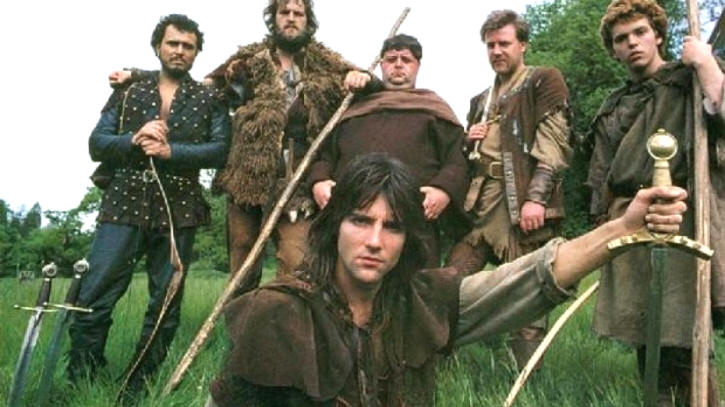 Emmerdale Farm 1981-1988
Conrad Phillips was an English actor who played Christopher Meadows in Emmerdale Farm inbetween 1981 and 1988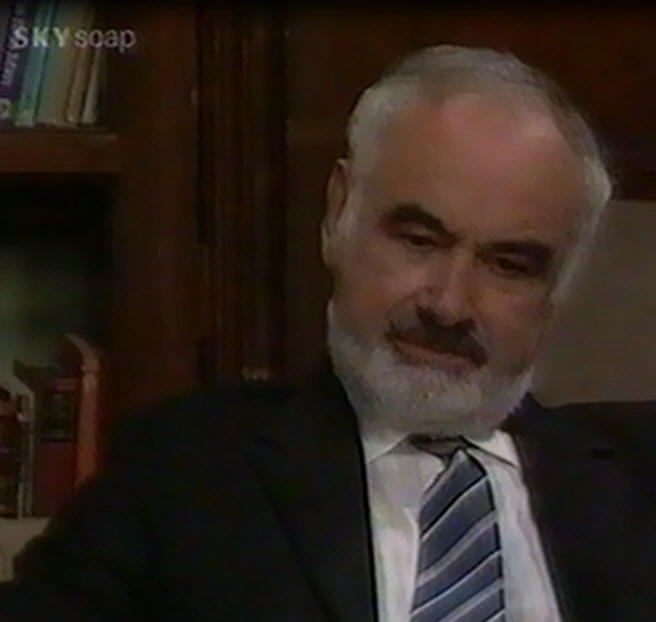 The return of the Sherlock Holmes 1986
The Abbey Grange (1986) ... Sir Eustace Brackenstall
Right: The Abbey Grange is the 5th episode of season 3 of the Granada series: Sherlock Holmes (The Return of Sherlock Holmes), starring Jeremy Brett (Holmes)
and Edward Hardwicke (Watson), aired on 6 august 1986 on Granada TV, 51 min.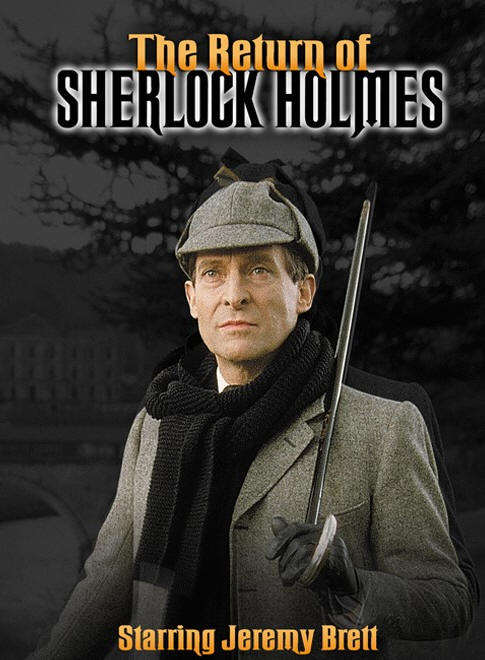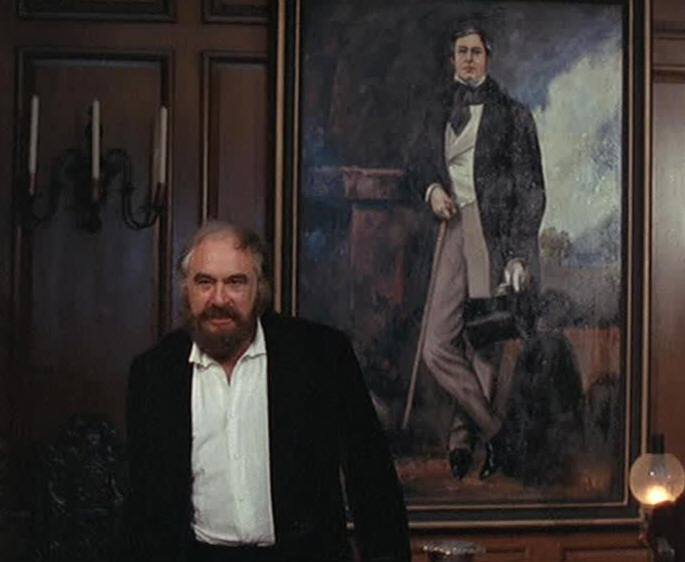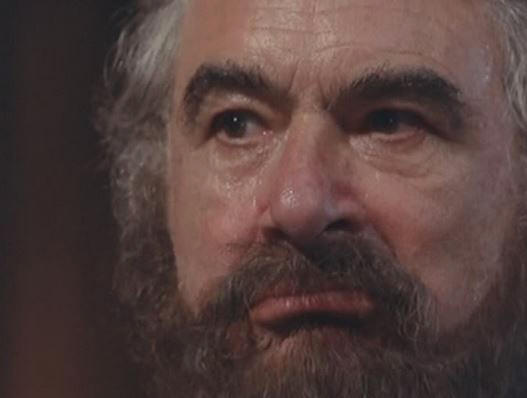 Conrad Phillips plays the simple role of Sir Eustace, but it is really Anne-Louise Lambert who gives him his humanity. Sir Eustace is a drunkard for the most part,
and pretty abusive to his wife, smacking her around on several occasions. When Captain Croker enters the picture expressing concern for Sir Eustace's wife,
there is a confrontation and Eustace is killed.
Conrad's visit to Swiss
Phillips travelled to Switzerland for the first time at the invitation of swissinfo, to visit the places where the Tell legend unfolded.The 39-part series, The Adventures of William Tell,
first aired on British television in 1958 and 1959.

The key scenes from the Tell legend are shown in the very first episode. Brittish William Tell meets the Swiss.
Yet the man millions of people around the world knew as the Swiss hero was actually British. At the invitation of swissinfo, Conrad Phillips has just paid his first visit to Switzerland.
The 79-year-old actor says he is still getting fan mail even though it has been nearly 50 years since he played the starring role in the British television series,
"The Adventures of William Tell" (see video and audio).What he could not have realised when he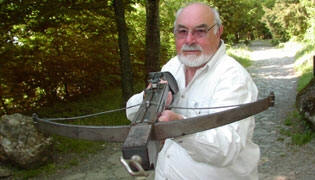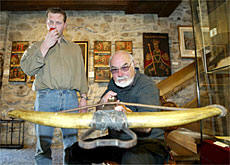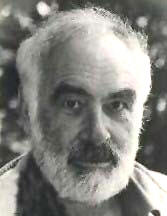 Took aim at the apple on his son's head was that his shot would be seen round the world, thanks to rebroadcasting deals with television stations in many different countries.
"Even behind the Iron Curtain," Phillips states proudly as he catches his first glimpse of the alpine scenery in central Switzerland, the setting for the Tell legend. The actor says he
would have liked some of the scenes to have been shot on location, but the producer at the time "thought a rock was a rock", so to save money the mountains of Snowdonia in
northern Wales stood in for the Swiss Alps."There must have been a William Tell! " Thomas Christen, Tell museum. Larger-than-life. The Adventures of William Tell was a children's
show, and it had a cast of larger-than-life characters, led by Tell and the evil Austrian governor, Gessler. Gessler is an overweight arch villain - a comic fool with a mean streak and the
forerunner of the "bad guy" type found in many later action series and films. Now, nearly 50 years later, Phillips finds himself confronted with an equally eccentric cast of characters -
on location in Switzerland. Convinced they alone know the truth about Tell, these guardians of the legend at times use outlandish gestures and admonishing tones to get their point across.
"There must have been a William Tell!" insists Thomas Christen of the Tell museum in Bürglen, the village said to be the birthplace of the crossbow-toting avenger.
"This is where Tell ambushed Gessler!" shouts Hans Grossrieder, the secretary of the strip of forest known as the Hohle Gasse.
Phillips, still the consummate actor, grants them the undivided attention they feel they and the story deserve.
Tell today " I feel slightly humbled by the weight of history. "

Conrad Phillips He is, however, rather surprised by the mild manners of Thomas Gisler - the amateur actor who is playing Tell this summer at the Tell playhouse in Altdorf, the town where
the Schiller production was first performed in 1895. As Phillips learns, Gisler is a rare breed, refusing to lavish the usual praise on the legendary figure.
Still, Phillips says, "we tried in our television show to put over simple truths of honesty, integrity and loyalty, all personified in William Tell.
"[Being here] I feel slightly humbled by the weight of history, the weight of the legend and the fact that one contributed in a small way in keeping the idea alive, even in an entertainment form," he reflects.
"I felt some value in that because it kept alive the whole concept of what Tell was about, and what Switzerland was about." Swissinfo, Dale Bechtel in Altdorf.
After William Tell, Conrad Phillips went on to perform in numerous TV, stage and film productions.
In the 1980s he had a supporting role in "Crossbow", a French production loosely based on the Tell legend.
The picture below is with his first wife Jean Moir, a fellow student at Rada, in 1949, ended in divorce. – and his son Patrick who died in 1982.
Conrad Phillip's marriage to Jean Moir, a fellow student at Rada, in 1949, ended in divorce. Their son, Patrick, died in 1982. He is survived by his second wife was Jennie Slatter,
whom he married in 1968, and had two daughters, Kate and Sarah. He also had two grandchildren, Alice and Leo.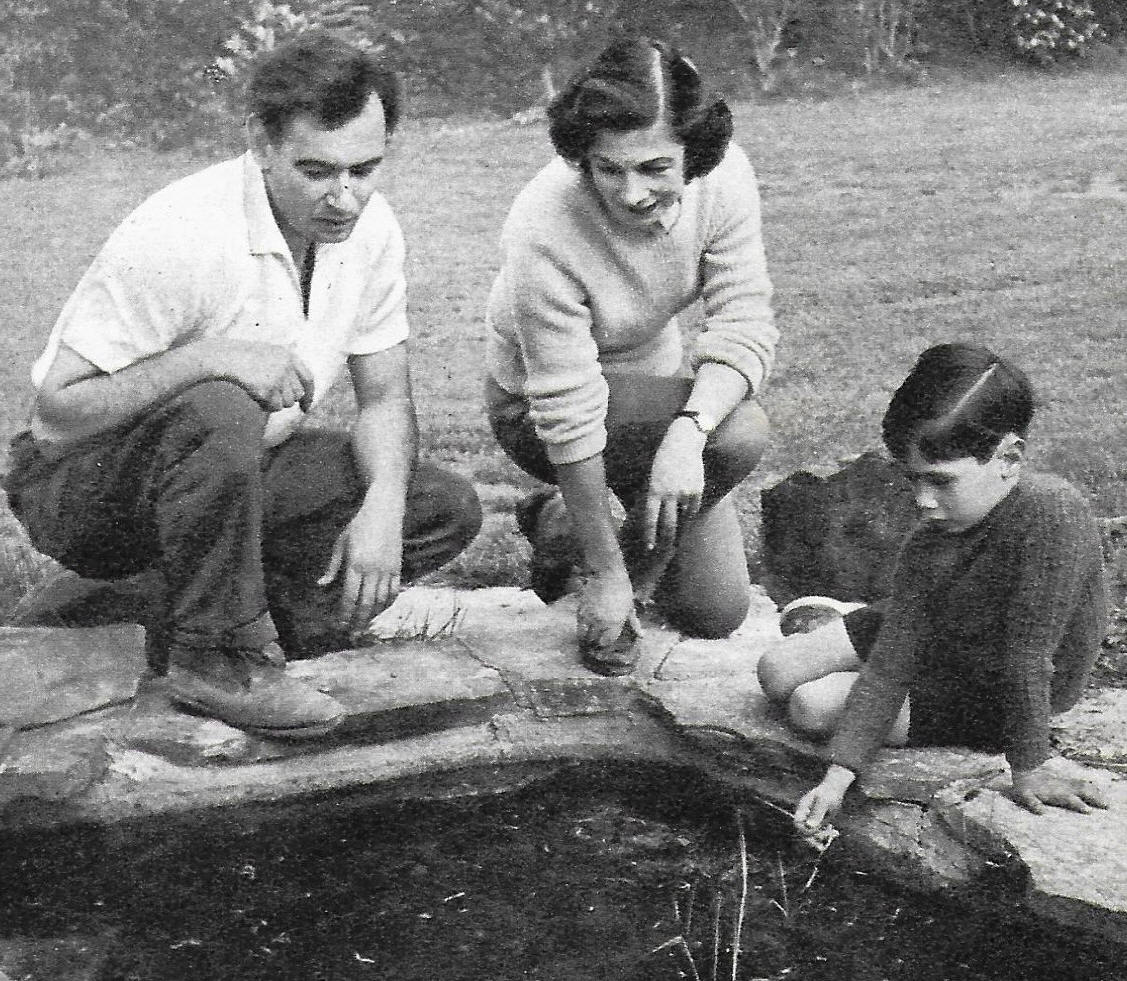 Actor Conrad Phillips, who gained fame in the 1950s as the star of The Adventures of William Tell, has revealed his swashbuckling adventures nearly cost him his life in his
Autobiography titled Aiming True. The book begins in the late 1930s when he joined the Navy aged 17 in the Second World War and goes on to follow his career as an actor.
He said it was tough to be an actor as a family man because he did not always get a regular pay packet, and he often had to be away from home, but playing William Tell in the black and
white television series that ran for 39 episodes was a big thrill.
He said: "It was an adventure every week, I had sword fights, knife fights and fist fights every week and we were always up against time to shoot the film.
"I did the last episode from a wheelchair. During the first shot I came out and jumped and broke my ankle.
"I was sword fighting from a wheelchair and someone else did the long shots."
However, that wasn't the only danger the father-of-two faced while filming for the show.
Mr Phillips recalled: "Once I was sitting on a horse being hanged with my hands tied behind my back when the clapper board snapped shut.
"The moment the horse heard the noise, it reared up.
"I just got my hands free to swing onto the scaffolding, otherwise I would have been hanged."
Mr Phillips, who wrote his autobiography while living in Normandy for 20 years with his wife Jennie, hopes to inspire young actors. He will give a talk to the Chippenham Youth Theatre on April 23.
His nine-year-old granddaughter, Alice Atkinson, is a member of the theatre group.
Mr Phillips said: "I had a very humble background and eventually became the star for a television series which was sold all over the world. "From humble beginnings you can make anything work.
What a wonderful photo! Jenny with Conrad and their two daugthers during their 'adventure' in Scotland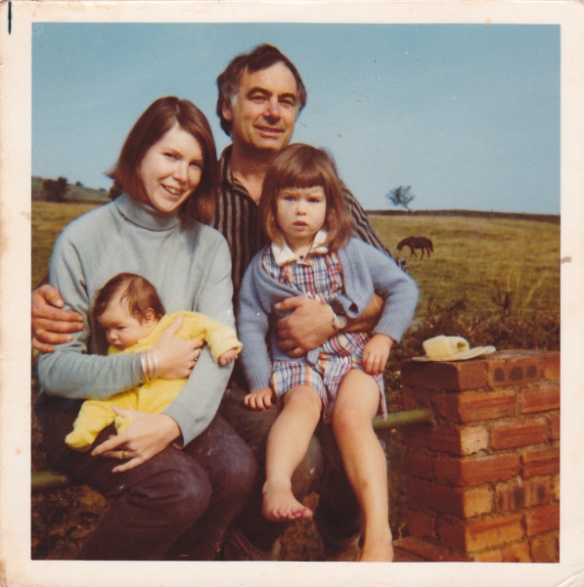 Conrad Phillips (Conrad Philip Havord is born 13 april 1925 and died 13 January 2016 at the age of 90).
Conrad, became a familiar face on television in the late 1950s when he starred in the title role of The Adventures of William Tell.
Period tales of derring-do were a staple of the early evening television of the time and when The Adventures of Robin Hood (starring Richard Greene) wound down at the end of the 1950s,
Phillips began to perform a similar "swashbuckling" role. As the 14th-century Swiss folk hero (though speaking his lines in crisp English RP), he wielded a crossbow against the occupying forces of
Emperor Rudolph of Austria in 39 episodes of the ITC series.
While shooting in Snowdonia, each day's rushes would be screened at the only cinema nearby, at the village of Llanberis. Phillips did much of his own stunt work in the mountains and suffered several injuries.
The show was sold throughout the world, even, to Phillips's surprise, behind the Iron Curtain: "I think there was the association with the wartime resistance that still lingered on. It was an easy concept for people to understand: the occupation by Austria in the case of William Tell, and the occupation of most of Europe by the Nazis."
He was born Conrad Philip Havord on April 13 1925 in south London. His father, Horace Havord, was a journalist on The Sunday Express who also wrote mystery novels under the nom
de plume Conrad Phillips. He later suggested it to his son as a stage name.
Phillips attended St John's Bowyer School in Clapham, South London. He served as an able seaman manning a gun on landing craft. He worked for an insurance company, and forged his birth
date on his ration book so that he could join the Royal Navy at the age of 17.
In three years of service during the Second World War he saw action in the Atlantic Ocean, Mediterranean Sea and the North Sea and survived the mining of a landing craft. Invalided out of the
service in 1945He called himself 'Bill' in the navy because his shipmates kept ridiculing the name Conrad. His name wasn't changed to 'Phillips' until he started acting.
He enrolled at Rada on a ex-serviceman's grant. "My audition was, to say the least, committed," he said. "I threw myself around the stage with passion and secured a place as a student for two years."
His fencing lessons at Rada would later come in useful while filming The Adventures of William Tell.
During the 1950s he alternated theatre work with television and film roles, including an appearance alongside Peter Finch in Powell and Pressburger's The Battle of the River Plate, before
winning the part of William Tell.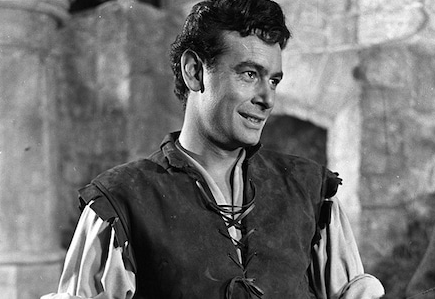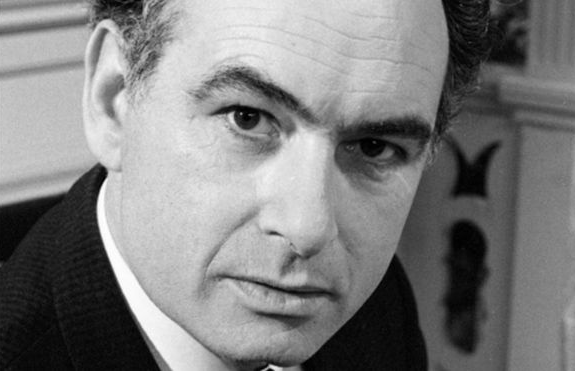 After the series ended Phillips and Peter Maxwell, one of the programme's directors, formed Arriba Productions and worked together on the B-movie Impact (1963), about a
crime reporter framed for a robbery. Maxwell directed while Phillips starred as the wronged man.
He met his wife, Jennie, in April 1968. In January 1972 they set about restoring a Scottish hill farm called Skeoch.Conrad married his second wife, Jennie, in July 1968 and they are still
together and now living in Chippenham, Wiltshire. Before that they bought and ran a dilapidated Scottish hill farm called Skeoch. Jennie has written a book about the time there and
this is on sale in both paperback and ebook formats. After Skeoch, they moved to France and spent 20 years restoring an old French barn.
Throughout the 1960s and into the 1970s he continued to appear on stage, including a run with the ENO at the Coliseum, on the small screen (Fawlty Towers, Heidi, Callan), and in cinema.
By the mid-1970s he was balancing an acting career with the management of a hill farm in Scotland
During the 1960s and 1970s, he worked in theatre, television and films – it was to be his busiest period as an actor. And in the 1980s Phillips's credits included The Return of
Sherlock Holmes; Emmerdale; Howard's Way and Hannay.
He returned to the story of William Tell for Crossbow (1987-88) in which he played Stefan, the protagonist's mentor. "Stefan was a much older and grizzled character," Phillips recalled.
"I had far more action in my series but I enjoyed the challenge [of being] an arthritic warrior."
He retired from acting in the early 1990s and in later life lived in Chippenham, Wiltshire. In 2013 he published his memoirs, Aiming True (2013). "I've had quite a bouncy life," he wrote.
In 1949 Phillips married Jean Moir, who also studied at Rada. The marriage was later dissolved and in 1968 he married, secondly, Jennie Slatter, who survives him with their two daughters.
A son from his first marriage predeceased him. source

Both Conrad and Jennie are authors. Here's the blog of his wife Jennie. They finally lived in Chippenham, Wiltshire. Phillips released his autobiography, Aiming True, in 2013
Crossbow photos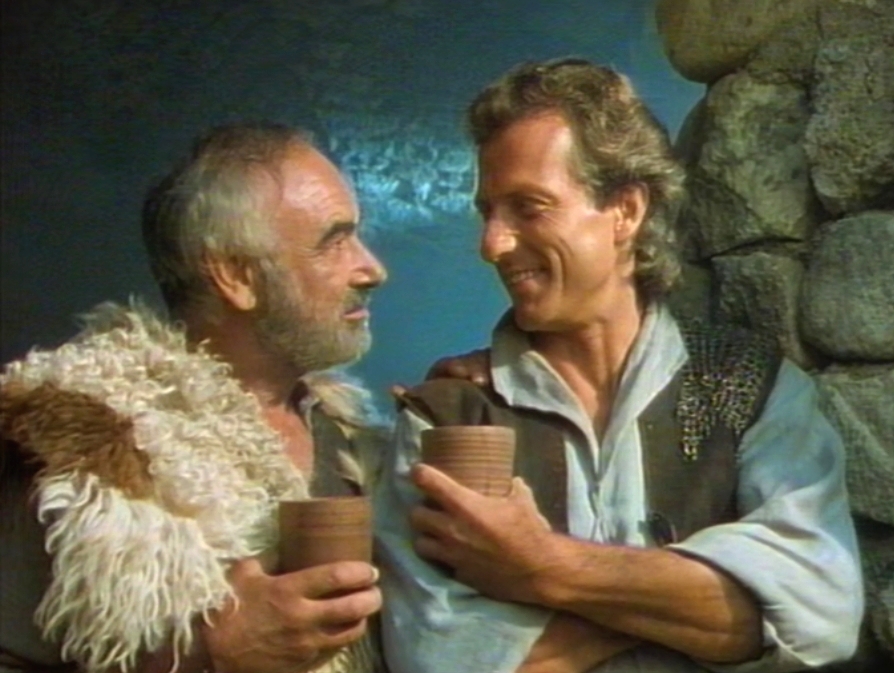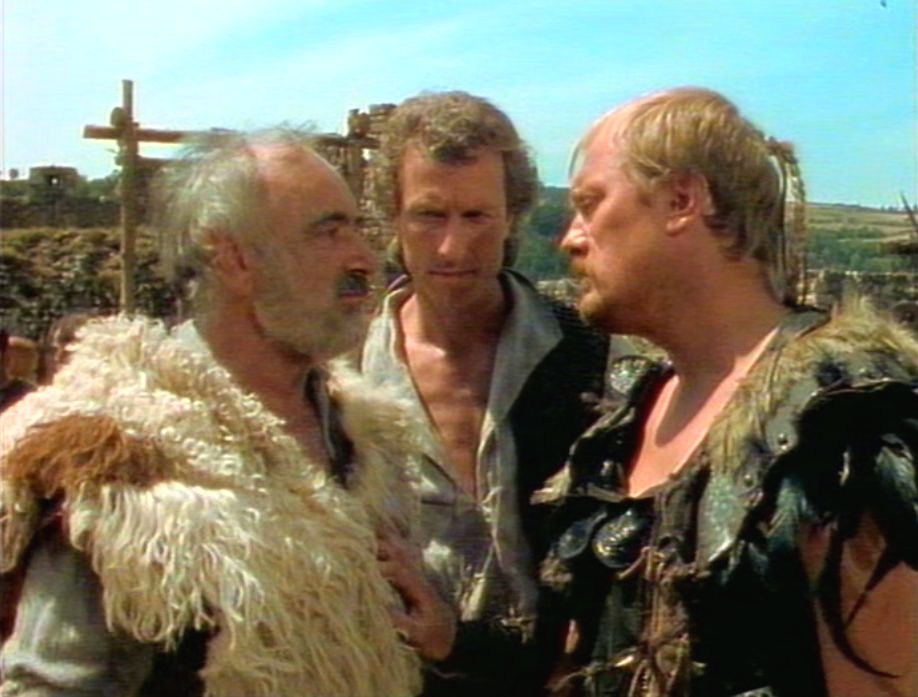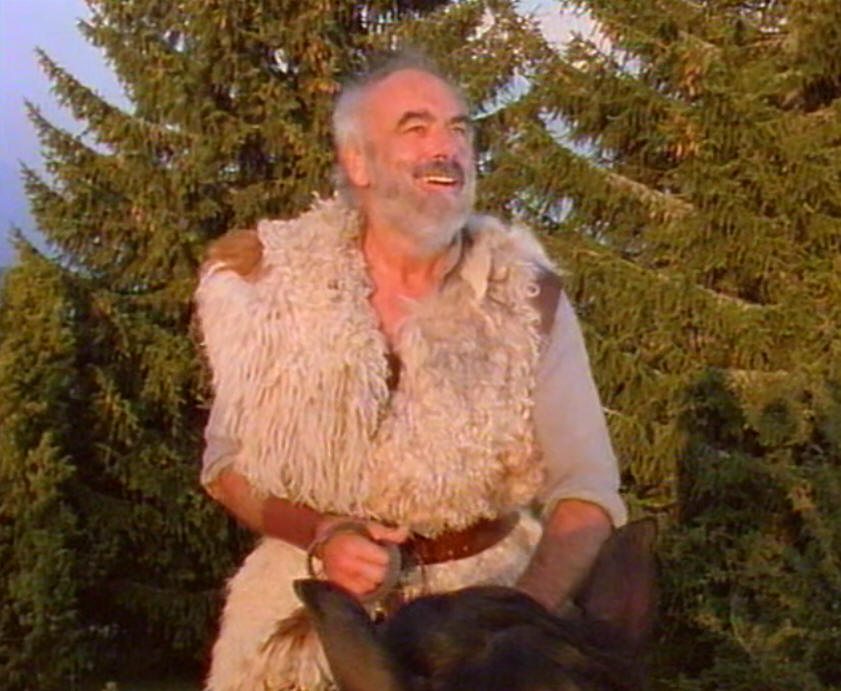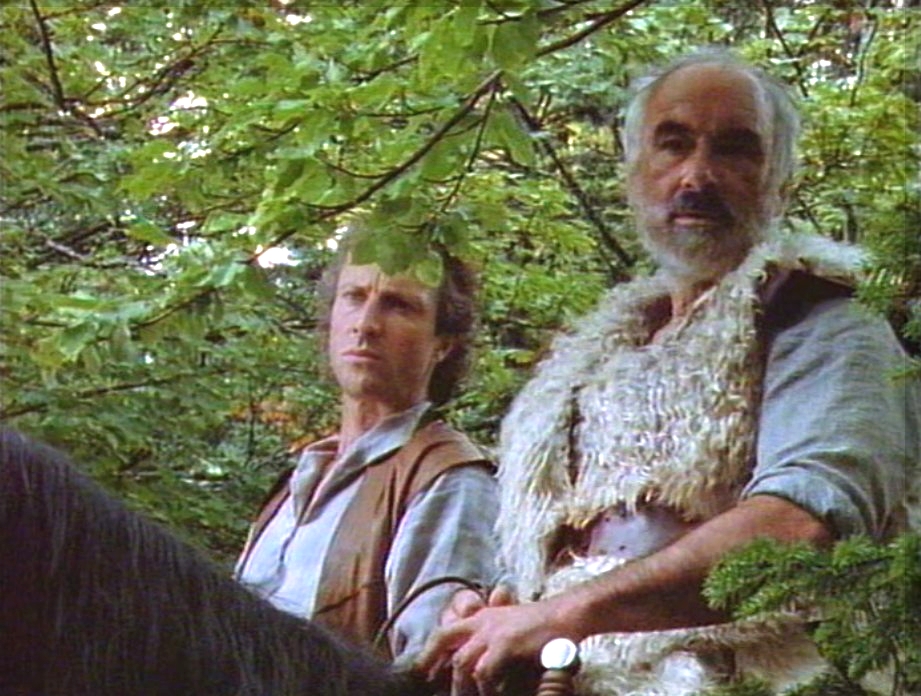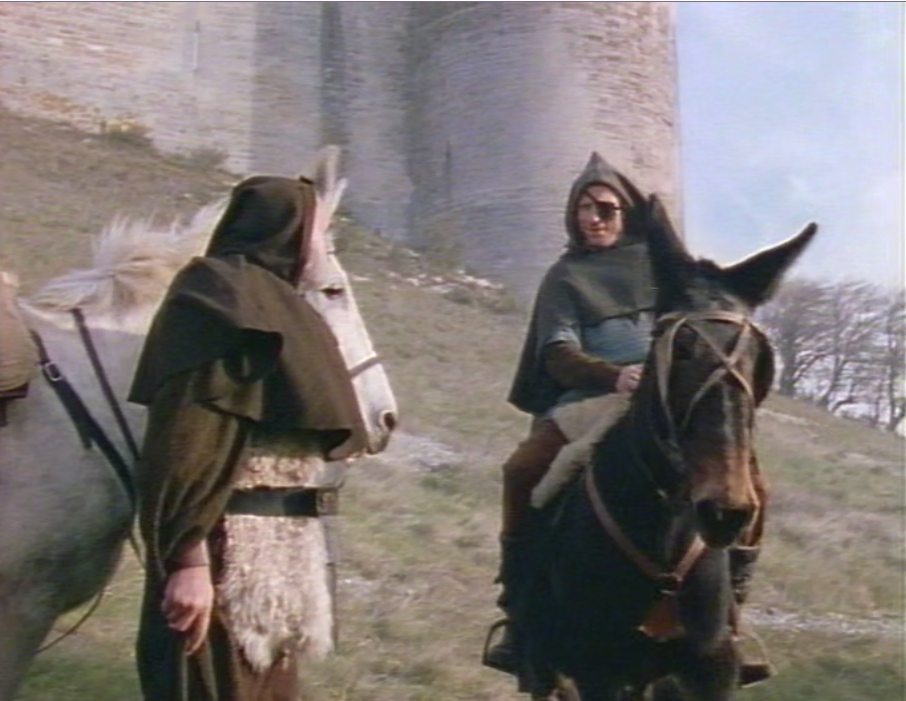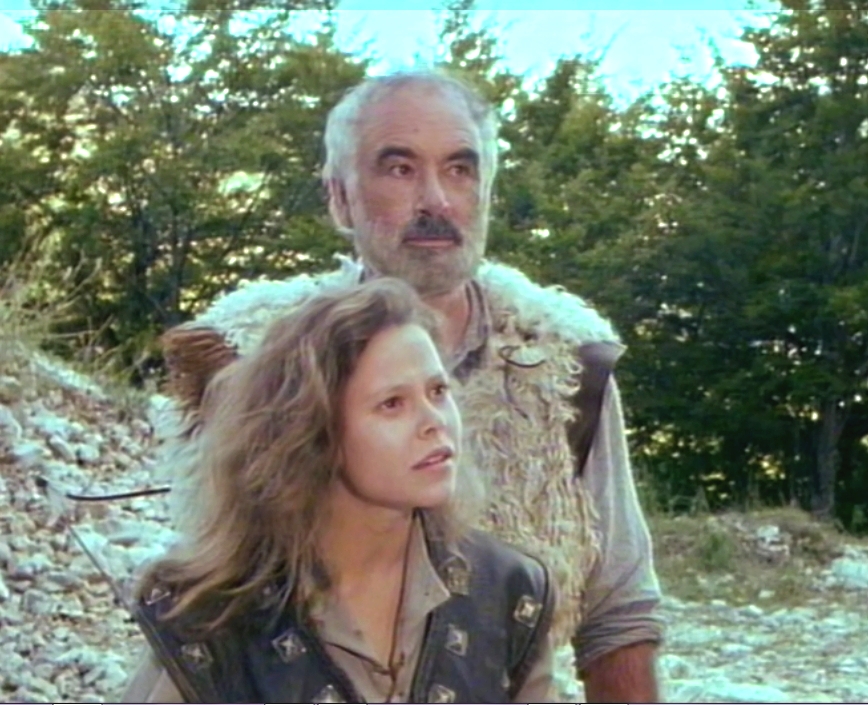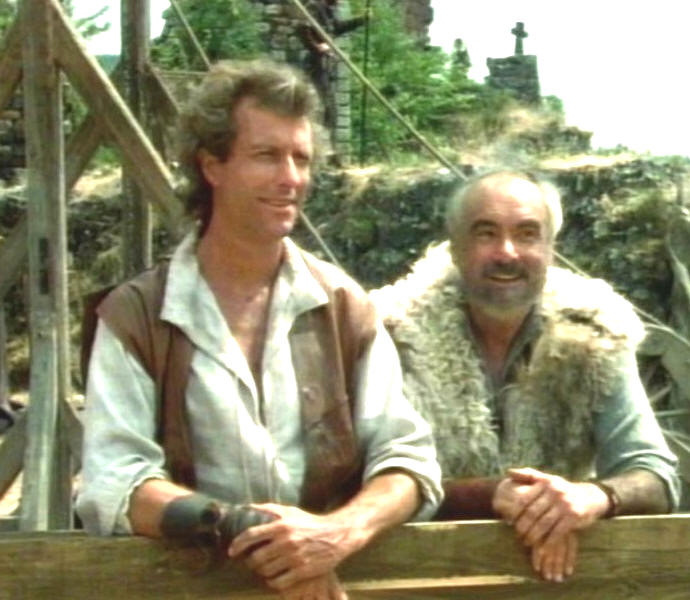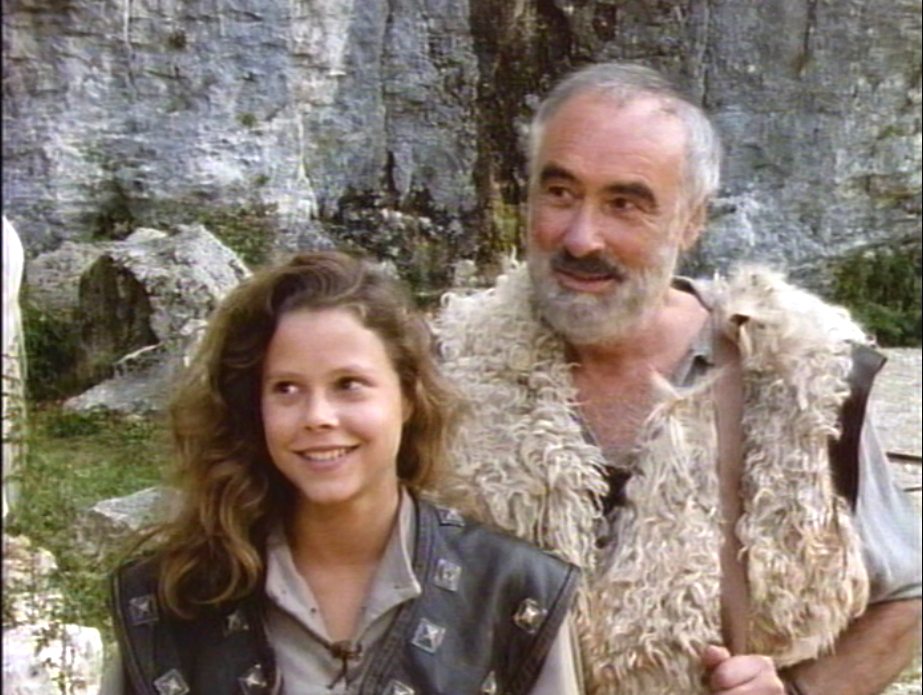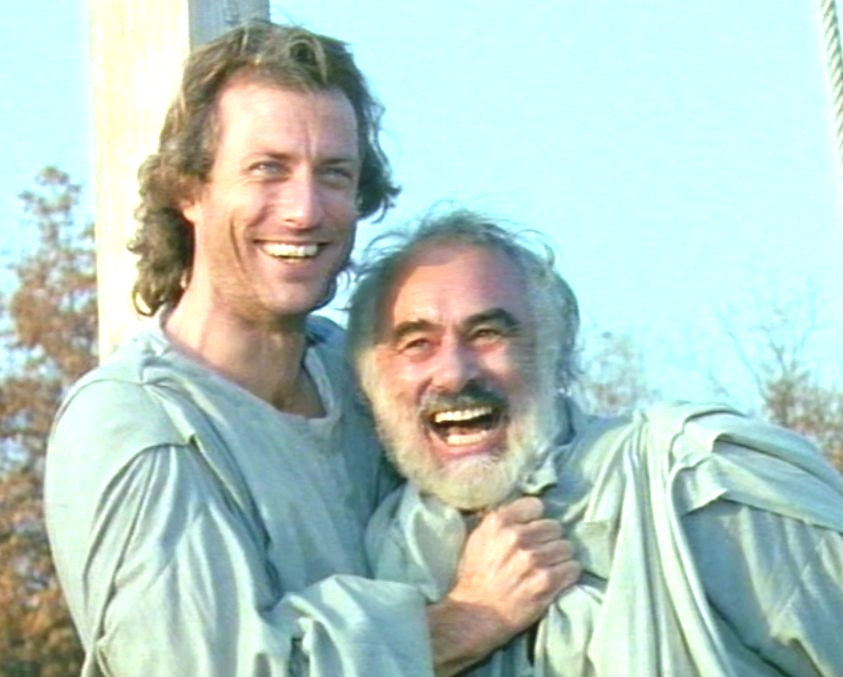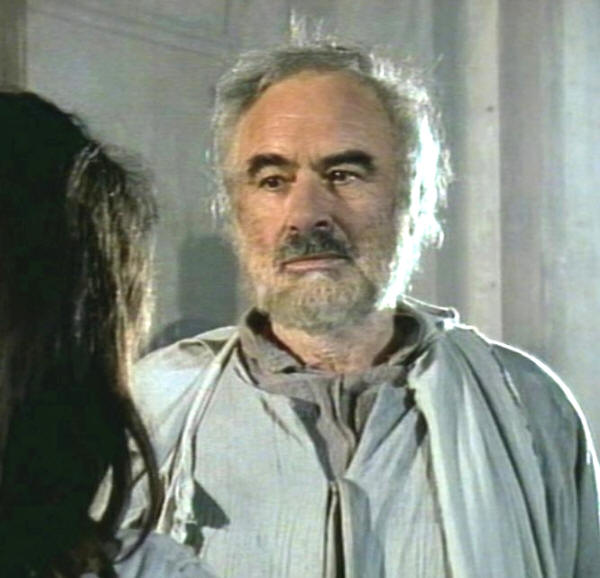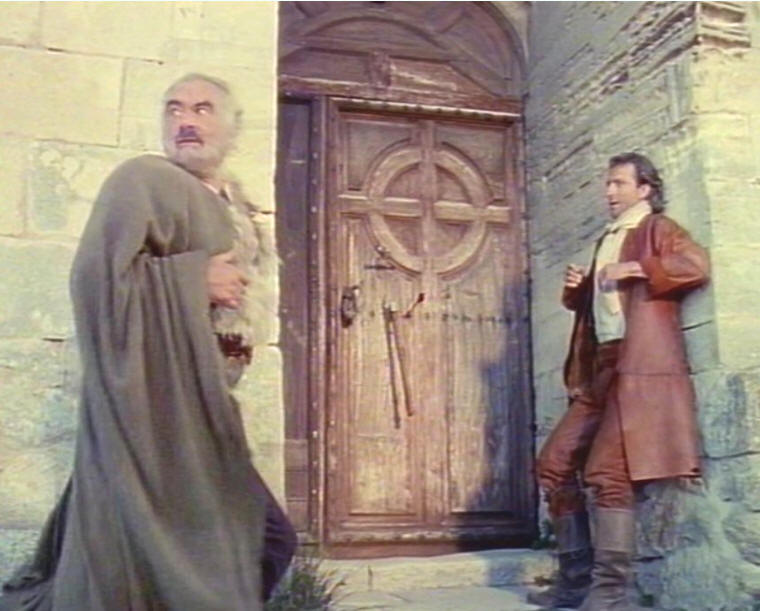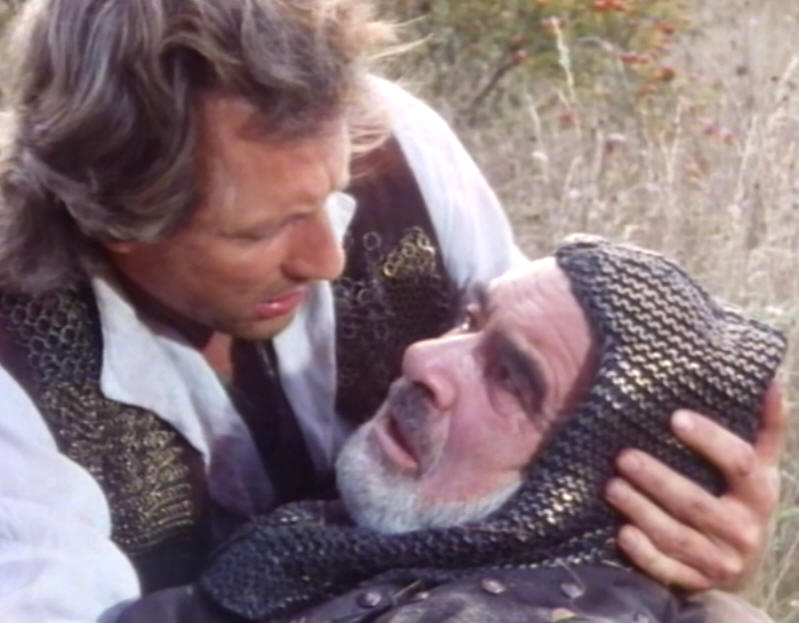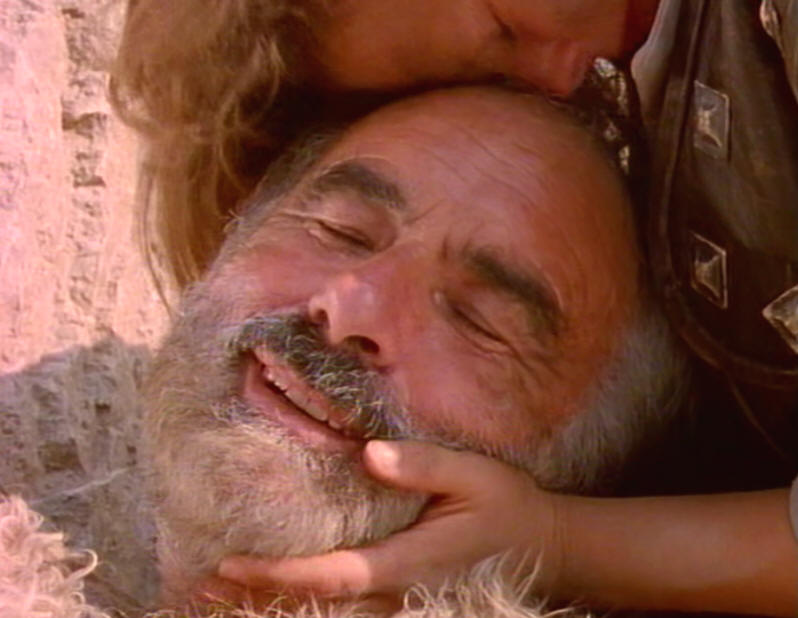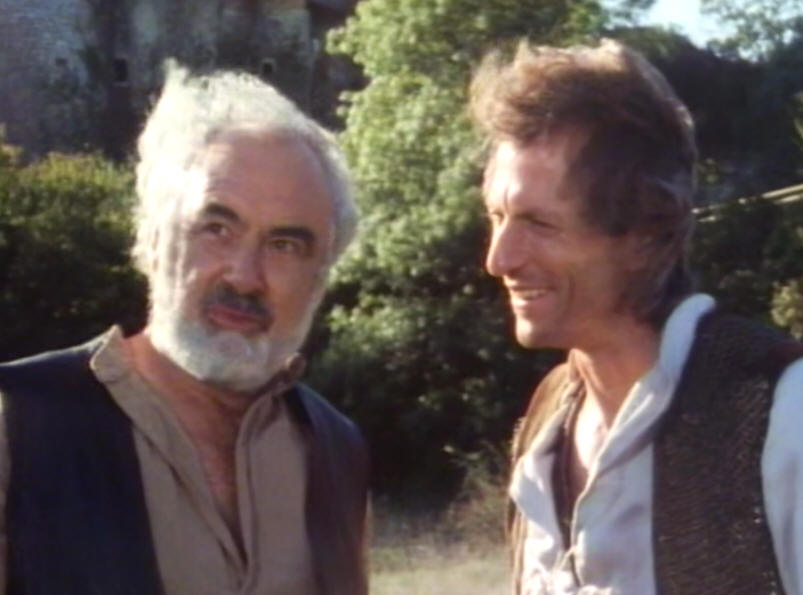 Behind the scenes with Jean-Marc Vasseur. Behind the scenes with Guy Rolfe Conrad did much of his own stuntwork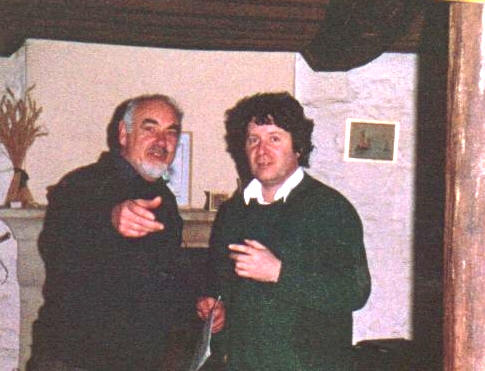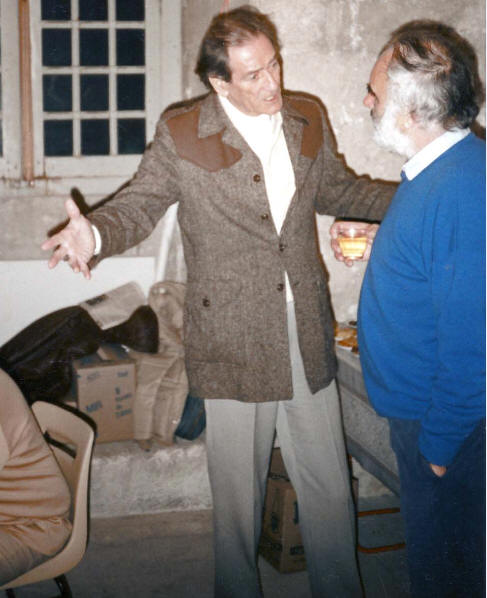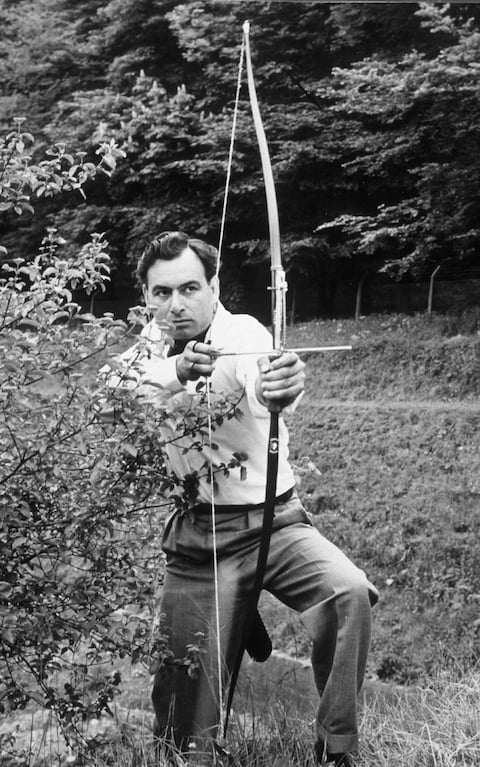 15th January 2015
Among his notable TV roles was as Mr Lloyd in the 1975 Wedding Party episode of Fawlty Towers, playing the father of a family that hotelier Basil (John Cleese)
mistakenly believes to be a wife-swapping group involving maid Polly.
Who performed many of his own stunts – which left him with a broken ankle, torn ligaments and a scar on his right shoulder from a wound inflicted during a sword fight.
Serious injuries to his knees . Severe back pain, and replacement hip that brought a premature end to his acting career in 1991 when he was in the 60's .
William Tell, the programme was also notable for its theme song, based on Rossini's William Tell Overture, with lyrics by Harold Purcell.
An accident on the set of The Adventures Of William Tell, which saw him fall down a 12-foot drop and injure his knee and a broken ankle, meant he filmed the
final episode from a wheelchair.
The accident contributed towards the severe back pain,
Towards the end of his career, he would play Stefan, William Tell's mentor, in Crossbow, a 1987 updated version of the Swiss folk tale, that included guest appearances
from Brian Blessed and Roger Daltrey.
He is survived by wife Jennie, daughters Kate and Sarah and died January 13th 2016 and aged 90.
Biography
They both brought out their own biography.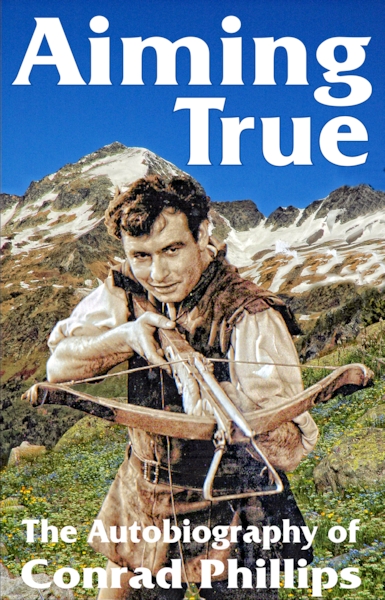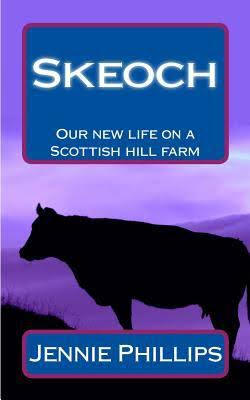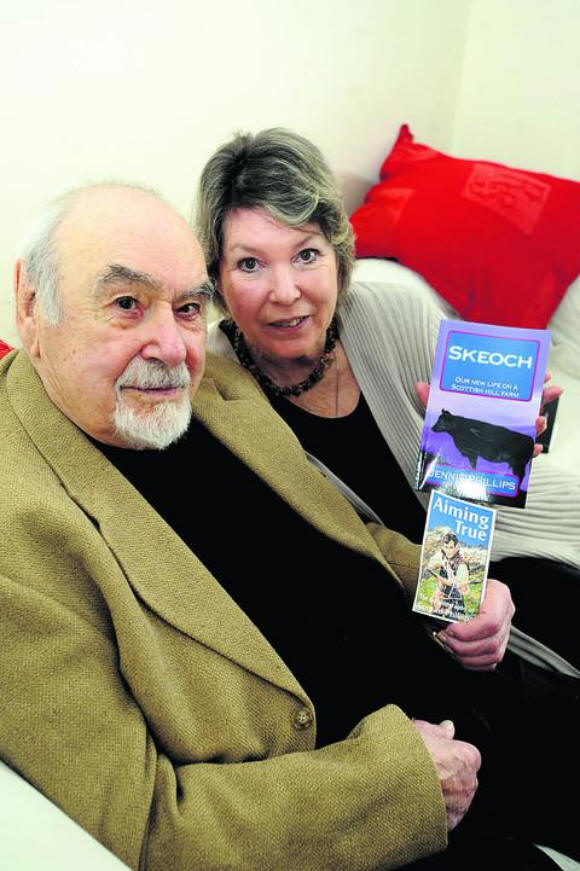 By the mid-1970s he was balancing an acting career with the management of a hill farm in Scotland.
In 1972, Phillips bought a hill farm in south-west Scotland (Skeoch bio see above) and ran it for six years while continuing to take television roles. Among these was an episode
of Fawlty Towers (1975) as Mr Lloyd, one of a group of wedding guests staying at the hotel: John Cleese as the puritanical Basil Fawlty so completely misreads the warm exchanges
between family members and friends that at one point he tells Mr Lloyd to leave. However, with two young children to bring up, Phillips found the farm to be a rather isolated location,
so he moved to Wiltshire – first Lacock, then Chippenham.
A little personal note
About Jennie Phillips
Jennie Phillips lived her early life in London before moving to Skeoch and then emigrated from there to Northern France where she and her actor husband, Conrad, set about restoring a dilapidated farmhouse.
This was all despite neither of them speaking French. After 20 years spent in France, she now lives in Wiltshire where, apart from writing, she also sells paintings (mostly landscapes), plays music, knits
(including copious numbers of sweaters for her grandchildren) and cooks.
Among Jennie's favourite authors are Maureen Lipman, Derek Tangey and Ken Follett and she particularly likes reading about the emotional lives of people and poetry.
Jennie has also written the prequel to Skeoch called 'A Bolt For Freedom' and you can also read Conrad's fascinating autobiography called 'Aiming True'.
Her particular and heartfelt thanks go out to her family and her husband, Conrad. for all their support and encouragement towards writing Skeoch.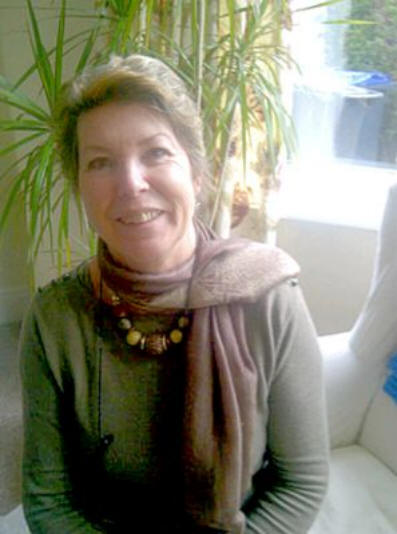 All available on Amazon. Skeoch is also available in paperback, all the others e-books. A Barn in Normandy will also be paperback - but all will be in Amazon and all available in Kindle.
A Bolt for Freedom is a prequel to Skeoch. Isle of Dreams is a novel. Con's autobiography Aiming True is also available but as e-book only.
Unfortunately Conrad died in January, the 13 th. 2016, UK (at the age of 90).